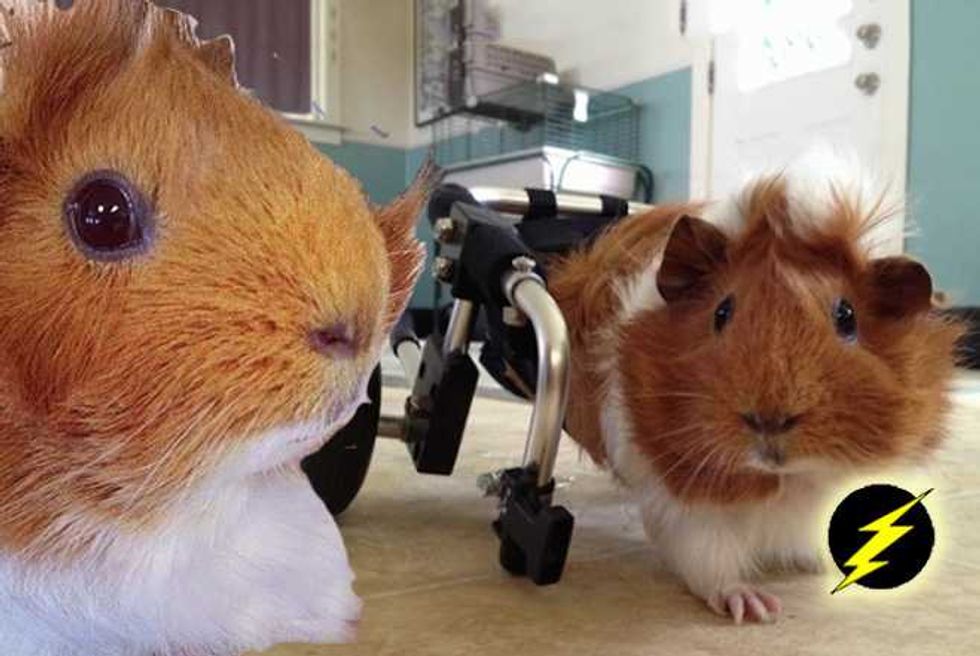 Guinea pigs Estella and Pip were found abandoned on the side of the road by a good Samaritan who promptly took them to a local animal shelter in Calaveras County, California—but their bad luck didn't end there.
"She received no pain relief or vet care for an entire month," says Christine Morrissey of Harvest Home Rescue.
21 Of The World's Hands Down Very Ugliest Animals
Thankfully, Harvest intervened and brought Estella to their two-acre facility in French Camp, east of San Francisco, where it was determined that little Estella had been squeezed so hard that her tiny little back legs were paralyzed, in what is assumed to have been an abusive situation.
According to the Daily Mail, a Harvest Home veterinarian broke the news that no surgery or treatment could help Estella regain mobility.
Pop Stars Posing With Exotic Animals Is A Thing Apparently
"Although she is now safe with us, Estella is plagued by a permanent disability. She no longer has use of her lower limbs or back. But, she has a strong will to survive, and to move around like all other guinea pigs," Morrissey says.
With that aim in mind, Morrissey was determined to give the beleaguered little critter a better quality of life—she took to the world wide web and found a company that specialized in wheelchairs for animals, and the rescue started a fundraiser to get Estella a custom-made guinea pig "wheelchair."
The Very Best Of The Very Worst Utterly Tragic Taxidermy Attempts
The wheelchair itself cost $300, but they needed an additional $200 to cover Estella's medical expenses—and, the goal was met in a matter of days!
"It didn't take long for people to fall in love with her," Morrissey says.
Little Estella's custom wheels arrived in September.
Don't Pet The Three-Legged Tiger, How Many Times Do You Need To Be Told?
However, just like a human would, Estella needs to be properly fitted with the device, so she hasn't been able to zip around on it just yet.
"It's definitely a process," Morrissey explains. "Exercise and enrichment are important for animals, and it gives animals that are overlooked a second chance."
Meanwhile, baring a few adjustments here and there, Estella is starting to take to her new wheels like a pig to mud—but, don't take our word for it, check out the super cute photos below!
"It's time to rock and roll!"