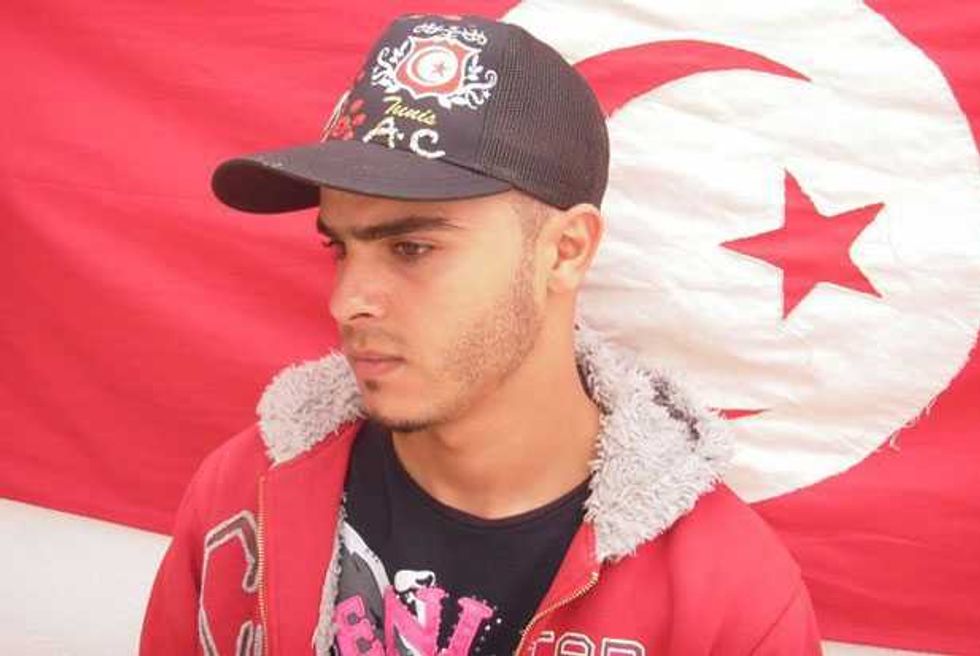 As riots and protests spread throughout Tunisia a few weeks ago, one song helped fan the flames of revolution—and its moment may not be over. In a country plagued with censorship, a Facebook sensation was made of a video called "President, Your People Are Dying," peformed by 22-year-old Hamada Ben Amor (a.k.a. El Général). In the clip, the rapper speaks firmly and directly to now-former President Zine El Abidine Ben Ali about the unemployment and hunger ravaging the country while Ben Ali's family lived in opulence. December saw the self-immolation of Sidi Bouzid after his produce cart was seized by authorities and the Wikileaks reports where ambassadors spoke openly about government corruption. The feelings of resentment about the poverty, police brutality and government ills were captured perfectly in the song—and subsequently Ben Amor was arrested, sparking more even protests and furor until President Ben Ali fled the country. Its direct role in the Tunisian uprising and potential role in the current instability in the Middle East may make it one of the most influential hip-hop songs of all time.
Here are six things to know about the song:
1. It's Sung In Arabic: Naturally, since that's the national language of Tunisia. But that language is also spoken in Algeria, Egypt, Yemen and Jordan—nearby areas that have seen similar surges in political instability. It's not out of the question for the song to continue having a long life outside of its native home.
2. It Got Personal: Supporters of the uprising were enraged when Ben Amor was arrested and called in for questions. Ben-Amor's brother Hamdi said, "Some 30 plainclothes policemen came to our house to arrest Hamada and took him away without ever telling us where to. When we asked why they were arresting him, they said, 'He knows why.'" The irony of a musician decrying an oppressive police state and then being called in by the secret police was not lost. Because of this collision between protest and power, the song became integral to the protests.
3. It Comes From a Long Line of Political Rap: Ben Amor's rabble-rousing spirit is clearly descended from the lineage of American rap artists like Public Enemy and Boogie Down Productions (and especially the finger-pointing wage disparity breakdowns of The Coup's Boots Riley). But the noir beats, minor-key melodies and Omen-ous feel seems like he's up on the more direct-action rhymes of Harlem's Immortal Technique and the austere grooves of Philly's quasi-political Jedi Mind Tricks.
4. This Isn't the First Political Revolution Supposedly Powered by Hip-Hop: The civil unrest in Paris in 2005 was foretold by the music of Muslim rappers in France, who have been openly speaking about racism and xenophobia in the country for more than a decade. After the flames died down on the buildings and cars, the French parliament sought legal action against the country's rappers—claiming their incendiary lyrics about injustice caused violence instead of injustice itself.
5. You Can Totally Hear the Song on the Radio Now: After Ben-Ali's exit, Tunisians were quick to embrace a world without censorship. Months ago, radio disc jockeys couldn't venture too far from what the government-approved playlists. But NPR talked to a Radio Mosaique DJ who is eager to play "President" on the radio. "If I played that before, I'd be in jail," he says. "That's it."
6. An Album May Be on the Way: Now free to make his music public without the government looking over his shoulder, Ben Amor has emerged a star. Last week, he put out a new song that he called an "ode to Arab revolution" that calls, lyrically, for uprisings across the region: "Egypt, Algeria, Libya, Morocco, all must be liberated/Long live free Tunisia," the lyrics proclaim.
From Your Site Articles
Related Articles Around the Web