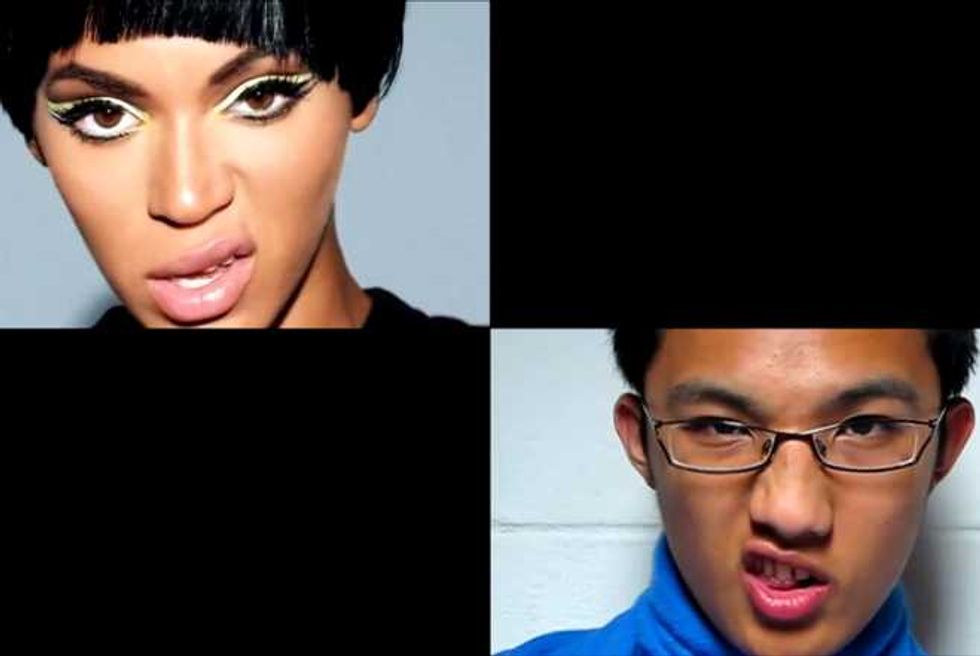 Ton Do-Nguyen, a soon-to-be high school junior from Pennsylvania, has received massive amounts of Internet love this week, thanks to his passion for Beyoncé and the sleeved blanket known as The Snuggie. After posting his recreation of Bey's "Countdown" video, filmed using an array of colorful throws, on July 8, he's amassed over 300,000 views on YouTube and gotten the glowing approval of The Queen herself. Popdust caught up with the proud member of the BeyHive to confirm this wasn't simply a ploy to receive free infomercial swag—he already has five Snuggies at home—and find out exactly how long it takes to create such a viral masterpiece.
POPDUST: The video is amazing. What has the response been like?
TON DO-NGUYEN: I know, this has been crazy! I'm just happy that it's all paying off and [the video] is blowing up so huge and so quickly.
When did you get the idea to recreate "Countdown," and how did the use of Snuggies come into play?
I had done "Love On Top" in January, but that didn't really take off. The Snuggie part, I don't even know why; I just did for fun. I love Beyoncé and I love "Countdown"—the music video is just awesome—so I was like, 'I'll try and do that for fun.'
How long did it take to film and edit?
I started in November, but then I had to start from scratch a couple months afterwards, so I spent months and months on it.
What was the most difficult element to recreate?
The part where there's 10 Beyoncés in a row and 10 of me in a row—it was just so hard having to get the 10 separate dances down, and then on top of that, trying to get everything in sync.
What's your background in video editing?
I just do it for fun. I'm self-taught.
Did you own a Snuggie before you made the video?
I already had that Snuggie, I have like five at home.
Really?
Yeah, yeah. Snuggies are fun!
What are some other things one can do in a Snuggie?
Well as you can see [from the video] you can do a lot of things, like dance. You can just chill in a Snuggie, if it's a little cold and you've got to reach for something, throw the Snuggie on. I don't really know about going to football games like in the commercial, though. But I love me some Snuggies.
How about a Forever Lazy?
Oh, I saw that! I have a weird thing for infomercials. They're all so funny, but it's not like I'm going around and getting everything.
Maybe those will be featured in your next video?
[Laughs] Oh my goodness.
Do you think Beyoncé, Jay-Z, and Blue Ivy have Snuggies at home?
I don't know! They probably have high class Snuggies.
With diamonds.
[Laughs] I love Beyoncé. She is my inspiration. She is definitely the one person I look up to.
Do you want to pursue performing after graduation?
I don't really know. Maybe I could do film editing or maybe acting. I don't have that figured out right now.
Are there plans for more Beyoncé videos?
More, more, more, that's definitely what I want to do. If I have enough time to get all her videos down... they're all so iconic.
She needs a video for "End of Time."
Yes! I love that song! Did you seen her perform it at Revel? I was like, "Dang, B!"
How did you hear about Beyoncé's response to your video?
My friend's dad texted her and then she told me, so we were both screaming, freaking out, and crying. Just Emotion Central.
She said you did it better than she did!
Well...[laughs]. Queen Bee is always Number One. I'm just so honored that she's seen it already and I don't even know what to think.
Can you go back to real life after you've been on Beyoncé's radar?
I'm scared to go outside. I'm just like scared to be recognized.
But this will give you something to talk about on the first day of school, right?
[Laughs] I don't know if I'll even be able to. I just hate 'look at me'-type stuff. I'm just going to want to hole up and do my schoolwork.
Have you bonded with people over your love of Beyoncé before?
I've been getting a lot Facebook requests from all these different people and a lot of them are in the BeyHive. I'm like, 'We've got to stick together!'
What does your family think about the video?
They're freaking out along with me. They don't listen to a lot of music at all, so they don't know much about it, but they're like, 'Oh this is great!'
Have you seen Beyoncé live?
No I haven't! Her tickets always sell out so fast and I get so pissed. I was just watching videos from her shows at Revel over Memorial Day weekend, pretty much making myself sad.
Well maybe now that she's seen your video...
Yes, that is seriously so crazy. I'm still speechless about it.