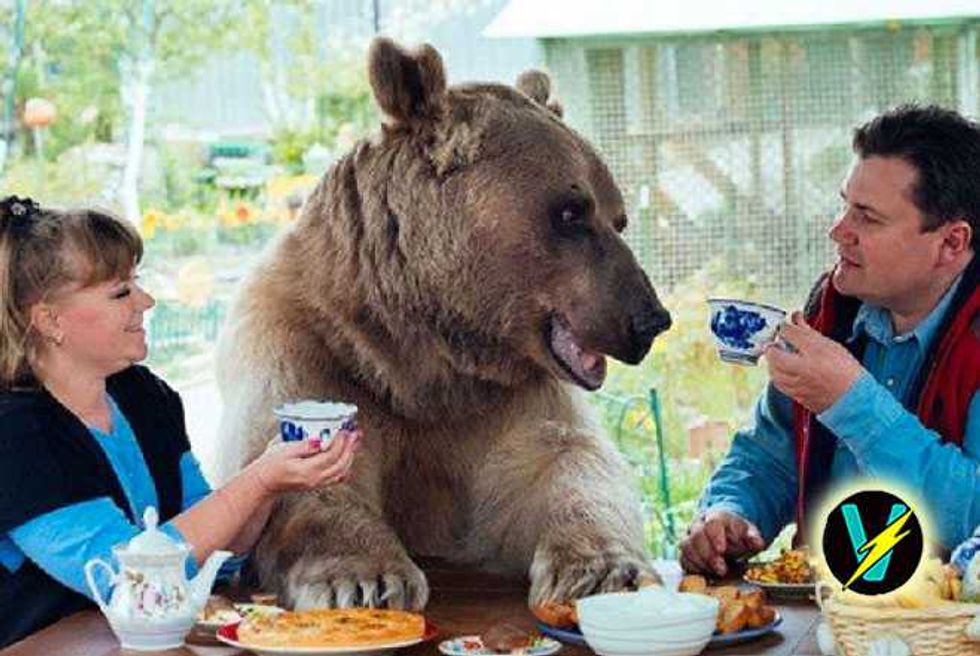 Russian couple adopted brown bear when he was 3 months old and now he lives with them in their home—like, REALLY lives with them in their home
Meet the Russian couple who share their Moscow home with a 7ft tall, 300Lb brown bear called Stepan.
And, when we say share their home—we mean, REALLY share their home with him.
Stepan sits at the kitchen table with them, enjoying a nice cup of tea.
He wedges himself between them on the sofa to chill out and watch a bit of TV in the evening.
He enjoys a touch of reading, loves a good old ear scratch, and really, really loves cuddling.
Well, more bear hugging really we guess.
He loves to play ball in the garden and clown around.
And, this is no run-of-the-mill freeloading brown bear.
Oh no siree!
Stepan likes to earn his keep!
He's not just sprawled out on the sofa all day watching TV.
He's not like your lazy ass dog.
Stepan mucks right in—helping out in the garden, tending to the plants with his little watering can.
You know, just the regular giant brown bear kinda things.
Svetlana and Yuriy Panteleenko adopted the then-cub, 23-years ago, after he was found injured and alone in a forest.
They took him into their arms—and into their home—and he's lived with them ever since.
The bear gets through 55 pounds of food a day—with his favorite nibbles being eggs, fish and veggies.
Stepan is fully domesticated apparently, and Svetlana claims he's never once raised a giant paw against them.
He absolutely loves people and is a really sociable bear.

Despite what people might think, he's not aggressive at all.

We never have been bitten by Stepan.
Well, let's hope it stays that way.
Because, as Charla Nash found out the hard way, when it comes to wild animals, there's always a first time.
Scroll down to watch the Russian couple adopted brown bear video and check out photos of the happy family.
For more entertainment, music and pop culture updates and news, follow Max Page on Twitter
Why The Harambe Outrage Should Be Over Zoos Keeping Gorillas Captive
Panda Breeding Base Cleaning Time Is Adorable Playful Panda-monium
Thailand Toilet Python Latches Onto Dude's Dick
Watch! This Video Of Orphaned Baby Rhinos Crying Will Break Your Heart
Check out Popdust's Russian couple adopted brown bear gallery:
russian couple adopted brown bear
Chimp Attack Victim Charla Nash's Body Rejecting Face Transplant
A Cat Named Stump Is Running For President And He Totally Has Our Vote
Just Some Video Of An Orangutan Saving A Baby Chick From Drowning
Cute Young Tiger Found In Texas Wandering Along The Street!
Watch the Russian couple adopted brown bear video:
russian couple adopted brown bear
Russian Monkey In A Snowsuit Will Warm Your Cold Cold Heart
Micro Pig Twerking To Rihanna's Work Is Perfect Way To End The Week
All We Want To Do Is Watch This Adorable Guinea Pigs Eating Video
Tiny Kitten Riding Tortoise Video Puts The World's Wrongs To Right
russian couple adopted brown bear
Meet Toby The Two-Nosed Dog, Cutest Rescue Pup Ever!
Lisa Vanderpump Rescues Abandoned And Suffering Pomeranian Pup!
Dolphins Rescue Suicidal Girl, Continue To Be Absolutely Awesome
Diane Von Furstenberg Paid $100k To Have Her Dog Cloned
russian couple adopted brown bear