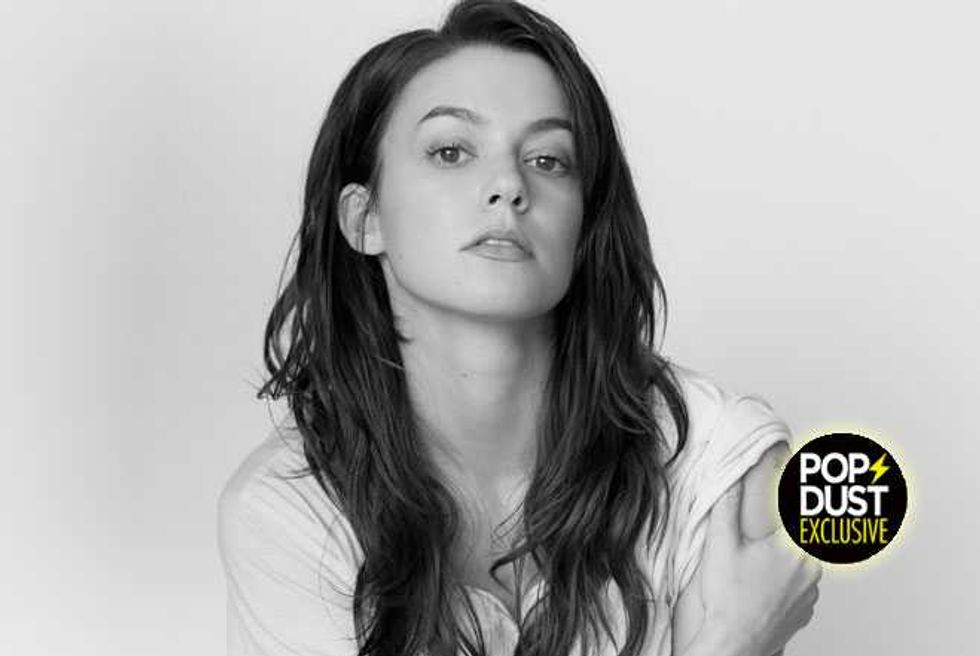 Meg Myers' brand new album Sorry (out tomorrow) is only 10 tracks deep, but within 45 minutes, you get the sense that the 28-year-old has lived through it all. The pain with which she powers through each raw chapter hangs in the air like a piercing arrow, aimed directly at the heart. She's out for blood, but there's also a distinct arc of redemption and hope she sews into the album's (sometimes harrowing) story. The narrative, for Myers, began during her teenage years in South Florida, a time she recalls as "really difficult" in an exclusive Popdust interview. "I spent a lot of time there growing up during a really important time in my life. This was my teenage years. I was there from when I was 12 to 20 years old, before I moved to LA."
"I didn't go to school. I was taking care of my brother and sister. We were moving around from place to place," she says. "I was playing music, too, as a 13-year-old in bars and clubs. It was just weird after leaving there. It's even weirder now to look back on it. Things were tough for me. My dad was in Tennessee then, but I didn't really talk to him for a minute. It was really silly, though. It was just me being a rebellious teenager. I didn't really have anybody."
She continues, noting how it all fed into her need to release her pain on Sorry, "It was really lonely, and I was raising two kids and trying to play music. A lot of stuff I felt and needed to express, even if it's not literal, is on the album. The feelings in some songs have come from growing up and feeling the pain of things. I feel better about everything now. I made peace with a lot of things with my family. It's been easier to move past all of that pain."
Working with producer Andy Rosen, who has co-written and produced for Ofelia and Kay and remixed tracks from Britney Spears and Katy Perry, the road has been a long one but not for lack of hard work. "We worked on this album for so long. We would have had it out there so much faster than we did, but my producer Andy and I were working our butts off when I was home. But I was on the road a lot the last two years. So, it was difficult to finish it."
Don't be fooled, either: Sorry isn't a wasteland of pain. Myers also pieces together hopeful glimmers of love and strength. "[The album] is a piece of art I'm putting out for my fans," she says. "I wanted it to be like 'here's pain, and here's joy, and here's pain.' Again, you can't have one without the other." As far as dark moments on the LP, she points to I Really Want You to Hate Me as the most difficult song for her. "You can probably see why actually," she laughs. "First off, I didn't know if I wanted to put it on the album. That was decision that I really had to think about. It's definitely the darkest song on the album. I was like 'shit, do I want to go out and sing that every night?' It's not like I'm just putting out an album. I have to then go out and perform these songs for a really, really long time. I thought, 'do I really want to go out and have to sing 'I'm feeling high, I want to die' over and over again.' But I decided I had to put it on there, because it's a really good song. It's really powerful. If I didn't put that song on there, I don't think the album would make sense to me."
Sorry jumpstarts its intense, powerful journey with the Motel opener, which samples a 1992 Townes Van Zandt television interview on the bridge. "I have a few [songs] that aren't sad—they're hopeless," the legendary musician and songwriter told a Dutch reporter at the time. "They're not sad. That's just the way it goes...you don't think life's sad?" In many ways, that quote—also found in John Kruth's 2007 autobiography To Live's to Fly: The Ballad of the Late, Great Townes Van Zandt—encompasses Myers' own journey. "I had already written that song. I really wanted to find a quote to put into the bridge from someone who was an inspiration to me," she recalls. "I found that quote from him because I've been such a huge fan of his for some time. I love him so much. When I found that, it actually made the song a better song. I turned it into something that I didn't even realize. The way he put into words what he writes about and how he feels about things. I've always wanted to say what he said, and it was perfect. I put it into the song, and it really made the song go into a different direction at the end. The song itself is about pain and wanting so badly to see beauty. He did it for me."
Needless to say, Motel is the foundation for the entire record, which comes full circle with the empowering Feather closer. She explains the connection between the two: "'Motel' is the #1 the most important song on the album, because it actually, lyrically and the meaning behind it, sums up the whole album. That song is what the album means to me. There's also 'Feather.' Those two songs are kind of about the same thing; both have the same meaning. I just express them in different ways. Lyrically, they're the same song to me. I wanted to come in with that and end with that."
She adds:
"When I say 'Motel' is the meaning of the album, there's a lot of pain and loneliness and feeling lost. At the end of the album, it takes that pain and turns it around and finding happiness and joy with 'Feather.' That's what the album is, as a whole. There are a lot of ups and downs in the album. That's how I feel life is, feeling a lot of pain. I wanted to express that with this album, but also expressing the joyful side. Of course, I wouldn't have been able to without going through all the hard times."
Artistically, Sorry is equal parts literal and equal parts imaginative. "There's some things I wrote about that I was feeling emotionally, but not necessarily going through literally, like on 'Sorry' and 'Desire.' But I was feeling these things and feeling strongly about them. 'Desire' is something I just needed to get out and express. With 'Sorry,' I was definitely going through stuff, with love and everything that song is about, but it wasn't as literal. It was just more about a need to get those feelings out. You know, I have go through it over and over and over; I just wasn't at the time. But more than that, there is some literal. The album is a mix of both, literal and imagination/emotions."
Musically, too, Myers' Sorry is a healthy mix of some pretty dynamic pop players. "Every song I wrote on the album, I feel like I was probably inspired by different artists. I've always been inspired by Townes Van Zandt, but there are so many. I listened to Jewel a lot; I've always listened to 'Pieces of You.' That's always on my iTunes," she says. "Enya is, as far as the female world goes, a huge influence. Tori Amos, too, which was only a more recent discovery for me in the last few years. Sinead O'Connor is another one. Those are the females that I've listened to a lot during the making of the album."
Of course, her influences go far deeper (and far wider) than that, too. "I've also listened to a ton of classical, country and classic rock. I love Dire Straights, Led Zeppelin, Robert Plant (his solo stuff), Sting and The Police. I did have my Nine Inch Nails and The Cure, that-kind-of-music days. Every now and then, I tap into that, but it's just really dark. I'm already a really dark person when it comes to writing, but it's good for me to be inspired by sad music (but not too dark). I don't think it's necessarily healthy for me to sit around and listen to that all the time."
With tomorrow's release, she sits back and ponders how the album affects her now as a listener. "When I listened to it back, it definitely makes me feel something. I don't think it affects me as deeply as it affected me when I wrote it and recorded it. I don't think I want it to. It's definitely different than playing it live. Obviously when I play it live, it'll affect me. When I play it back, some of it is so intense. I allow songs like 'Motel' and 'Feather' and 'Lemon Eyes' to get in a little deeper."
In support of the record, Myers has a solo headlining tour already mapped out this fall, as well as 10 dates with Awholnation as opener. "I've only done one headlining tour before, and it was crazy. As far as fans, it is so much better to do headlining tours than of opening. With that being said, I am excited to open for them. All together, I'll be out on the road for about a month and a half."
Also coming up, she will be filming a music video for album standout and current single Lemon Eyes. "I'm really excited about that. I'm not sure about the actual shoot, because the shoots are always exhausting," she teases, with a laugh. "I think most of the songs I've shot videos for are super dark. This one is going to be really weird. I'm excited to show that really strange side to myself, instead of just dark. I don't want to keep getting pinned for this dark artist."
Make sure you grab a copy of Meg Meyers' debut album Sorry when it hits Apple Music tomorrow.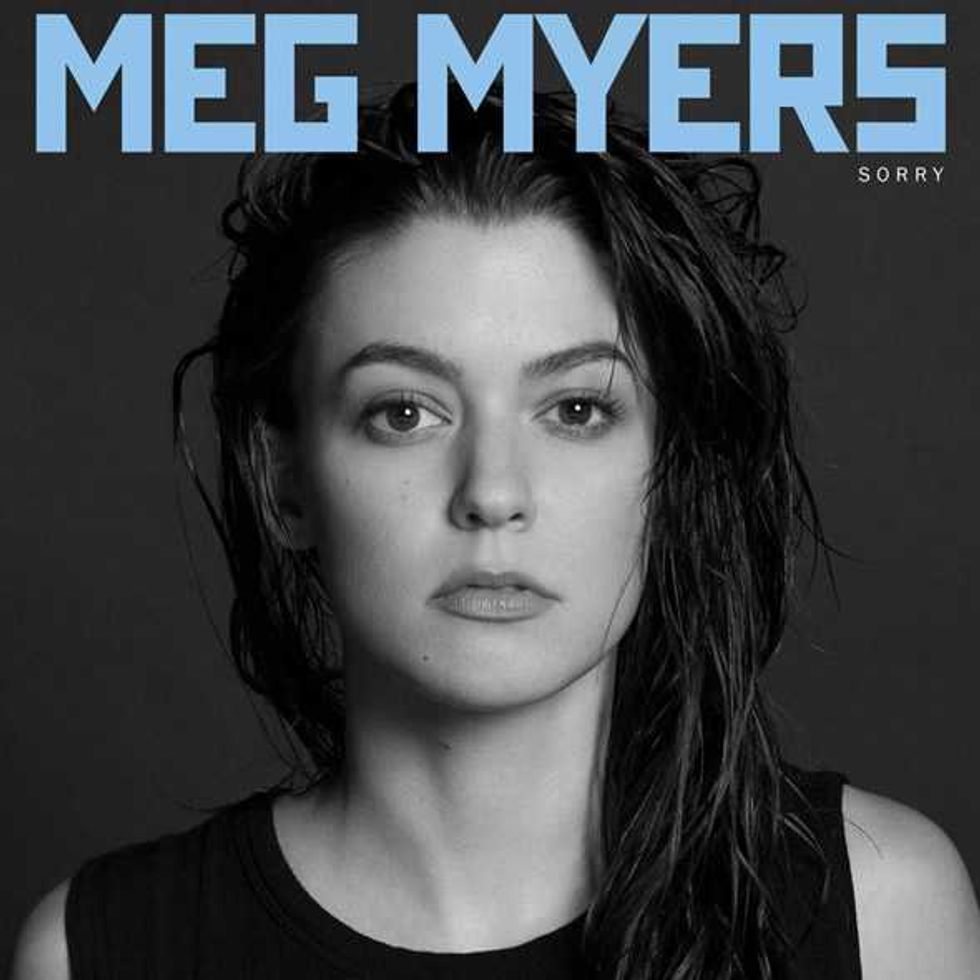 [PHOTO CREDIT: Catie Laffoon/Darren Ankenman]
Stay tuned for Meg Myers updates. Be sure to follow @Popdust and @JasonTheScott on Twitter!