"Oh no, I gotta get home. These chemicals are wearing off of me. Unreal, the way I feel. I don't remember anything. Did you hold me down? Did you take your turn? Was my expense a lesson learned 'cause you took it all for free?" Meghan Linsey cries out on Best of Me, the harrowing closer to her just-released soul-pop debut Believer. The song is a blurry (yet powerful) recollection of her own brutal drug-induced gang rape in high school; possessing a commanding vocal and fighter spirit. It has been more than 10 years since that fateful night, but Linsey, who ran an impressive acrobatic course on The Voice's season 8, has come out on top of the world. She finished in second place, and while it took her years to recover and reclaim her right to live happy as a human being, she isn't afraid to speak out about how that experience shaped her into the strong woman she is today. "When I was in high school, I was drugged and gang raped. It was really depressing. I wrote ['Best of Me'] about that experience," she shares in an exclusive Popdust interview. "One in four women are drugged and raped. I think it's something a lot of people can relate to, sadly. I needed to write about that. I hadn't written about it."
She then recalls the day she wrote Best of Me, allowing all those pent up emotions to pour out onto the page. "I got into a room with my friend Robbie [Hecht], and we had this track Tyler had produced. I was like 'this is what I want to write about.' He was like 'are you sure?' I was like 'yes, I need to.' He was my therapist for a couple hours," Linsey, whose pain hangs in the air when you hear the track for the first (and every) time. "We wrote it all down. It turned out to be the most powerful song on the EP. That one might do the most good, too, in the long run."
She continues, "I'm hoping to partner with some organizations and be a voice for young girls. This is happening every day and a lot to high school girls. Nobody talks about that. So much talk is about college life and women coming out 20 years later. It's important to be a voice for that, and you have to write about what you know."
Of course, she might never be the same person she was before the trauma, but she did learn a valuable lesson. She explains, "It definitely destroys your confidence and takes something away I don't think you ever really get back. It's just time and other things I've been through since that have gotten me through to the other side of that. That was the biggest thing with doing ['The Voice']. Getting to perform each work really helped me get my confidence back, especially after [the rape] and the years of being in country duo (which was awesome, but my confidence was shot through most of that time). So, to have the show and be able to get up every week to sing and have people vote me through, it was all positive."
Speaking of positivity, Linsey makes sure to hold up a beacon of light and hope on her new record, too, particularly on Sunshine in My Soul. "That [song] was one I actually wrote with Patrick Davis and Joshua [Scott] Jones back when I was in Steel Magnolia. We had started writing it to be a Steel Magnolia song. We even performed it live as Steel Magnolia at one point," she says. "When we went into the studio to record it, I was like 'there's just something to that song.' It's always been one of those songs that kept coming back up. We decided to rearrange it and change some of the lyrics to make it more universal (and less of a relationship thing). Tyler and I worked on it, and he did the track. It has such a happy, uplifting, positive message."
"I needed some of that on the record. It was cool to give that one new life. That was the last song we recorded. It's been great; it seems to be one of the ones everyone loves the most. That one and 'Counterfeit' are the ones I'm getting tweets about the most." The groovy throwback-textured track is only a taste of a rather diverse sonic experience. "It's really a dream come true to have something out that I feel really good about and believe in. It's a new sound for me," she says, then adding that "initially, [this record] was about me getting back to my roots and making a record that was closer to who I am. Then, it inched its way out of the country genre. As we kept recording in the studio, it started to sound more and more like a pop record. Ultimately, it's so hard to be a female in country music. I felt like I was always watering stuff down to fit into a box and put something out that radio would play. With this EP, we just did not think about that. We made the record we wanted to make."
The creation process, packed into two short months, was an interesting one. "It was actually a write-and-record-as-we-went kind of thing. I co-wrote on all the songs. Tyler Cain produced the record, and Julie Moriva, who is another friend of mine, co-wrote four of the songs with us. We would write a song and then record it. We were like 'ok, that sounds awesome, let's us that.' Then, we'd go on to the next one."
Elsewhere on the six-track collection, Linsey digs her vocal chops into dizzying and often intoxicating melodies, such as on the title track. "Man, I love that song. I'm not just saying that 'cause I wrote it. It's one my favorites. That was all inspired by a previous relationship I was in and the whole idea of being tricked," she notes. Throughout most of the music, the singer breaks down the walls between her and her fans, in a way she never has before. On This Side of Heaven, she targets online negativity, something which reached a fever pitch for her during the spring run of NBC's blockbuster singing competition. "That one was another I wrote with Tyler and Julie. Tyler had the track going already, and we started writing it. Especially during the show, there are just so many people online that are so hateful. People will say anything on the internet. It's mind-boggling to me. Sometimes, I'll get on there and I'll go 'I can't believe the hate.' Everybody deals with that. I look at Rihanna's page, and it's like 'what is all this? Why are people saying this ON her page?' It's crazy. If you can't say anything nice, don't say anything. That was the place I came from, lyrically, for that song. We just need to love each other. We are here for a very short time. My mom had actually said something to me to the effect of 'this side of heaven.' I thought 'what a great idea and visual.' We are all living on this side of heaven. It's about being nice and loving each other, basically."
But don't fret, she doesn't let senseless brouhaha drag her down. "It just surprises me more than anything that people even feel that that is something OK to say. You can't focus on it, or it'll eat you alive. It's shocking, mostly, that people have that much time on their hands. They have a lot of balls to say some of the things they say," she chuckles.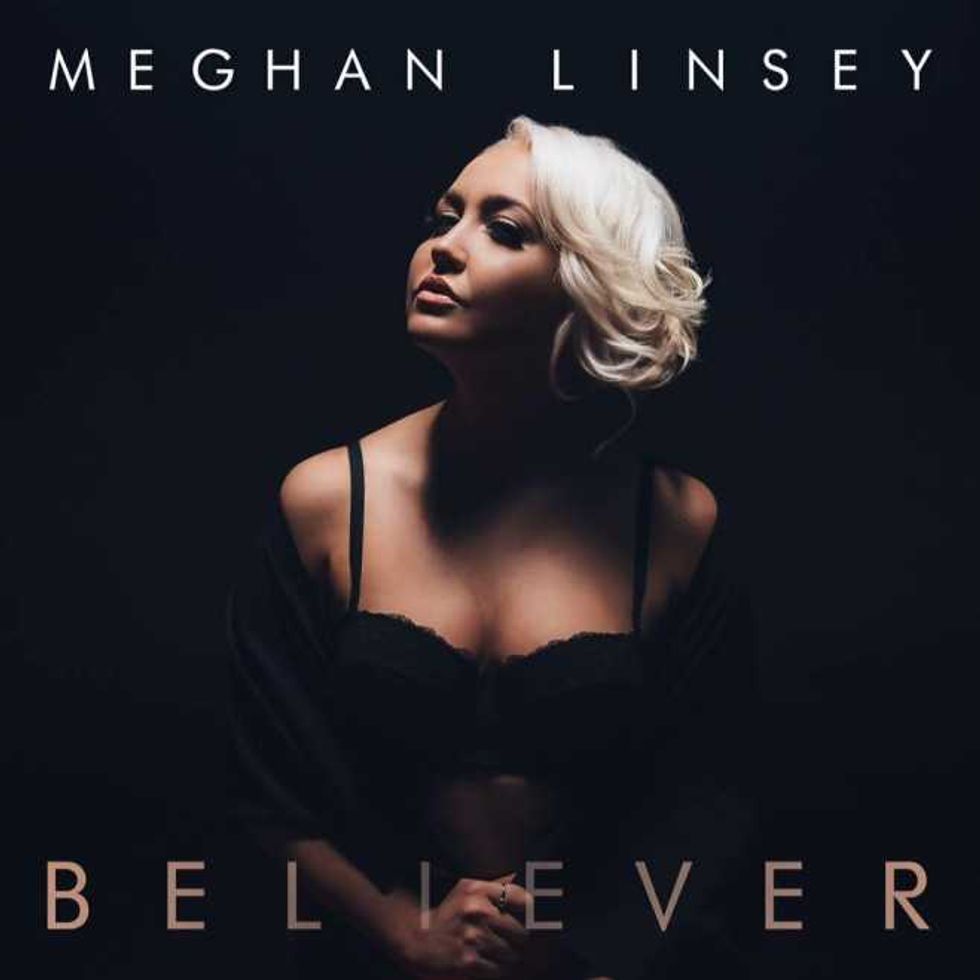 She's most certainly found a voice: a cooler, calmer, more assured perspective on Believer, buoyed by the high-flying Everything is Happening and the funk-layered Counterfeit kick-off. "[For the latter one,] Tyler had already come up with the music. Then, we sat down to write the lyrics. It just sounded like a fun, sassy, woman anthem. That was the goal with that one, to say 'I am woman, hear me roar' kind of thing. I feel like I've come out of the other side of a lot of things. It's made me stronger. You have to have a little bit of attitude and sass, especially in this business."
As for Everything is Happening, Linsey admits she ripped it straight out of her life as a struggling female in music. "We wrote that at a time right before 'The Voice.' It was about waiting in this business. It's like 'everything is happening, everybody is doing stuff for us,' but they're not really doing anything. Nothing is really happening. It's about a song about impatient and waiting for things to happen with my career."
Demonstrated rather remarkably on The Voice, she says that her new soul-pop music has freed her up, vocally, unlike anything she did previously. "I was really able to sing to my full potential. In the past, especially with Steel Magnolia, I felt we were great together and blended really well. But I couldn't really let loose and sing. I was always holding back a little. With this record, I was able to lay it all out there and be as soulful as I wanted to be."
And is there one track that is significantly harder for her to sing than others? Not really. "Well, they are all hard, because I'm insane," she laughs. "The easiest one to sing is 'This Side of Heaven.' That's a better question. I challenge myself every time I do something, but they're all becoming easier now as I know what's coming next."
Stylistically, long-time fans will undoubtedly notice a cosmic shift on Believer. "There's fear whenever you put anything out," she says of heading into this new, unknown musical chapter, influenced by legendary trend-setters like Aretha Franklin, Etta Jams and Al Green. "Ultimately, it was about doing something authentic and being real. People can sense that. At the end of the day, it's about the songs. The response from the fans has just been incredible. It definitely has exceeded my expectations. A lot of people are sending me videos of them singing the songs and photos of their iTunes purchases. It's a good testament to what happens when you do something that is authentic."
As far as the rest of the year is concerned, she hopes to work a new single to Hot AC and pop radio soon. "['Counterfeit] is the one we're leaning toward [as the single]," she says. "There's been some discussion on that. It really depends on who I partner with. I've had a bunch of meetings in New York. So, I'm trying to decide who I'll partner with to push the single." A full length record could very well be on the way in 2016, too. She teases, "[There will be an album] or another EP. That's another thing, maybe do six new songs and then package them together at some point. That's what everyone is doing now, putting out EPs. It allows you to put out more music, more often. You kind of have to go with it."
Make sure you grab a copy of Meghan Linsey's Believer EP on Apple Music now!
Stay tuned for Meghan Linsey updates. Be sure to follow @Popdust and @JasonTheScott on Twitter!