Trending
In Exciting New Pack Of Lies For GQ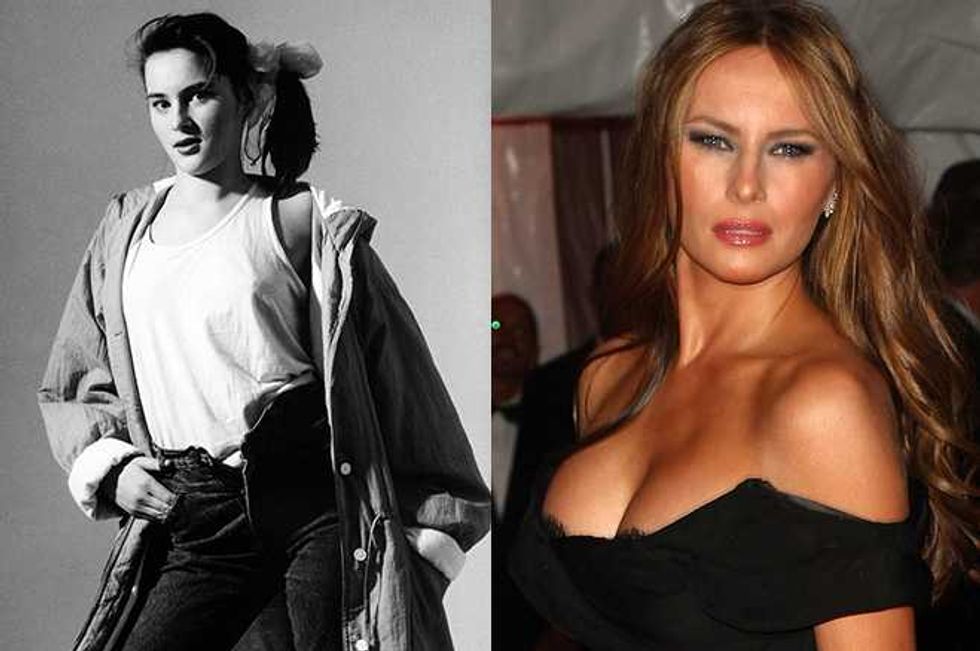 Melania Trump denies rumors of plastic surgery and says she will never use Botox in a new interview with GQ.
If her new pack of lies should happen to make her nose grow, she can just whittle the tip as she has done so often, she could use it for a can opener in an emergency.
The future First Lady also reveals that her husband Donald keeps her on a long leash, magnanimously allowing her to take time for a bath if she needs an hour.
Back to the plastic surgery, when asked if it's true she's had breast augmentation, Melania sets the record straight.
I didn't make any changes. A lot of people say I am using all the procedures for my face. I didn't do anything. I live a healthy life, I take care of my skin and my body. I'm against Botox, I'm against injections; I think it's damaging your face, damaging your nerves. It's all me. I will age gracefully, as my mom does.
According to a photographer and longtime roommate, Melania got breast implants to shore up her modeling carer with lingerie ads, but Melania sticks to her story with a Trumpian imperviousness to facts and evidence - a real pro.
[rebelmouse-proxy-image https://media.rbl.ms/image?u=%2F.image%2Ft_share%2FMTQwODYzODU3MDMwNjA0NTkx%2Fmelania-trump-before-and-afterjpg.jpg&ho=https%3A%2F%2Fbeautyeditor.ca&s=874&h=401a3c550ff86814b6dd2b9e66a789685223592768bd61cb06a622f8ff1b2b22&size=980x&c=3962977606 photo_credit="" caption="Beautyeditor" pin_description="" image-library="0" crop_info="%7B%22image%22%3A%20%22https%3A//media.rbl.ms/image%3Fu%3D%252F.image%252Ft_share%252FMTQwODYzODU3MDMwNjA0NTkx%252Fmelania-trump-before-and-afterjpg.jpg%26ho%3Dhttps%253A%252F%252Fbeautyeditor.ca%26s%3D874%26h%3D401a3c550ff86814b6dd2b9e66a789685223592768bd61cb06a622f8ff1b2b22%26size%3D980x%26c%3D3962977606%22%7D" expand=1]Beautyeditor
Why should Melania admit to an imperfections or weaknesses? She is a practiced cheerleader for the Donald, assuring the world that he will be a great president and boasting about his leadership qualities:
As you may know by now, when you attack him, he will punch back 10 times harder!
Remember wincing when she said that? It sounded like something she's learned from personal experience, and one almost expected her to reveal a nice bruise or two for emphasis. But she continued, insisting that he would punch everyone equally!
No matter who you are, a man or a woman, he treats everyone equal. He's a fighter, and if you elect him president he will fight for you and our country.
If only Melania could sing Stand By Your Man, even with that accent, America could feel that much more assured that the Donald will take care of us like the brash but generous father figure we're all looking for.
Even if you're not crazy about Donald Trump, how great will it be to have a twenty-first century Zsa Zsa Gabor in the White House?
From Your Site Articles
Related Articles Around the Web