Top Stories
College shmollege, she's smart enough for The Donald.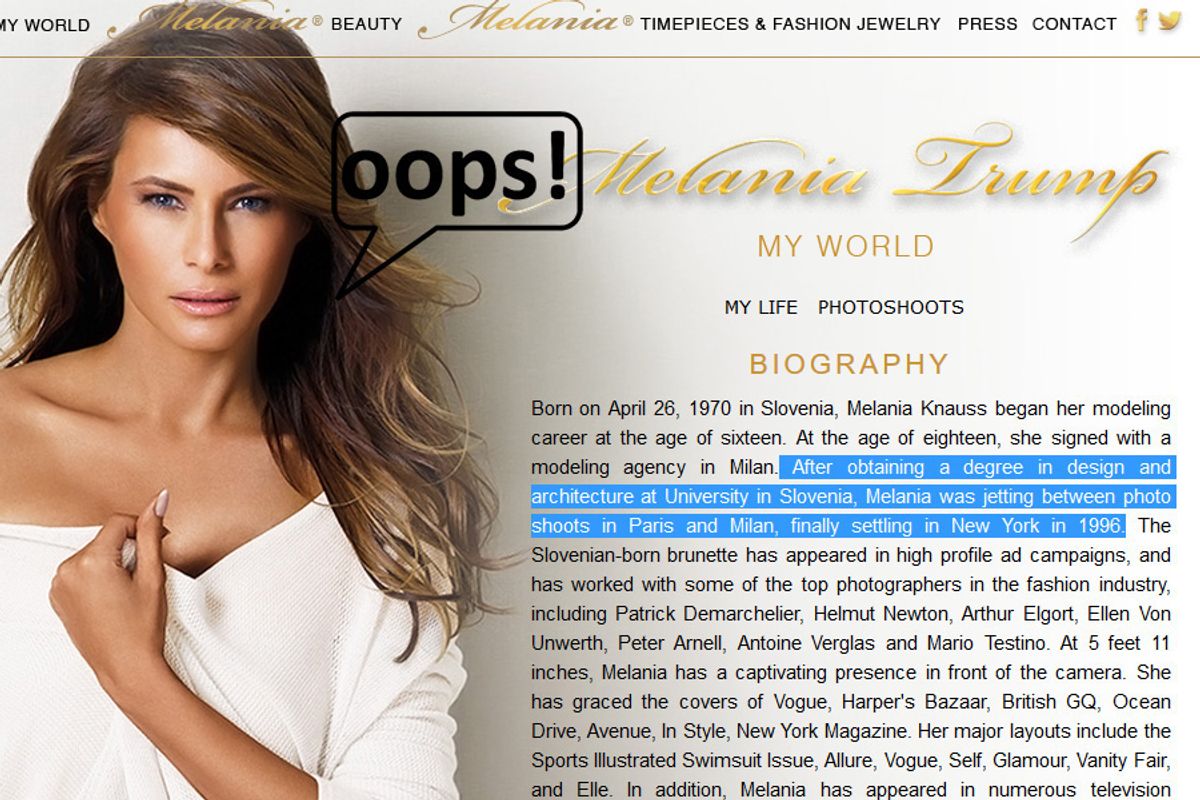 Melania Trump's website disappeared from the Internet on Wednesday, evidently because her claim of a college degree has been disputed.
Poor Melania! Pretty soon, the stunning Mrs. Trump will be known as 'Poor Melania' if this keeps up!
Melania Trump.com has been her personal and professional website since 2006, replete with glamorous photos, her CV, and links to her awful jewelry collection at QVC.
A biography of Mrs. Trump was released in February, alleging that she left college after only a year.
But because they are Trumps, Melania and Donald are offering defensive excuses for the website's disappearance.
Melania took to Twitter on Thursday, where she usually only posts pictures, to announce:

The website in question was created in 2012 and has been removed because it does not accurately reflect my current business and professional interests.
I love how she insists on the businesswoman handle, it's so Romy and Michele, right? Did she invent post-its, or is she just in the business of being Donald Trump's arm candy and proof of his fertility?
Removing the website has only brought attention to the bio's teeny embellishment.
Like her husband, Melania seems unable to resist exaggerating her accomplishments.
Asked beforehand about her RNC speech, she had to chirp, "I wrote it myself!" instead of just keeping her mouth shut.
I for one am very impressed that Melania attended college for a year. I would never have guessed! Why couldn't she be satisfied with the truth?


---
READ MORE ABOUT MELANIA TRUMP

Melania Trump Denies Plastic Surgery In Exciting New Pack Of Lies For GQ

How Would First Lady Melania Trump Trick Out The White House?

---
It appears Truth is not a valued commodity in the Trump Universe.
A website that archives tweets by politicians has an entire page of tweets The Donald tried to delete and deny. While many of them seem harmless enough, it's emblematic of Trump's refusal to be responsible for the shit he says and tweets.
We will have to keep a close eye on Melania, as her sensitivity to the truth grows ever more overactive.
If I were her, I'd just be thrilled with my big implants, my Louboutins, and my ostentatious furniture! I wouldn't bother to pretend I had a college degree or that I speak 5 languages.
But hey, if she just stays at least 100 miles away from the White House, she can claim to be the King of Siam for all I care.
From Your Site Articles
Related Articles Around the Web