melanie griffith unfiltered photo
When it comes to social media haters, the very worst thing you can do is hit back—DO NOT FEED THE TROLLS FOLKS!
However, as anybody who's come under fire from all those anonymous sad sack loser haters knows only too well, sometimes, just sometimes you reach breaking point, and you just can't help yourself from hitting back.
'Real Life' Photos On Instagram, Loses Thousands Of Followers
And, clearly, Melanie Griffith reached that point last weekend—giving in, and feeding the revolting, attention hungry little trolls.
So, what tipped her over the brink?
Well, Griffith committed what appears, in the social media world, to be the ultimate sin for any woman over the age of 21—she posted a photo of her bare legs.
Forget Renee Zellweger's 'Aging Face'… What About Hugh Grant?
Her 58-year-old bare legs people! How VERY dare she?!!
Here's the highly offensive photo in question—which the actress captioned, "Hawaii with my feet up"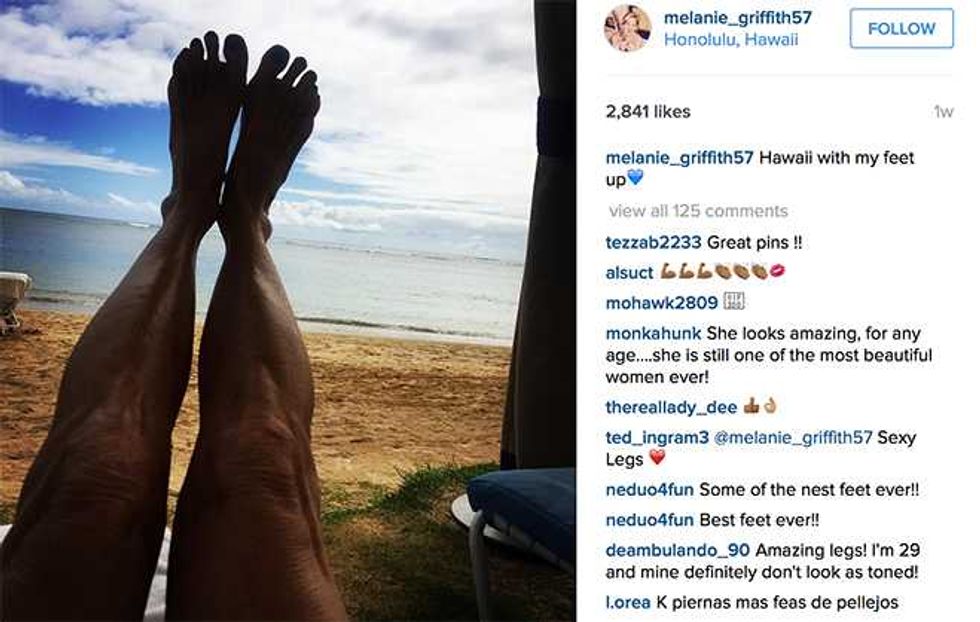 Now you can call me crazy, but, they look like pretty damn fine legs to me—but then, I'm not a tragic, fat, miserable, narcissistic sadist, as studies reveal the average troll to be.
OKCupid Asshole Posts List Of 125 'Don't Message Me If' Demands
And, sure enough, they quickly dusted off the Cheetos crumbs from their fingers, switched-off Maury, crawled out of their damp, dark little caves, and hit the keyboards to spread the hate.
Griffith's Instagram was soon flooded with misogynistic, spiteful, hateful, bitter, and just plain thoroughly, thoroughly nasty comments from those people out there who clearly have absolutely nothing better to do with their time than anonymously attack a 58-year-old woman that they don't even know.
Julia Roberts—I'm Risking My Career By Not Getting A Facelift!
It's mind-boggling really—I mean, Melanie Griffith is so vanilla, there are no reports of her being a bitch, or a diva, she's far from an attention seeking Kardashian, she just seems pretty sweet really—it's like attacking a little puppy.
Well, the puppy decided to bite back at all the haters, doing the best thing possible really—just fucking OWNING it.
On Sunday, the newly single mom-of-three posted a new pic, this time, one of her face.
Sharon Is A Stone Cold Naked Fox In Harpers Bazaar Nude Photo Shoot
A close-up of her face……a close up of her 58-year-old face…GASP!
She captioned the photo, "Here ya go. Unfiltered. I'm 58. And I'm in Hawaii Five O playing Scott Caan's Mom. Go ahead... Say some more mean things. Merry Christmas."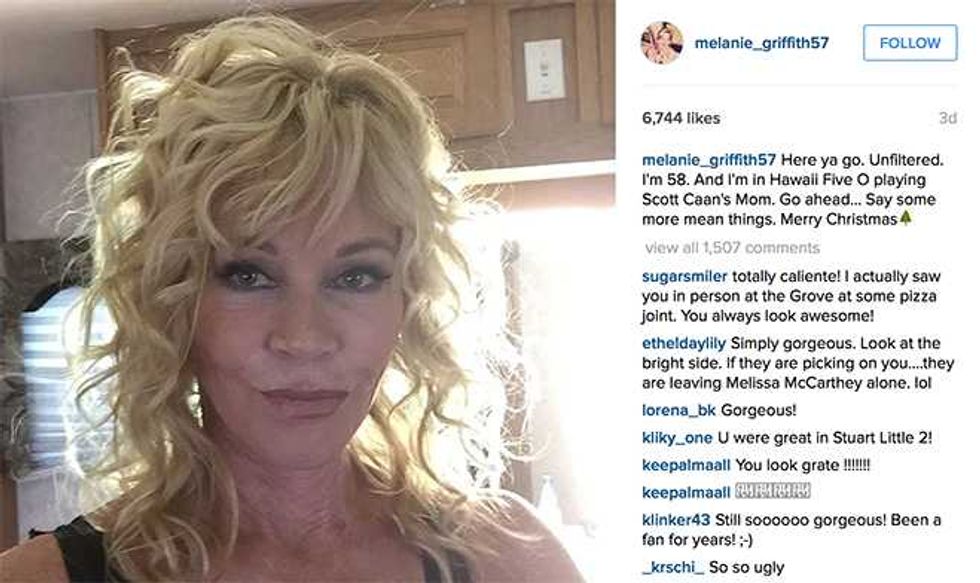 Merry Christmas indeed. And trolls, do yourselves a favor—go get a life, for fucks sake.
Meantime, stay fabulous Ms. Griffith.
For more entertainment, world, music and pop culture updates and news, follow Max Page on Twitter