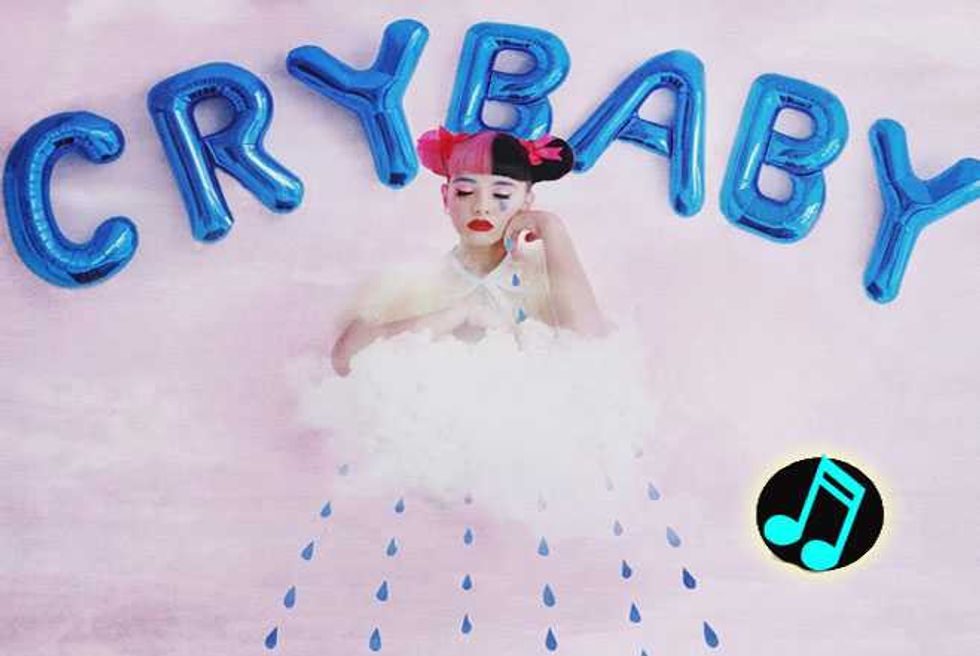 "They call me cry baby, cry baby, but I don't f*cking care," Melanie Martinez, of The Voice fame, plunders in the title track of her first full player on Atlantic Records. 13 tracks of pure hypnotic bliss tests the absolute bounds of alt-pop, puncturing and bleeding out of her Leslie Gore and Purity Ring influence. Centered around the fantastical narrator, who is Cry Baby, she finds herself locked between a need to survive and a desire to replenish her hunger for pain. The album, on the surface, is a pure "concept album," often slithering rather sinisterly down the throat, as she proclaims on her regretful Lorde-like Soap, "I think I just remembered something. I think I left the faucet running. Now, my words are filling up the tub. Darling, you just soaking in it, but I know you'll get out the minute you notice all your fingers pruning up."
Having worked with such producers and songwriters as Kinetics & One Love [who penned Martinez's Dollhouse, Dead to Me and Carousel; Clairity's Velcro, Katy Tiz's Whistle (While You Work It)]; CJ Baran (Carly Rae Jepsen, Britney Spears), Kara DioGuardi (Kelly Clarkson, Ashlee Simpson, Hilary Duff, P!nk); Felix Snow (Eve); SmarterChild (Krewella); and Frequency (specifically produced the album's Mad Hatter closer, with Aalias; Eminem & Rihanna's The Monster, as well as Lil Kim and Snoop Dogg tracks, among others), Martinez's bow is (musically) accessible, with lyrics detailing Cry Baby's (sometimes devastating) journey through the world around her. "The entire album is a fairy tale, in a way. It's all a story," she told Popdust earlier this year. "They are all individual things that happen but all part of a bigger picture. I'd say the whole album is an actual story. I'm planning on doing a storybook [designed by illustrator Chloe Tersigni], too, inside of the physical copies." While many of the tracks, including the deathly Sippy Cup (a follow-up to Dollhouse, detailing "what happens in the kitchen"), are simply exaggerations, she has described that on many levels, she is Cry Baby. That personal investment heightens the visceral storytelling, unraveling often demented and ground-swelling aspects of her own psyche.
A decoratively agile adornment of toy-like sounds and textures pins together a story of a young girl force-fed to the machinations of abandonment (Pity Party), bloody terror (Sippy Cup), exhilarating love (Training Wheels), crippling heartache (Soap, Alphabet Boy), glossy optimism (Mad Hatter) and even emotional emptiness (Pacify Her). Martinez isn't asking you to embrace every single charmingly twisted chapter of her fairytale. She concocts a world of enchanted transgressions and human-consuming flaws—often slicing open the flesh of our culture in considerably barbaric ways—to make you reconsider your own. Dollhouse juxtaposes her jarring and disconnected immediate world with the carnivorous celebrity lifestyle, tearing away the "good role model" shell to which everyone in this business is unjustly measured. Hollywood is a creature of habit, devouring innocence and self worth, but Cry Baby brashly constructs an epic tear-down, buoyed later on by the suggestive Mrs Potato (a revelation on plastic surgery and the need for torturous beauty). "Baby-soft skins turns into leather. Don't be dramatic; it's only some plastic. No one will love you if you are unattractive," she murmurs on the delicately pounding track. "Oh, Mrs. Potato Head, tell me, is it true that pain is beauty? Does a new face come with a warranty?"
Layering in more detailed plot points—like "wolves" (via Noisey) in Tag, You're It (in which she becomes the victim) and the poisonous sequel Milk & Cookies (a terrifying chapter of rebellion and individualist triumph)—the tone of the record shifts in the latter half. Cry Baby's core is now skeletal, as lingering and haunting echos (of the album's much stronger and more potent storytelling) dull an otherwise gritty, bloody and adventurous concept. When Martinez—who herself explores some compelling vocal tricks (stretched to the dusty limits in Pity Party and the title track)—drives her carving knife deep within her musical instincts and releases, she does so with such a profound exactness and candor. Heightening the senses in this otherworldly escape, the singer, at only 20-years-old, traipses down an alleyway of biting avant garde. Her guttural portrayal of the human existence is rarely overwrought or gimmicky. In fact, her stimulating commentary is insightful, grand and rather sentimental, which makes the record accessible to a mass audience.
Radio programmers will undoubtedly (and also, tragically) find it difficult to light up their playlists with such a quirky, left-of-center release, but Martinez's unequivocal perspective should find an audience in a savage world violently electrified by streaming services, internet radio and digital downloads. Cry Baby is never incoherent or jumbled but simmers concisely on the surface, a low-pressure cooker of reality and fantasy. She walks a tightrope overlooking both wastelands from beginning to end, taking few detours to grant the visceral backdrop to faintly waft in the breeze and throb in the chest.
Must-Listen Tracks: Sippy Cup, Mrs. Potato Head, Soap, Cry Baby, Alphabet Boy
Grade: 4 out of 5
Melanie Martinez's Cry Baby officially hits Apple Music tomorrow.
Stay tuned for Melanie Martinez updates. Be sure to follow @Popdust and @JasonTheScott on Twitter!