Melbourne's Cape Cod will release their upcoming sophomore album, "How to Socialise & Make Friends", in March 2018 via Run For Cover. Listen to a sneak peek of it through their searing first single, "The Opener", which generated praise from the likes of Pitchfork to Stereogum.
The single is a blazing guitar-heavy anthem of just how difficult it can be to be a woman in music. "Yeah just get a female opener that will fill the quota," lead singer Maq laments into the mic, sharply tearing just about every critic apart. It's a raw and honest track, the sort that will give you goosebumps when you listen closely enough and realize just how much of it you've lived through yourself. It's an introduction to the world of Cape Cod, whose work embodies the cycles of life, growth, and loss, in the middle of an industry that will use you and throw you away if you're not careful enough.
These are the themes that How To Socialise & Make Friends revolves around, portraying a rare type of vulnerability not easily found anymore. According to a press release, "The title track and "Animal and Real" celebrate the joys of being an independent unit and knowing who you are without any influencing external factors, while "Anna" and "Sagan-Indiana" speak to the love you feel towards friends - the women who shape you and work together to find strength in numbers. "The Face of God" is a raw account of sexual assault and the feelings of isolation that follow, and album closer "I've Got You" showcases vocalist and guitarist Georgia Maq solo, singing of her late father's battle with cancer and their close friendship that prevails, even in death. Throughout the nine songs on How To Socialise & Make Friends, it becomes clear that if their 2016 self-titled debut was the spark, this is Camp Cope on full-fledged fire, stronger and more focused than ever."
Their first self-titled release was described as a "scorched-earth, feminist punk manifesto" by Pitchfork. It's a chaotic blend of powerful guitar structures and howls, a testament to the album's nature which focuses more on repressed memories and shame than, say, falling in love. "I've been desensitized to the human body/I could look at you naked and all I'd see would be anatomy," Maq sung in "Flesh & Electricity", one of the album's most distinct tracks. It's a career starter that landed them an opening gig with Against Me!, as well as Faster Louder claiming Camp Cope as their Album of the Year in 2016.
Cape Cope, which is made up of Maq (vocals/guitar), Kelly-Dawn Hellmrich (bass), and Sarah Thompson (drums), have become a force in Australia's music scene. The band has drawn press from all corners of the indie market, like Stereogum, Brooklyn Vegan ("one of the most promising debuts from a young new band this year"), and DIY ("it's rare to find a band with the sheer songwriting ability and integrity of Camp Cope"). They've just finished up their first US tour with Worriers, with more touring news soon to follow.
How To Socialize & Make Friends remains as one of the most promising efforts of the upcoming year. Keep an eye out for more powerful anthems with an edge, because if there's one thing the music world needs right now, it's artists like Cape Cod.
Check out the track-list below:
How To Socialise & Make Friends
The Face of God
Anna
Sagan-Indiana
The Omen
Animal and Real
UFO Lighter
I've Got You
How To Socialise & Make Friends is due out March 8, 2018 via Run For Cover.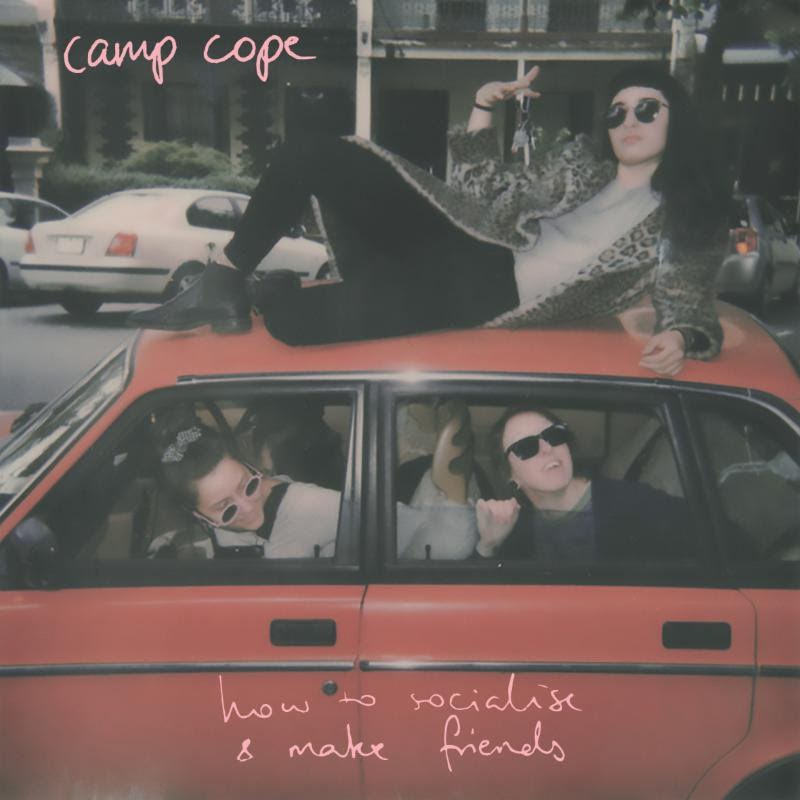 ---
Vanessa is a music and culture writer. Follow her on twitter.