CULTURE
Death doesn't necessarily need to be a morbid affair.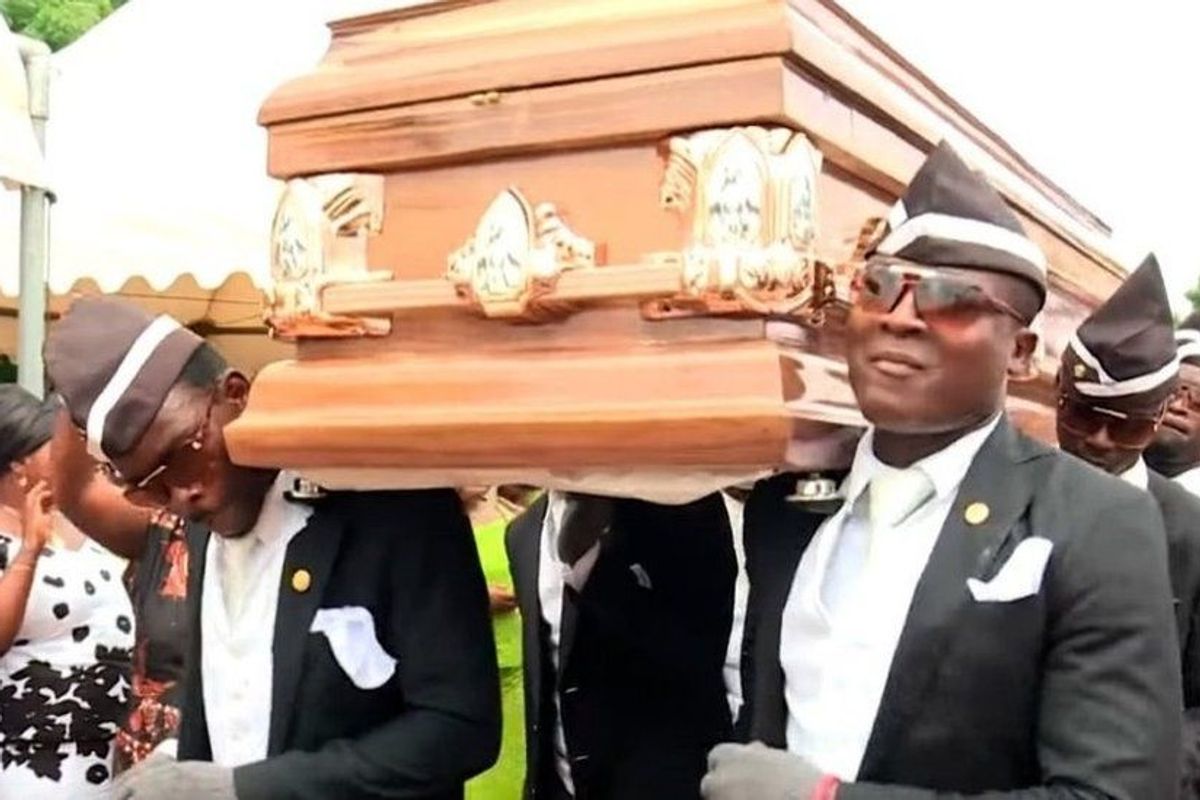 BBC
During this unprecedented era of modern human history wherein daily life has become characterized by quarantine and fear of death, one meme has risen to confront our mortality head on: the Coffin Dance.
Much like the JoJo's Bizarre Adventure-inspired "To Be Continued" meme, "Coffin Dance" functions as a punchline for FAIL video edits.
---
The set-up is simple, yet consistently captivating. We open on someone or something in a precarious situation—usually attempting a dangerous stunt or in a similar predicament of their own making. As they swing upside down on a wooden swing or speed on their bike without looking ahead, the 2010 EDM song "Astronomia" by Tony Igy kicks in. The track ramps as the dangerous act progresses, and then, right before the inevitable hard fall or vehicular crash, we cut to six Ghanian pallbearers donning elaborate suits and dancing with a coffin—timed, of course, to Astronomia's drop.
FUNERAL DANCING MEME COMPILATION 😂 www.youtube.com
Even though the Coffin Dance clip is hilarious to watch, there's more to it than just humor.
Videos of people failing (and sometimes, probably, dying) have been popular since the early days of the Internet, but the Coffin Dance edits bring a certain sense of artistry to the whole affair. The Astronomia build-up adds palpable tension to the experience of watching a video that you already know will end in disaster. Likewise, the pallbearers come as a relief at the end, dancing in the face of death and helping us to laugh at something that might otherwise be incredibly bleak.
It's no wonder, then, that the Coffin Dance has become so culturally prevalent during the coronavirus pandemic. As brutal as it sounds, sometimes laughing about death can be a good way to lessen our fear of it. Then again, it's one thing to laugh at death in a detached way when watching stupid Internet videos. It's another thing entirely to laugh at death when it occurs in our real lives. Which begs the question: Who are these dancing pallbearers, really?
The truth is surprisingly wholesome.
In 2015, video titled "Professional Dancing Pallbearers - Ghana" went viral on YouTube, depicting the suited pallbearers dancing with a coffin amidst a cheering crowd. Two years later, in 2017, BBC followed up with a profile on "Ghana's dancing pallbearers."
Amazingly, the dancing pallbearer routine is the brainchild of one man—a professional Ghanian pallbearer named Benjamin Aidoo. Aidoo felt that death didn't necessarily need to be a morbid affair. Rather, a funeral could also be a celebration of life. So he offered his clients an option: "Do you want it solemn or do you want a bit more of a display?"
It turns out that a lot of people wanted "a bit more of a display." Aidoo's idea grew from there, incorporating choreography and a booming business that has created 100 jobs for young men and women. Aidoo sees this as being "his way of easing high unemployment levels in Ghana." As such, his idea has been beneficial for everyone involved. For mourners, it allows them to say goodbye to their beloved family members while being surrounded by a joyous community, and for young people living in Ghana, it has provided fresh prospects for their futures.
Ghana's dancing pallbearers - BBC Africa www.youtube.com
Following his newfound memetic fame, Aidoo plans to travel the world, teaching others about how he pays respect to the dead in hopes of spreading the practice. But for now, even amidst the coronavirus pandemic, Aidoo is continuing to do what he can to make the world a better place with his distinct sense of humor. Recently, he put out a video with his fellow pallbearers on Twitter to thank all the doctors in the world, reminding viewers: "Remember, stay home...or dance with us."
From NANA OTAFRIJA to all the doctors in the world 🌍 Thank you 👏🏻 Mention 👇🏻 all the doctors out there with your… https://t.co/aSUFzW0Rue

— Benjamin Aidoo (@Benjamin Aidoo) 1588655067.0