Michael Moore has slammed Clint Eastwood over death threats the actor-turned-director made against him back in January 2005.
The 60-year-old took to Facebook to express his dismay over Eastwood's "bothersome" remarks, branding him—along with other longtime Michael Moore detractors, Bill O'Reilly and Glenn Beck—the "American ISIS."
The Eastwood-Moore feud was reignited last week, after the Canadian-born documentary maker criticized Clint's latest Oscar contender, American Sniper, in a series of scathing tweets.
Not surprisingly, Moore's critics were quick to strike back—with Tea Party darling and former Vice-Presidential candidate, Sarah Palin, leading the charge.
After attacking Moore for his "disrespect" of American troops, Palin, was quick to jump on a press opportunity—holding up a sign that read "Fuc you Michael Moore" whilst posing with Medal of Honor recipient, Dakota Meyer, during the Iowa Freedom Summit last Saturday.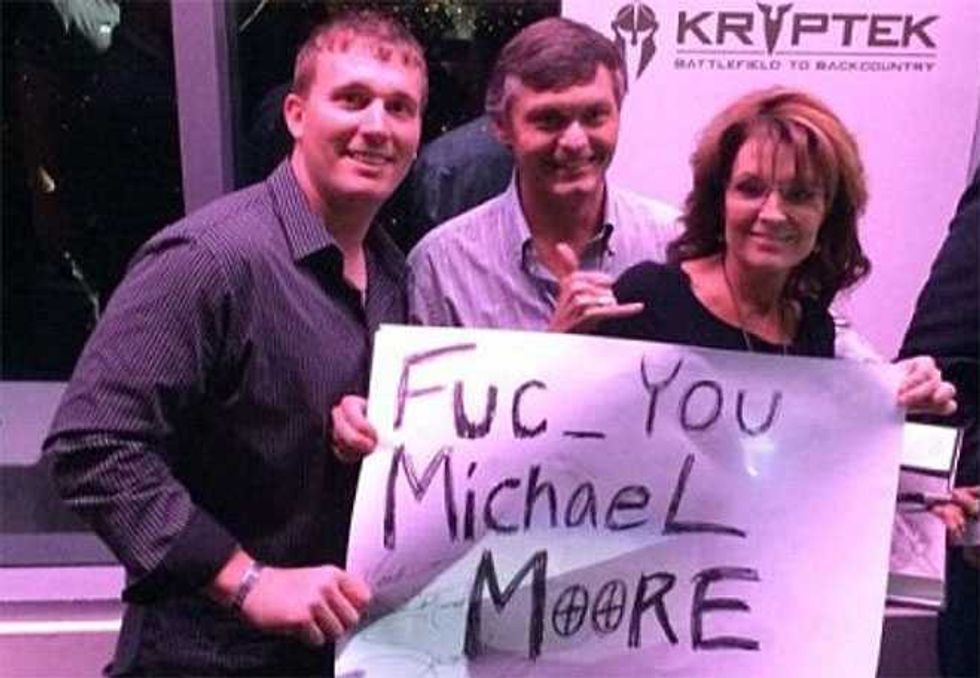 In yesterday's Facebook tirade, Moore revisited Eastwood's decade old threat, explaining that at a National Board of Review Awards dinner, the 84-year-old announced "to me and to the crowd that he would 'kill' me if I ever came to his house with my camera for an interview. 'I'll kill you,' he declared."
Moore continued:
Having just experienced a half-dozen assaults in the previous year from crazies upset at Fahrenheit 9/11 and my anti-war Oscar speech, plus the attempt by a right wing extremist to blow up my house (he was caught in time and went to prison), I was a bit stunned to hear Eastwood, out of the blue, make such a violent statement.

But I instantly decided he was just trying to be funny, so I laughed the same nervous laugh everyone else did. Clint, though, didn't seem to like all that laughter. 'I mean it,' he barked, and the audience grew more quiet. 'I'll shoot you.'

I tried to keep that fake smile on my face so as to appear as if he hadn't 'gotten' to me. But he had. I then mumbled to those sitting at my table. 'I think Dirty Harry just said, 'Make my day, punk.'
After conceding Eastwood is a "great filmmaker" Moore opined, "something started to go haywire with Clint in the last decade" before going on to criticize American Sniper yet further, calling it "a mess of a film that rewrites history" and claiming the movie perpetuates "racist sentiment to Arabs."
Moore finished off by admitting what he found most "bothersome" about Eastwood's menacing warning, was that it backed up similar death threats that had previously been made against him by Beck and O'Reilly... Concluding:
This past week or so of hysterical attacks on me only proves that the American lovers of violence and the issuers of fatwas in OUR society haven't gone away.

They are our American Isis—Criticize or mock those whom we deify, like our sainted sniper, and we will harm you most assuredly.

 
Are you #TeamEastwood or #TeamMoore?
Vote in Popdust's poll and sound off in comments below!
Stay tuned for more pop culture news updates. Be sure to follow @Popdust and @maxinepage on Twitter!