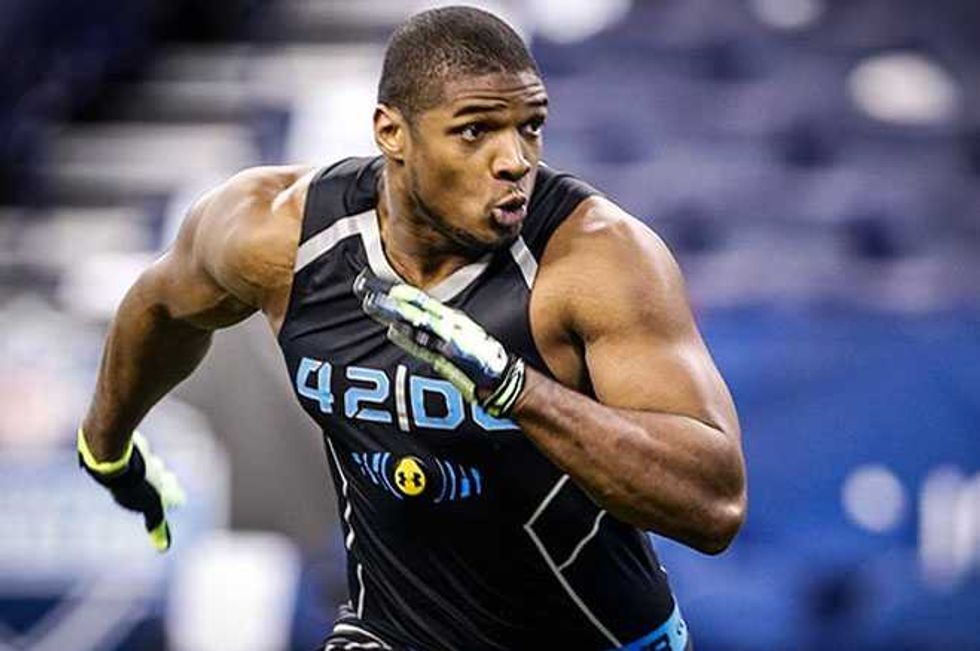 After being cut by the St. Louis Rams over the weekend, Michael Sam will not be the first openly gay player to take to the football field when they open against the Minnesota Vikings on September 7.
However, the absence of the former University of Missouri defensive end from the roster is down to performance and the team's needs — not homophobia or the desire to avoid distractions in the locker room, as reported by several media outlets.
"I have heard a lot of opinions by folks including on our network regarding what should be happening now with Michael Sam's career, but unless you have watched the video tape — and I have not — of every play of the preseason, it is really hard to say that he belongs on a roster somewhere or a practice squad," ESPN's Monday Night Football play-by-play announcer Mike Tirico told Popdust and fellow reporters in a conference call Tuesday.
"I think the St. Louis Rams handled it as well as possible and gave Michael Sam the chance to focus on being a football player. We all know that seventh round [draft] picks aren't guaranteed to make the NFL and to make rosters, a large percentage don't," he explained.
Fortunately not all is lost for Sam, as it was announced later on Tuesday that he is heading to Dallas for a physical with the Cowboys' practice squad, according to ESPN's Adam Schefter.
Cowboys plan to bring Michael Sam to Dallas for a physical Wednesday, per team source. If all goes well, Sam will be a Cowboy.

— Adam Schefter (@AdamSchefter) September 2, 2014
Before the latest announcement, longtime SportsCenter anchor Tirico went on to say that "is because he is just a 4-3 defensive end, there are limited places he can find a home, because half the league plays 3-4 so it doesn't give him as many options as a different position player would." However, Tirico, who has been dubbed the Michael Jordan of broadcasting, said he applauded Sam "for what he has done and what he has been able to do this preseason, and I hope he gets an opportunity with someone's practice squad as the NFL season goes on. He will get the opportunity to grow over the years — just because it didn't happen within this moment doesn't mean that Michael Sam doesn't have a career and his hopes aren't necessarily done. "I hope he has a future with one of the NFL teams or a chance to prove himself with the CFL (Canadian Football League)," he added.
MNF analyst Jon Gruden also told the media that he encourages Sam "to keep digging and keep working, stay ready, someone will give him another opportunity whether it is within the NFL or in Canada. There are hundreds of players who just got released, hundreds that didn't make the final 53-man roster," explained the former Super Bowl-winning coach. "Hopefully someone will give them a chance.
Everyone is fighting tremendous odds to make it in the NFL, and not everybody gets as close to even get a chance, so keep your phone line open and get ready for your next workout," he advised. Sam, 24, publically came out in February, when he told Chris Connelly from ESPN's Outside the Lines, "I am a gay man and I am happy to be one." He was taken by the Rams and coach Jeff Fisher with the 249th overall pick of the 2014 NFL draft but released in the final round of cuts to reduce their roster as fellow rookie Ethan Westbrooks was deemed a more versatile player, according to reports. As always, Sam took the news with dignity and tweeted on Saturday and thanked Rams for the opportunity. "The most worthwhile things in life rarely come easy, this is a lesson I've always known. The journey continues," he told his 184,000 followers.
I want to thank the entire Rams organization and the city of St. Louis for giving me this tremendous opportunity and allowing me to (1/2) — Michael Sam (@MichaelSamNFL) August 30, 2014
show I can play at this level. I look forward to continuing to build on the progress I made here toward a long and successful career (2/2) — Michael Sam (@MichaelSamNFL) August 30, 2014
The most worthwhile things in life rarely come easy, this is a lesson I've always known. The journey continues. — Michael Sam (@MichaelSamNFL) August 30, 2014
Monday Night Football kicks off the season on ESPN on September 8 at 7 p.m. ET/4.10 p.m. PT with the New York Giants vs. Detroit Lions.