West Coast rolled in early on soundtracking the Trump resistance, but I'm of the opinion that, as the only hip hop movement that matters, apparently, trap will be the punk rock of our time, its downbeat bass throb and layered synths will be the lens through which future ages look at America going to trash.
So, like everyone in the world, I was banging through Migos' official sophomore effort, a banging hour-long piece of bangers called Culture that begins with DJ Khaled snarling us back to 2016 and ends with Purps' cool-as-fuck beats. In between those dynamically opposed poles are Migos, the Atlanta group who blew up to the mainstream late last year, when they gave us "Bad and Boujee," one of trap's final Christmas gifts, a dab-worthy critique of capitalism hiding in Metro Boomin's airtight space.
XXL might have already brought you some of "the most electric bars" of the album, but I'm here to give you lines that made me feel like Migos was doing something else, speaking on another level or whatever. "This week was pretty bad. But next week will be worse," wrote the good Alex Shepherd in the New Republic last week. Damn good we got Migos to power through it.
"Middle finger up, fuck the system" from "Get Right Witcha"

Delivered in that perfectly stylized rap that's somewhere exactly in between J.Cole and what-the-fuck-is-Young Thug-saying, Quavo neatly slides from the badboy posturing of trap ("Bad bitches, fuck 'em then dismiss em") to something I can put on a sign at Union Square. Because the system, that fucking sucks.
"You know so we never really had no old money / We got a whole lotta new money though," from "Bad and Boujee"
Old, I know. But Culture, as almost everyone who has thought a piece about it (and the millions who will) have said, has a narrative. It's about one of the most beloved groups of the hip hop underground, who has seen everyone from the Paterson, New Jersey scene to Lady Gaga get in on the "trap life," staking out territory with their name on it. In a country where the idiot son of mediocre millionaire now sits in the hot seat, Offset's first bars are about claiming the place of rap as the only heirs left of that so-called American dream of earning it with your bootstraps. This isn't new, sure, Jay-Z's been selling the same story well into his millionaire days but there's something about Offset's delivery, the way he casually throws it in before cracking off a banger that suggests a kind of pride inside the struggle, throwing a whole history up there before burning off another middle finger against the system.
"Age of 23, I was in the magazine, the Forbes edition," from "Brown Paper Bag":
Quavo delivered Culture's titular thesis a few bars back: "You talking about modern day rap, but don't know the culture" and, hell, DJ Khaled practically yells it through a bull horn on the opener. But no one in Migos are naive: to push out of the underground rap scene is to push a product for the consumption of white culture, the kind of people who will throw Kanye under a bus for Taylor any day. Which is probably why Quavo isn't bragging about being on the cover of say, FADER, a magazine owned by white people but targeted at the savvy hip hop connoisseur. He's bragging about being on the cover of Forbes (the magazine, he enunciates), a magazine whose entire interest in him is financial: they don't pretend to know the culture, they just care that he's making bank. For that matter, XXL didn't even want Migos.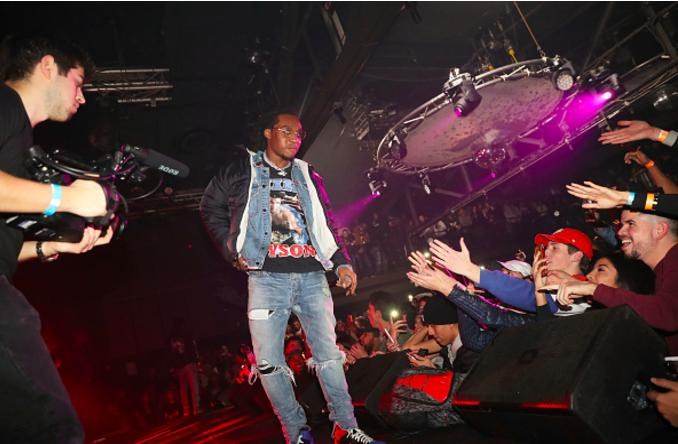 Quavo, beloved by the masses at the Highline Ballroom (Johnny Nunez/Getty)
"Droppin' them bangers, bangers, bangers/Double cup stuffed full Texas Ranger" from "Deadz":

Culture is on track to be remembered as one of the most thrilling rap records of this still-young year because it is almost sixty minutes of wall-to-wall bangers; where Travis Scott would get spacy, Migos bang and keep the outer space in the production and hand Travis a feature. Where Kid Cudi would talk about being sad, Migos bang. You get it. But the kind of bangers that Migos are whipping up aren't the kind of puffy crap that you can buy at an Ikea and give T-Swizzle to sing. They're dark: "Deadz" may be about counting cash, Offset may be putting down that purple drank, but much like every Future banger feels like you're about to grind yourself to death, Migos' brazen yell feels less celebratory than cautious, less of a banging good time than selling a product to an audience that he doesn't quite like.
"No lemonade it's simply, just me and my bitch," from "All Ass"
"All Ass," another banger scooped off the dark corner of the dance floor, tells a story. The woman Quavo notices on the stripping pole used to have a man, even ran a nail salon, as a front. He got caught and she tailed it with the money, a plan of action I endorse. Unsurprisingly, Quavo throws in a reference to Bey's woke-as-fuck smash from last year, which also told a story, albeit a well-publicized one. Migos might not be Beyoncé, but the hero of "All Ass" feels just as real.
"You always going out your way," from "Out Yo' Way"
The hook from Culture's closer, "Out Yo' Way" underlines another meditation on women and femininity inside the often macho world of the trap scene. In "Out Yo' Way," women aren't the campy sex objects who fill Jay-Z's geography of kitchenware, they're human beings that Quavo earnestly feels indebted to. In a world where so many trap songs about women (hello, 21 Savage) tackle bitches who are "salty" or "ratchet," it's nice to hear Takeoff committing to "plan a trip to Peru, charter jet, me and you."