VP-Elect Mike Pence In The Audience At Hamilton
In a story that broke a little before 8pm Friday night (while my Xbox updated), future Vice-President of America Mike Pence showed up at Broadway's most popular musical, Hamilton.
Mike Pence, who took one of the whitest selfies in American history on Thursday, attended Lin-Manuel Miranda's American history rap musical/Tony-winning opus about founding father Alexander Hamilton, with secret service in tow.
The show uses a diverse cast to portray historically caucasian people, but Lin-Manuel says that it shouldn't require the audience to suspend their disbelief:
"Our cast looks like America looks now, and that's certainly intentional. It's a way of pulling you into the story and allowing you to leave whatever cultural baggage you have about the founding fathers at the door."
The story comes in (at least on my feed) from twitter user @NoahCoslov:
@MarkSnetiker continued the (rife-with-irony) narrative nicely:
And some tweets from other users:
😂😂😂😂😂😂😂😂😂
Seriously though, this is hilarious.
This story is still breaking. Popdust will keep you updated with new tweets as we get them. Here's one now.
Update: did he skip the second act???
Mike Pence saw Hamilton. It was ironic. Somebody make a meme about it, quick.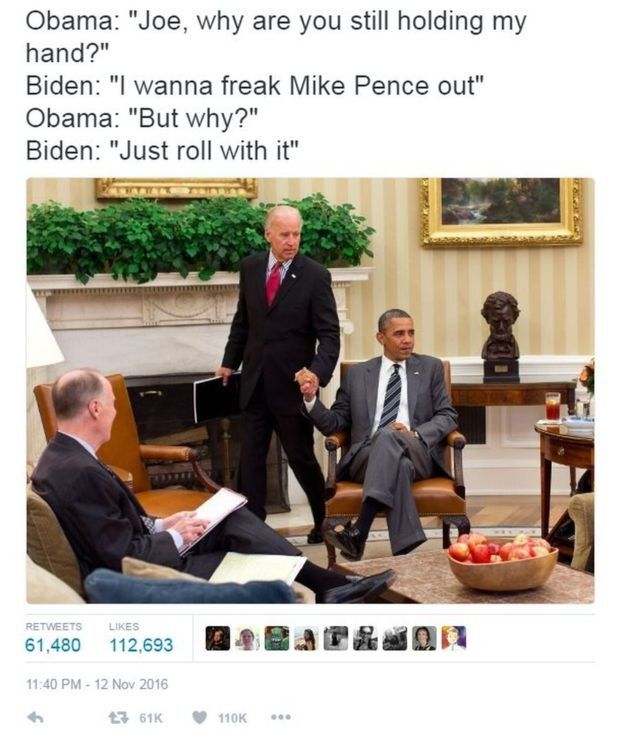 In all seriousness, hopefully Mike Pence can learn something about himself and America now that he's seen Hamilton.
By the way, I checked today, and tickets to Hamilton are still upwards of $400... so if anyone wants to buy me tickets to Hamilton that would be great.
Email tips@popdust.com if you want to buy me tickets to Hamilton. Seriously. Do it.