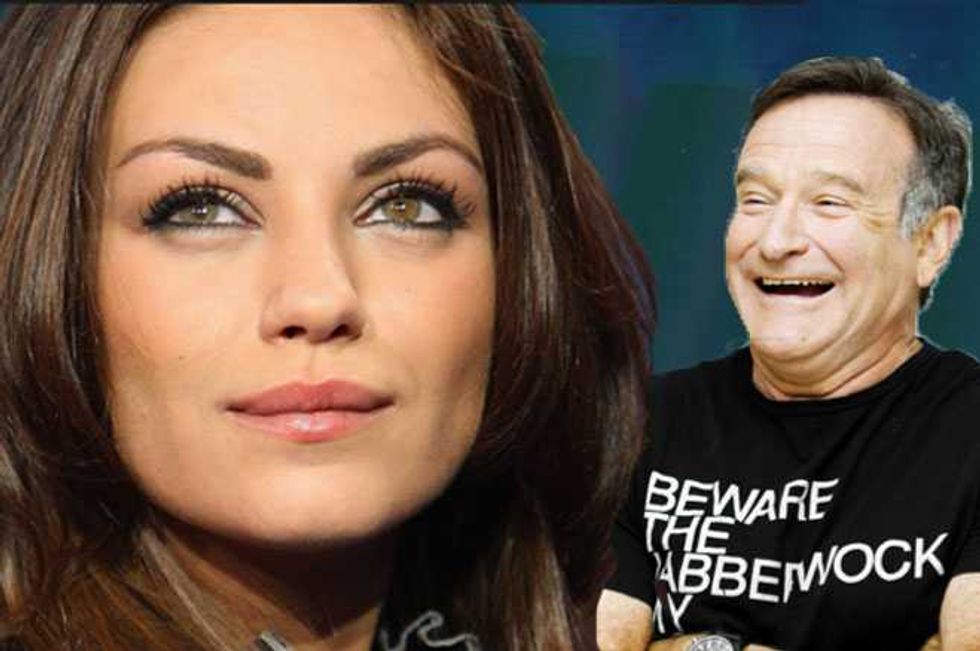 Robin Williams touched the hearts of millions of film lovers as well as his fellow celebrities.
One of them, actress, Mila Kunis, recalls meeting the Mork & Mindy star—back when she was around "15 or 16" and working on That 70s Show—and recounts the real life Dead Poets Society moment they shared, which has stuck with her for life.
In never-before-released excerpts from a 2012 interview with Esquire, Kunis talked about bumping into Williams on the CBS lot when he was working on a sitcom in a nearby studio.
"So many times you meet people they don't impact you. You meet them and they're gracious and they're nice, and then there are some times when you meet somebody and they say one thing and for the rest of your life you carry that one thing and they don't even know that they impacted your life," she said.
"So here's Robin Williams ... and we were talking and I'm being super quiet, and he just kind of turns to me and he said, 'What's your name?' And I said, 'I'm Mila,'
"And he said, 'Yeah? You're on '70s?'" Kunis continued. "And then he said, 'Remember this moment. Remember this because things like this don't happen very often. Remember this time.'"
The emotional encounter with the legendary star is startling similar to the carpe diem speech he delivered with such gusto in Dead Poets Society, back in 1989.
"Go on, lean in. Listen, you hear it? — Carpe — hear it? — Carpe, carpe diem, seize the day boys, make your lives extraordinary," Williams' character, English teacher John Keating, tells his classroom.
The late actor's words of wisdom obviously impacted Ashton Kutcher's fiancée just as much as they did his fictional students, as she told Esquire, "Having somebody of Robin Williams' stature tell me to just acknowledge something meant so much.
"He didn't mentor me. He just said, 'Step back and appreciate this. You're having an amazing time.' I was so nervous. And he said, "Relax. And don't forget to enjoy yourself because things like this don't happen to everyone.'"
As Popdust previously reported, Williams took his own life August 11 at age 63—earlier this week, his family scattered his ashes over the San Francisco bay.
If you, or anyone you know is struggling with thoughts of suicide please contact the National Suicide Prevention Lifeline at 1-800-273-8255 or visit their website.
The best way to prevent suicide is through early detection, diagnosis and treatment of depression and other mood disorders—check out THIS POST about suicide and depression, which has a run down of facts and links to resources to get help for either yourself or another.
And, remember, KEEP LIVING! WE NEED YOU