Top Stories
What are we going to do with all this future?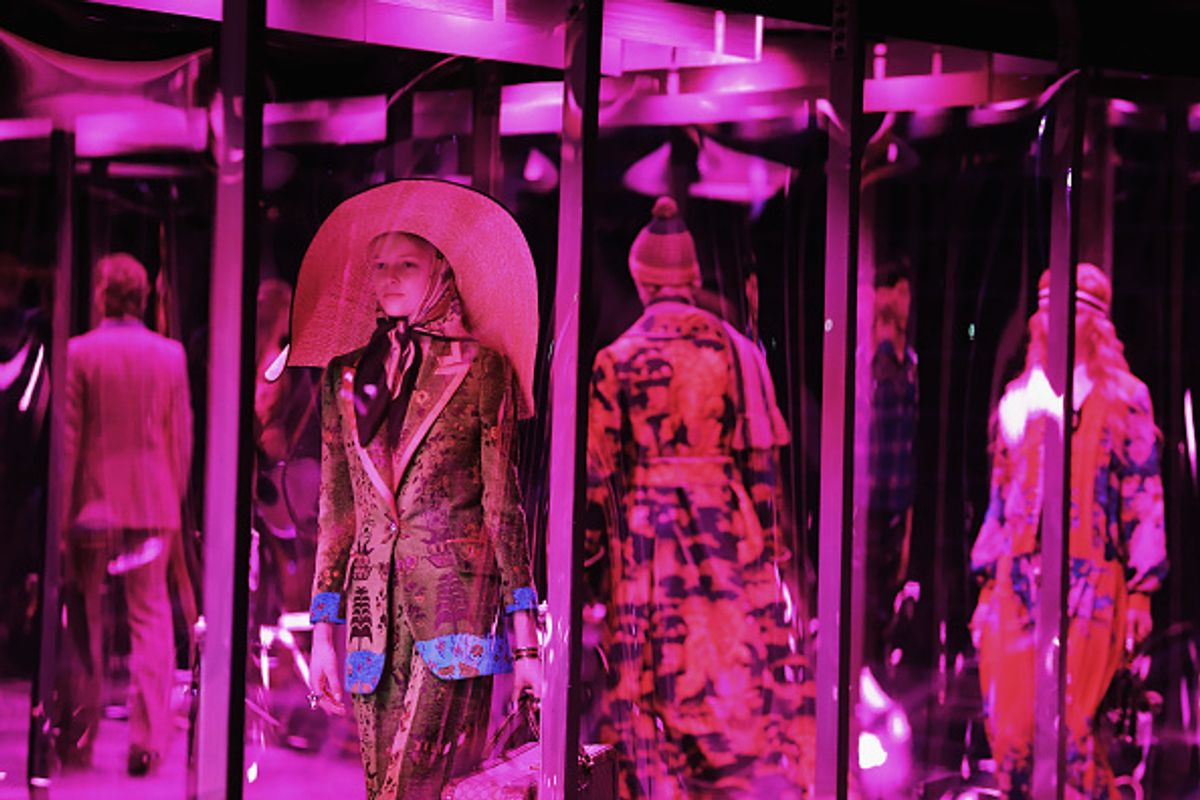 (Photo by Vittorio Zunino Celotto/Getty Images)
Gucci started off Milan Fashion Week with a Fall/Winter 2017 ready-to-wear collection titled "the Alchemist's Garden" - and it was, in every sense of the word, captivating.
Alessandro Michele brought us an 80s-infused feast of color, texture (think velvet, bright pink silk and studded denim), and big hair. It was both futuristic and modern, in part to Michele's love for all things electrifying and experimental, but in a way so classically Gucci.
The invite to the show contained a single message - "what are we going to do with all this future?" It was accompanied by a 12-inch vinyl record that features A$AP Rocky and Florence Welch. On side A, Welch recites a passage from William Blake's Songs of Innocence. On side B, Rocky reads "A love letter from Frederic Wentworth to Anne Elliot" from Jane Austen's Persuasion.
This marks Gucci's first unified presentation of both womens and mens wear. While it is the house's most diverse to date, there is still work to be done: with 119 models at the show, there were only 17 models of color. This number seems increasingly small when you compare it to the remaining 102 white models. Gucci has recently been under criticism for it's lack of inclusivity in regards to plus-size and of color models.
However, we may soon begin to see gradual progress. "Gucci's creative director Alessandro Michele made headlines last month when he unveiled audition videos for his Pre-Fall 2017 campaign on Instagram. The videos were taken during an open casting call Gucci held in London, and featured only models of color," writes Paul Pastore for CR Fashion Book [1]. "The house refrained from confirming whether or not those featured were the official faces of the upcoming campaign, but it did state that the ads, which are slated to debut in April, will star people of color exclusively." Gucci has also announced it will team up with an Italian nonprofit organization, Parks—Liberi e Uguali. The name translates to "Free and Equal" in English, accompanied with its "company ethos to support inclusivity in relation to race, gender, and LGBTQ communities." [2]
"The Alchemist's Garden" was Gucci's reemergence as a brand that can still excite and reinvent what they themselves created. The collection begins to feel like ingredients plucked from opposite sides of the room mixed into one bowl, much like an alchemist - and it all works. The true magnificence is in the details - the blue velvet bell-bottomed pantsuit with diamond-encrusted detailing (and matching beret?!) may lose attention from a few rows away, but up close it is mesmerizing. It leaves us with one burning question - what will we do with all this future? Where is the fashion house going from here? I don't know about you, but I'm excited to find out.
For more of Gucci's F/W 17 RTW collection, check out some of the 120 looks below - as well as the stars who lined the first row like A$AP Rocky, Hari Nef and Soko.
Gucci - Runway - Milan Fashion Week Fall/Winter 2017/18
MILAN, ITALY - FEBRUARY 22: A model walks the runway at the Gucci designed by Alessandro Michele show during Milan Fashion Week Fall/Winter 2017/18 on February 22, 2017 in Milan, Italy. (Photo by Estrop/Getty Images)
Gucci - Runway - Milan Fashion Week Fall/Winter 2017/18
MILAN, ITALY - FEBRUARY 22: A model walks the runway at the Gucci designed by Alessandro Michele show during Milan Fashion Week Fall/Winter 2017/18 on February 22, 2017 in Milan, Italy. (Photo by Estrop/Getty Images)
Gucci - Runway - Milan Fashion Week Fall/Winter 2017/18
MILAN, ITALY - FEBRUARY 22: A model walks the runway at the Gucci designed by Alessandro Michele show during Milan Fashion Week Fall/Winter 2017/18 on February 22, 2017 in Milan, Italy. (Photo by Estrop/Getty Images)
Gucci - Runway - Milan Fashion Week Fall/Winter 2017/18
MILAN, ITALY - FEBRUARY 22: A model walks the runway at the Gucci designed by Alessandro Michele show during Milan Fashion Week Fall/Winter 2017/18 on February 22, 2017 in Milan, Italy. (Photo by Estrop/Getty Images)
Gucci - Runway - Milan Fashion Week Fall/Winter 2017/18
MILAN, ITALY - FEBRUARY 22: A model walks the runway at the Gucci designed by Alessandro Michele show during Milan Fashion Week Fall/Winter 2017/18 on February 22, 2017 in Milan, Italy. (Photo by Estrop/Getty Images)
Gucci - Runway - Milan Fashion Week Fall/Winter 2017/18
MILAN, ITALY - FEBRUARY 22: A model, bag detail, walks the runway at the Gucci show during Milan Fashion Week Fall/Winter 2017/18 on February 22, 2017 in Milan, Italy. (Photo by Pietro D'aprano/Getty Images)
Gucci - Runway - Milan Fashion Week Fall/Winter 2017/18
MILAN, ITALY - FEBRUARY 22: A model walks the runway at the Gucci designed by Alessandro Michele show during Milan Fashion Week Fall/Winter 2017/18 on February 22, 2017 in Milan, Italy. (Photo by Estrop/Getty Images)
Gucci - Runway - Milan Fashion Week Fall/Winter 2017/18
MILAN, ITALY - FEBRUARY 22: A model walks the runway at the Gucci designed by Alessandro Michele show during Milan Fashion Week Fall/Winter 2017/18 on February 22, 2017 in Milan, Italy. (Photo by Estrop/Getty Images)
Gucci - Runway - Milan Fashion Week Fall/Winter 2017/18
MILAN, ITALY - FEBRUARY 22: A model walks the runway at the Gucci designed by Alessandro Michele show during Milan Fashion Week Fall/Winter 2017/18 on February 22, 2017 in Milan, Italy. (Photo by Estrop/Getty Images)
Gucci Event - Milan Fashion Week Fall/Winter 2017/18
MILAN, ITALY - FEBRUARY 22: Hari Nef attends the Gucci event during Milan Fashion Week Fall/Winter 2017/18 on February 22, 2017 in Milan, Italy. (Photo by Venturelli/Getty Images for Gucci)