Frontpage Popular News
ALBUM | The former Disney princess displays a knack for diversity and style in her music.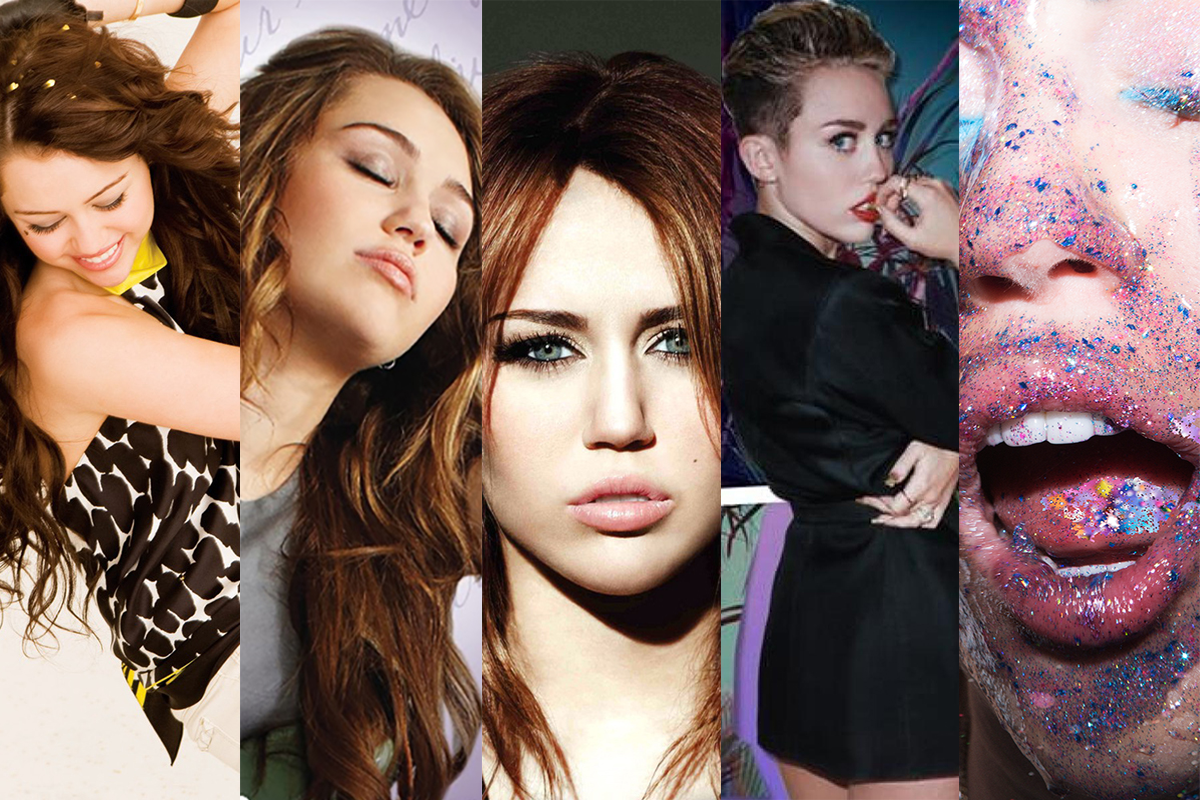 From "These Four Walls" to "Twinkle Song," we take a look at the singer's best deep cuts of her career (so far).
No one has such a diverse and down-right bamboozling career as Miley Cyrus. From living a double-life on Disney's Hannah Montana to twerking onstage at the VMAs during Bangerz to rallying up her Dead Petz to her latest single "Malibu," her work spans genres and defies logic. Genre labels are of little concern for her. Coming off such massive hits as "We Won't Stop" and "Wrecking Ball" in 2013, she returns with her first proper studio album later this year, and "Malibu" is refreshingly stripped back, by Cyrus standards. It's still pumping with thick, anthemic beats, but it appears we are entering a vastly different kind of artistic expression moving forward.
As such, it is time to take a stroll down memory lane and revisit each of Cyrus' studio records. Popdust has curated the singer's absolute best deep cuts; Hannah Montana soundtracks were excluded from consideration. Did your all-time favorite track make the cut? Let us know yours in the comments.
Honorable Mention: "Kicking and Screaming" from her 2009 EP titled The Time of Our Lives
"These Four Walls" (from 2008's Breakout)
Cyrus can pull off a ballad like nobody's business. The arrangement is rather stark, with simple piano and guitar setting the mood--at least before the chorus pulls into high gear. Even then, her vocal sits on top of the music, giving her a chance to really show off her skills. She leads the conversation--instead of heavy-handed production doing the job.
"Karen Don't Be Sad" (from 2015's Miley Cyrus & Her Dead Petz)

Cyrus' massive mixtape is her Flaming Lips moment. Following the 2015 VMAs, she dropped a 23-song project on SoundCloud. Many consider the record to be a lousy representation of her talent, but it is one helluva artistic statement. This song, especially, is one of the singer's finest moments.
"Two More Lonely People" (from 2010's Can't Be Tamed)

The gallop of synths and guitar are deceiving. It's much more than just a bubbly dance track. There's plenty of bite underneath. But, of course, there's no way you won't be dancing to this all night long. "We don't have to be friends. We don't have to be enemies," she avows.
"4x4" (from 2013's Bangerz)

Cyrus has country in her blood. We all know this. She's explored country inflections quite a bit in many of her biggest hits, including "The Climb" and even "Party in the USA." Here, she taps into the toe-tapping bluesy side of the genre, with a contribution from rapper Nelly. With lonesome guitar licking in the background, she makes her rounds between rhythm and blues, pop-country and her signature funky flair.
"Bottom of the Ocean" (from 2008's Breakout)

From the moody, water-like percussion to the ocean waves outro, it's Cyrus channeling her inner Little Mermaid. "Am I crazy? Still miss you, baby," she reminisces. And later, "It burned too hot to survive." Ultimately, she decides it's better to be happy than trapped in a relationship, much like the changing of the tides washing away the debris on a sand-laden beach.
"Fweaky" (from 2015's Miley Cyrus & Her Dead Petz)

Acoustic is Cyrus' sweet spot. Primarily piano-based (with flickering synths haunting below), you'd be hard pressed to find a better vehicle for her raw voice. Even when the percussion kicks in, there is something rather affecting by her performance. "I want to walk around while wearing high heels, after we drink all night and done a bunch of pills," she whispers.
"Someone Else" (from 2013's Bangerz)

As evidence of the swatch of influences on her Bangerz LP, this song mixes gutting balladry with the audacious synth-heavy style she adores. This is another moment that is often overlooked, but she pulls out all the stops for one of her most blistering vocals. Plus, that hook is straight up fire.
"Liberty Walk" (from 2010's Can't Be Tamed)

Probably her most underrated banger...ever. The lyrics are a bit thin, but her conviction and fierceness is unmatched. The smash hit that could have been. "Saying goodbye to the people who tied you up," she champions, shedding the shackles of her former life and cutting those toxic individuals out for good.
"The Driveway" (from 2008's Breakout)

As she reflects on a breakup, she struggles with suppressing and/or processing the many emotions. Her vocal is feverishly angry, with a edge of sorrow. The smoldering mid-tempo fits right into her central wheelhouse. Too, it's a compelling metaphor to frame the driveway as the last link in her chain: to give her ex a second chance or to completely break them off. "I tried it your way but I got nothing to show," she wails over Avril Lavigne-sized production.
"Twinkle Song" (from 2015's Miley Cyrus & Her Dead Petz)
Closing out her rather psychedelic collection of escapist and bizarre tunes with such a moving piano ballad is risky. But she's all about risks. "I just want to scream," she admits before she literally screams: "But what does it mean?!" She recounts a sequence of seemingly random dreams, including one about David Bowie who "taught us how to skateboard." She can't seem to figure out what it all means, which appears to be a summation of the listener's own journey through the record. Really, what does it all mean?!?
---
READ MORE ABOUT MUSIC...
Premiere | SKYE STEELE shares "All That Light," talks second album
Review | Steve Moakler rocks and rolls at Gramercy Theatre
Hear LANY's brash new song "The Breakup"
---