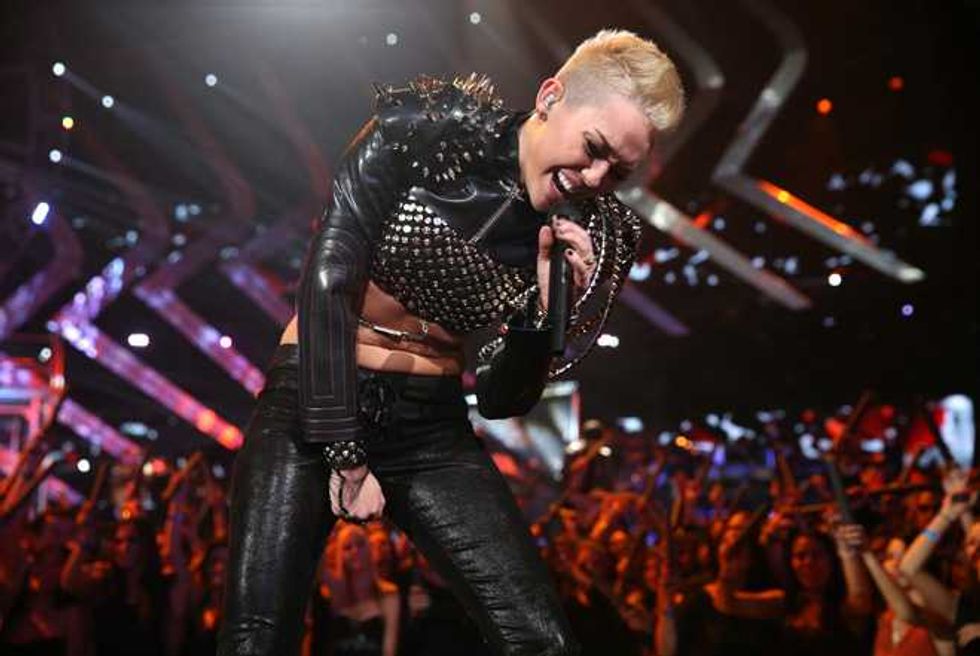 Miley Cyrus continues to show us what kind of music she wants to be making with her performance of Billy Idol's "Rebel Yell" at last night's VH1 Divas performance. Yes, Adam Lambert wasn't the only artist crossing gender lines with his song choice. Last week's holiday-themed burlesque performance was an early indicator that the former Disney Girl would go full-on grunge at some point—or at the very least defy expectations on her upcoming album. Clad in leather and spikes to ward off all who attempted to get handsy, Miley's performance proved that she would be the only person with the privilege of groping herself body on live television with numerous tugs at her crotch and chest. And it was all dedicated to her late pup Lila, who passed away last week! How very touching.
Yes, Billy Ray's little girl is singing and the crowd is loving it. Juliette Barnes wasn't the first lass to teach us that the term "diva" knows no age. And to top it all off, Destiny Hope was introduced by her sister in short, blonde, pixie cuts, Ms. Linnethia Leakes.
Sure, it's a long way from "Party in the U.S.A.," but from her hair to the stage dive, Miley's fully committing to this new brand of performing, and we're not complaining. (Also it works to further separate her from her Disney peers, if that was even still a question.) Check out her take on Billy, below.
Next stop for Ms. Miley: crotch-slapping. Watch your back, Rihanna.