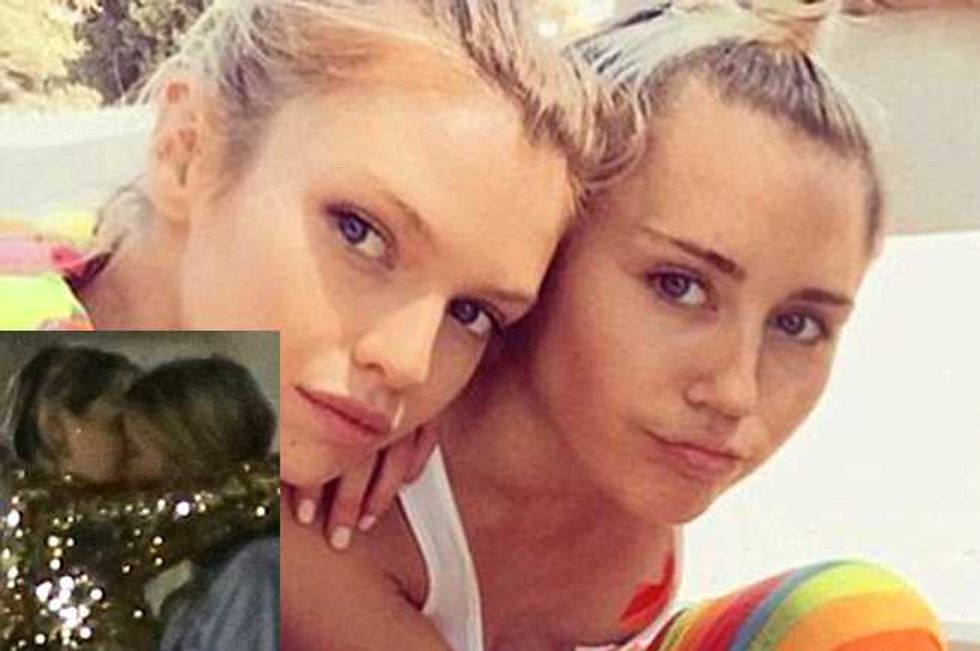 After revealing her gender fluidity recently, Miley Cyrus is now openly involved with Victoria's Secret model and 'It Girl' Stella Maxwell.
Photos of the two women kissing in a passionate embrace confirm that they are more than pals or casual sleepover buddies.
Stellla, 24, has been christened an 'It Girl' by V magazine, where she is coy about her relationship status. But Stella and Miley have been joined at the hip for weeks, working on a video together and posting adorable pix of each other on Instagram.
Stella joked to V mag that she and Miley met on grindr, but in fact it was Miley's assistant who made the introduction. Stella says, 'It felt organic and right.'
Early suggestions that the relationship was a publicity stunt have pretty much been debunked. For the moment at least, these two infatuated lovebirds seem to be reveling in their hot romance and they want you to know it.
Stella is on record as hoping to break into the music business, and we'll see if Miley turns out to be her mentor. Meanwhile, we can ponder the phenomenon of pop stars hooking up with Victoria's Secret models. Or in Taylor Swift's case, collecting them as Bff's.
Anyone doubting Miley's professed bisexuality can now rest assured that she's putting her money where her mouth is, ahem.