Trending
Goes totally naked for V Magazine
Miley Cyrus is continuing her naked assault as well as her fight for equal rights and acceptance—and we for one love her all the more for it.
The 22-year-old stripped down and got her drag queen on for V magazine's 4th installment of Diary of a Dirty Hippie—Popdust has photos.
Nicki Minaj Rips Miley Cyrus About Disrespecting Black Culture
Posing backstage at the 2015 MTV VMAs, Miley shows that she's completely at ease with letting it all hang out, wearing nothing but lashings of make-up, a broad smile and her God-given birthday suit.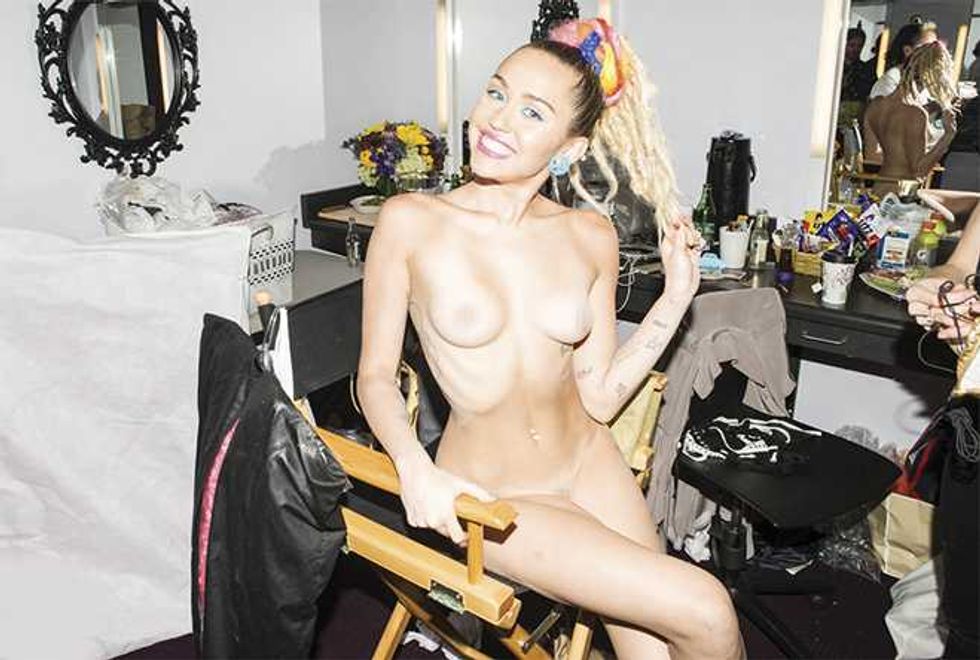 The accompanying article is written by Laganja Estranja, a drag queen pal of Cryrus', who performed with her during the awards show back in August.
Miley Cyrus' Interview Mag Photos Are Basically Flat-Out Porn (And NSFW DUH!)
Estranja goes into detail about what it's like working with the gay rights advocate—and, not surprisingly, heaps praise on the tongue poking, ass twerking, weed tokin' naked loving "trailblazer."
Miley told me she wanted to get all these queens together, so I started texting immediately and my sisters stepped up. We spent a whole week working as a collective, which gave us time and a safe space to grow and learn as a community. The last time I was in a place with that many drag queens I FELT VERY ATTACKED, but this was so different because it came from a place of love and being one with the universe. We all danced as a group for the first time and it was SICKENING.
As drag queens we are female illusionists and entertainers. We dance and lip-synch in gay clubs, but more recently—with the help of trailblazers like RuPaul and Miley Cyrus—we are breaking into popular culture. I am not just a boy in a dress. I am more than my (tightly tucked) taped penis and earrings superglued to my earlobes. I am a dancer, a choreographer, a performance artist. And on the 30th of August when I went onstage with my sisters, I felt the world change its perception of my profession. Yeah, I smoke pot—and yeah, I love peace—and yeah, I may wear a dress to pay my bills, but so do pop stars.
I have to thank Miley for fucking shit up and teaching the nation through alienation, because we can't do this by ourselves. Nobody can fight for equality or bring visibility to the marginalized singlehandedly.
We have to talk together, work together, create art together, and maybe then we can carve out a solid place in the sun for a once underground subset of society. I look forward to this journey, because we are just getting started! OKURRR!!!!!
Amen to that girlfriend!
For more entertainment, world, music and pop culture updates and news, follow Max Page on Twitter