As we all know by now, Miley Cyrus—AKA everyone's favorite weed smokin' Schwarzenegger shagging, tongue poking, crotch grabbing, twerking bundle of awesomeness—just LOVES to get her tits out….. at any and every opportunity.
And why not? If you've got them, flaunt them… right?
Well, not everyone agrees with that sentiment, and that's one of the driving causes behind the Free The Nipple campaign.
As Popdust previously reported, our favorite Willis sister, Scout, raised awareness of the movement earlier this year, when she roamed around NYC totally topless.
You go girl!
Big sister Rumer Willis is also a nipple activist, along with a slew of other celebs, including Cara Delevingne, Chelsea Handler, Keira Knightly and Rihanna—so, it was only a matter of time before Miley jumped on the right to bare bandwagon.
Cyrus posted a very tasteful black and white photo of herself topless, reclining, on her Instagram account—to protest the social media site's ludicrous nipple ban—and, not surprisingly, it immediately went viral.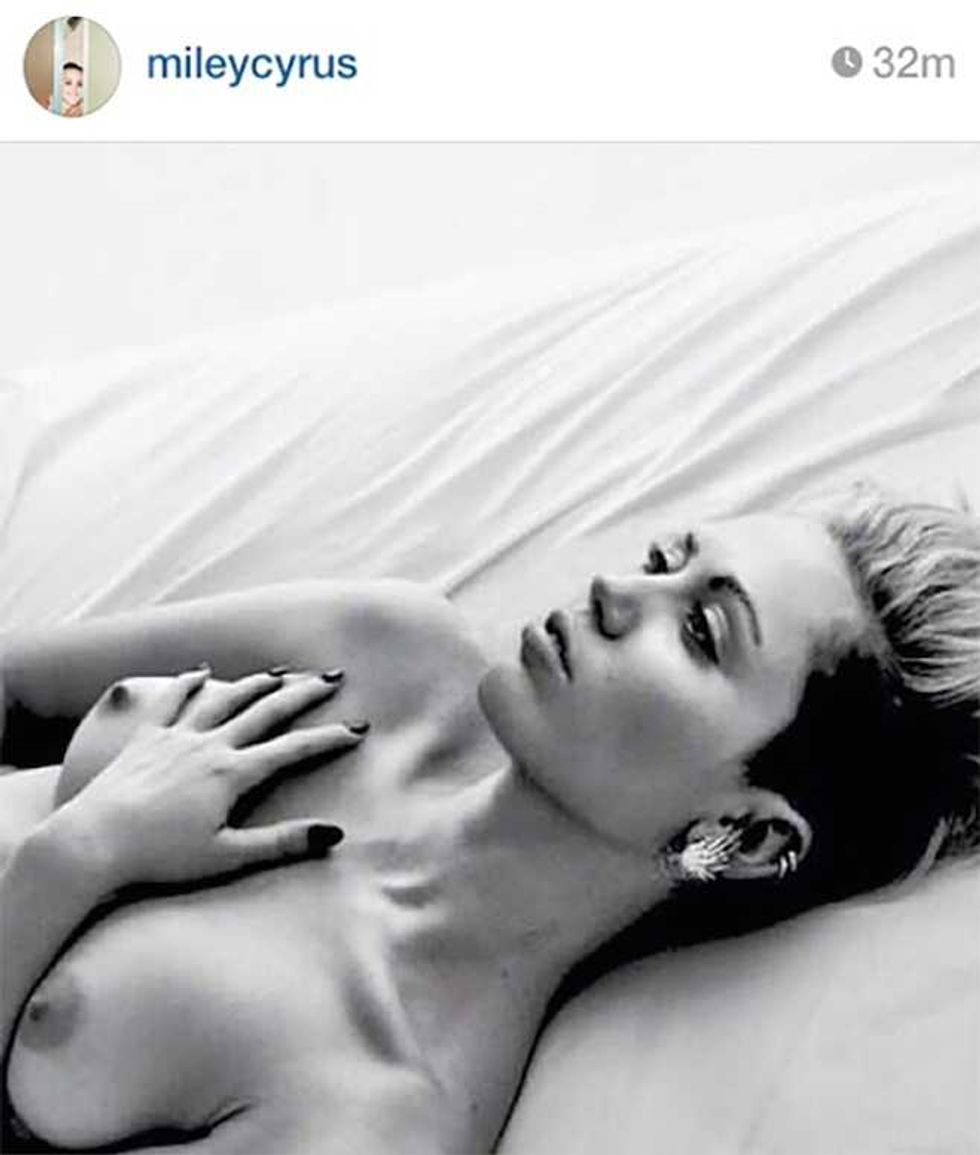 Instagram has since removed the offending photo—because, well, is there ANYTHING more offensive than a woman choosing to go topless?!! How VERY dare they?!!!
However, they continue to allow sleaze bag douches like self professed "Instagram playboy" Dan Bilzerian to post revolting, misogynistic photos of half clad strippers worshipping his every move—because, as we are still only too aware, in the words of the late great James Brown, it's a man's man's man's world…..
Meanwhile, for those of you who are questioning why the Free The Nipple Movement is a feminist rallying cause—here's some food for thought from Alligator.com
Men haven't always been able to go shirtless. Religious individuals in the 1900s banned all nipples in public places. In 1935, 42 men were arrested for going topless in Atlantic City. The male population protested, and the male topless ban was subsequently lifted in 1936.
"Suddenly a man's nipples were no longer 'obscene' in society, but rather commonplace and natural," according to The Huffington Post.
That's fine and dandy. There's nothing wrong with a little nipple, right?
Well, apparently there is — as long as it's a female nipple.
It's an everyday occurrence for a male to go without a shirt, but it's still illegal for women to go topless in 35 states.

You can learn more about the Free The Nipple campaign here—and check out Popdust's gallery of celebrity nip slips below….
Oh, and, hey, remember, it's just a nipple folks…no need for the moral outrage...