CULTURE
Miley and Liam are officially over, and so are our hopes and dreams of everlasting love.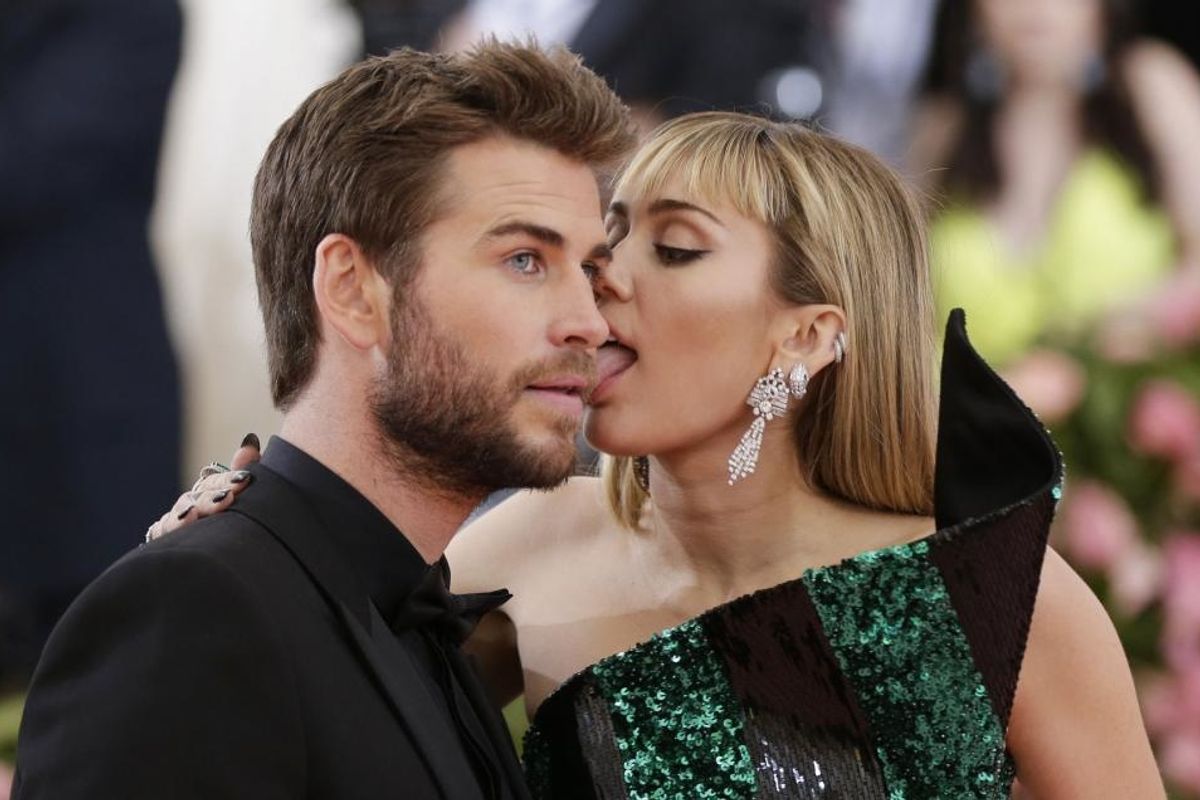 Is there a word for events that seem like they could only exist in the broken-simulation version of 2019?
Whatever that might be, it has to apply to Miley Cyrus's surreal social media presence following her split from her husband of eight months, Liam Hemsworth.
By now, everybody knows that Miley Cyrus and Liam Hemsworth have separated after less than a year of marriage. This isn't the first time the couple has broken up, though; they were engaged from 2012 to 2013, and Miley went through one of the most epic post-breakup freakouts ever during her Bangerz era.
Anyone who was expecting Miley to pull a similar stunt will be disappointed. Miley actually seems to be thriving post-breakup…maybe even a little too much. Following the split, she uploaded a few strange social media posts comparing herself to the Dolomites. Later, she also compared herself to the entire planet.
My dad always told me " Nature never hurries but it is always on time".... it fills my heart with peace and hope KN… https://t.co/ThZppSTR9V

— Miley Ray Cyrus (@Miley Ray Cyrus) 1565540285.0
Life's a climb... but the view is great. https://t.co/mE8lYlfCMQ

— Miley Ray Cyrus (@Miley Ray Cyrus) 1565551549.0
Of course, there's also been some twerking. An explicit video of Cyrus twerking in Italy surfaced on August 9th from the trip she took with Kaitlynn Carter. Photos of Cyrus and Carter kissing also surfaced, coming just a week after Carter separated from her husband, Brody Jenner.
On Monday, Cyrus uploaded a selfie in a recording studio, indicating that more music is on the way. Will we be getting another "Wrecking Ball" out of this, or does Cyrus have something else in store? Judging by her actions only a few days after the breakup, she's determined to live out this chapter of her life in the public eye.

Also on Monday, Hemsworth broke his silence on the breakup, telling Daily Mail Australia, "You don't know what it's like. I don't want to talk about that, mate."
Even if their split was conscious and amicable, the couple does have some things left to resolve. Together, they own eight dogs, four cats, and one pig, and they plan to "coparent" the animals, said a source. Still, the source added that Cyrus believes the dogs are all hers, though Hemsworth adopted two of them. "She seems to be more concerned about the pets than Liam right now," they continued.

Out of all the loose threads and unanswered questions left in the wake of this shocking separation, one stands out from the rest (even more so than the question of what will happen to their pets). That question: Is love dead?
To answer that, first we'll need to figure out why the couple split in the first place. According to their breakup statement, Cyrus and Hemsworth were torn apart by a desire to focus on themselves. "Liam and Miley have agreed to separate at this time," it read. "Ever-evolving, changing as partners and individuals, they have decided this is what's best while they both focus on themselves and careers. They still remain dedicated parents to all of their animals they share while lovingly taking this time apart. Please respect their process and privacy."
This reasoning echoes a lot of the sentiment that abounds among today's millennial and Gen-Z generations. Young people today are more likely to prioritize self-care in general. Among many spheres of online discourse, there's a kind of pervasive focus on the self and the belief that one's own personal growth is more important than putting others above one's own desires and needs. Is Miley and Liam's split a result of this increased focus on self-absorption?
It's possible, but on the other hand, if fewer people are compromising themselves for love than ever before, that isn't necessarily a bad thing. Like individuals, love is also ever-changing, and it makes sense that its definition might be shifting with the times.
As individuals, Hemsworth and Cyrus do seem rather incompatible. Hemsworth seems to enjoy his privacy, and Miley Cyrus is, well, perpetually just being Miley. Some fans noticed seeds of dissolution in their relationship back in February, when Hemsworth put a stop to Cyrus when she tried to start twerking on the red carpet. "We're not doing that here," he said, revealing just how far apart the two stand in terms of their values and personalities.
Miley Cyrus Grinds On Liam Hemsworth In This Oscars Interview & He Has The Best Reaction | Access www.youtube.com
Maybe Miley Cyrus and Liam Hemsworth's relationship isn't a good litmus test for the state of modern marriage and love at large. Maybe millennials have killed love along with bar soap and doorbells. Who's to say? Their relationship has always been as rocky as a cobblestone street. It seems that no matter how many times they tried to rebuild it, the wrecking ball was always going to come for their love in the end.