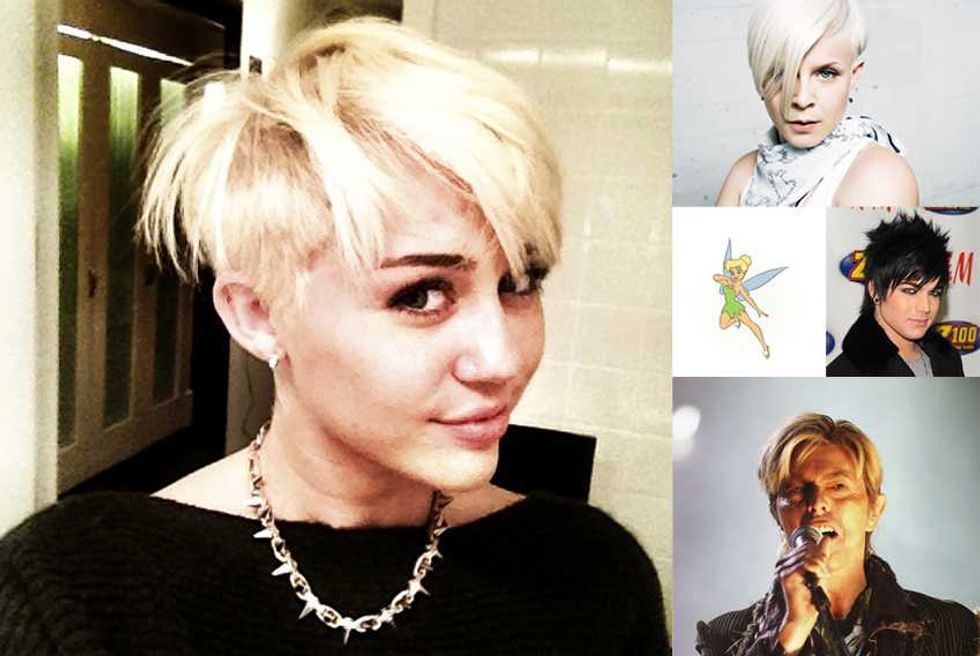 Miley Cyrus inches further and further away from her Disney roots by dying her roots blonde and shedding several inches. In other words, the former Hannah Montana star now rocks a full blown pixie cut. Miley devotees might've seen a change brewing. After going full blonde, she tweeted, rather cryptically:
it's happening.

— Miley Ray Cyrus (@MileyCyrus) August 12, 2012
Are we ruling this a change for the better, bolder, and blonder? Or a (tamer) Britney moment?
Miley's certainly not the first to pull a pixie on us. We wonder - Whose photo did she bring to hairstylist Chris McMillan (creator of "The Rachel") as inspiration? What were Miley's guidelines? Behold our musings below.
The Robyn, But Sunnier
The Ellen, But Edgier
The Lennox, But Longer
The P!nk, Minus the Pink
The Rapinoe, Minus the Sweat
Tank Girl, Minus the Hat
The Bowie, But Femmie
The Garth, But Grungy
The Jamie Lee Curtis, Hold the Salt/Pepper
The Hermoine, But Witchier
The Blonde Lambition.
The Bunless Tinkerbell
One thing we're sure of - The Skrillex was involved