Oh that Miley Cyrus!
When it was announced that the 22-year-old was going to be hosting the 2015 VMAs, it was a given that she would be putting on quite the show—but, in the end, Miley managed to outdo even herself.
Leaving her infamous Robin Thicke 2013 VMAs twerking extravaganza firmly in the shade, Miley laid on a pretty much naked, weed smoking, profanity laced, nip slipping, performance guaranteed to keep her name firmly in the headlines for at least the foreseeable future.
Miley Cyrus Is OBSESSED With Being Naked—Here's All Her NSFW Nude Photos
Oh, then there was also the whole Nicki Minaj fight furor too….. but, more about that in a bit.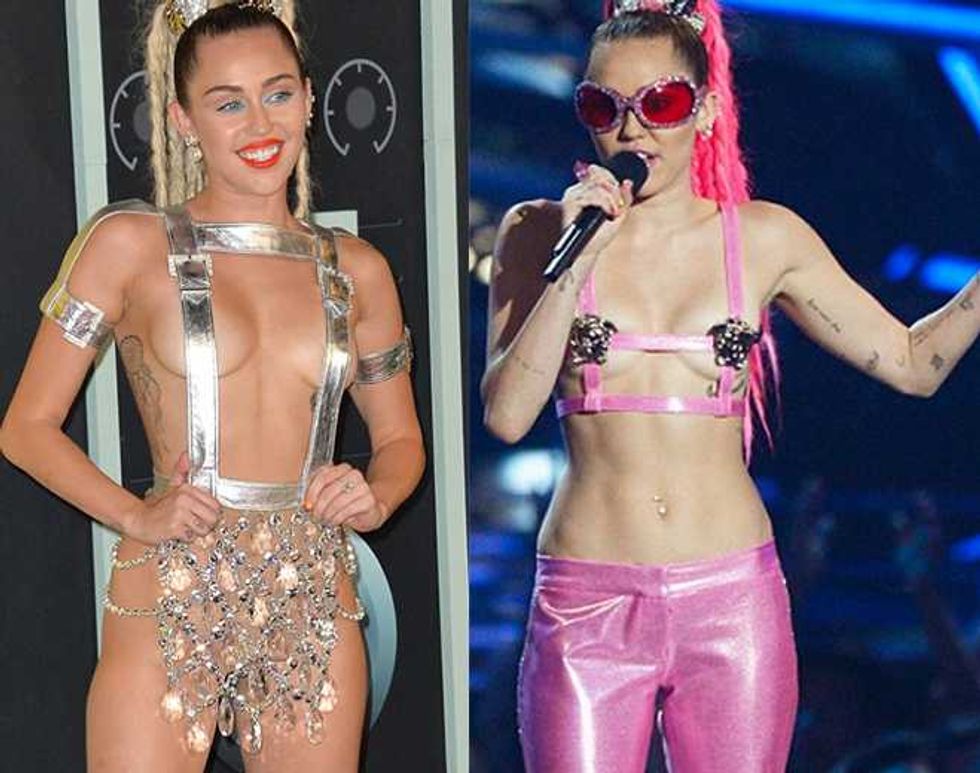 Miley Cyrus' tasteful VMAs red carpet arrivals ensemble (left) and one of her many understated and modest onstage outfit changes (right)
MTV was obviously hip to what was going to be in store—because, Miley Cyrus, DUH! But, despite the "live" broadcast being on a slight delay to help filter out the plethora of profanities throughout the night, good old Miles still managed to slip her bare nip into the evening's festivities.
Miley Cyrus Says Billy Ray Would Rather She Has Her Tits Out Than Be A Bitch
Cyrus' "non-intentional" (yeah right!!) nip slip occurred as she was changing backstage, behind a curtain, for the night's final performance. As the camera filmed her, body hidden, head visible, suddenly the curtain "accidentally" fell, revealing her bare breast….
"Sorry, my tit's out," Miley could be heard pretending to protest.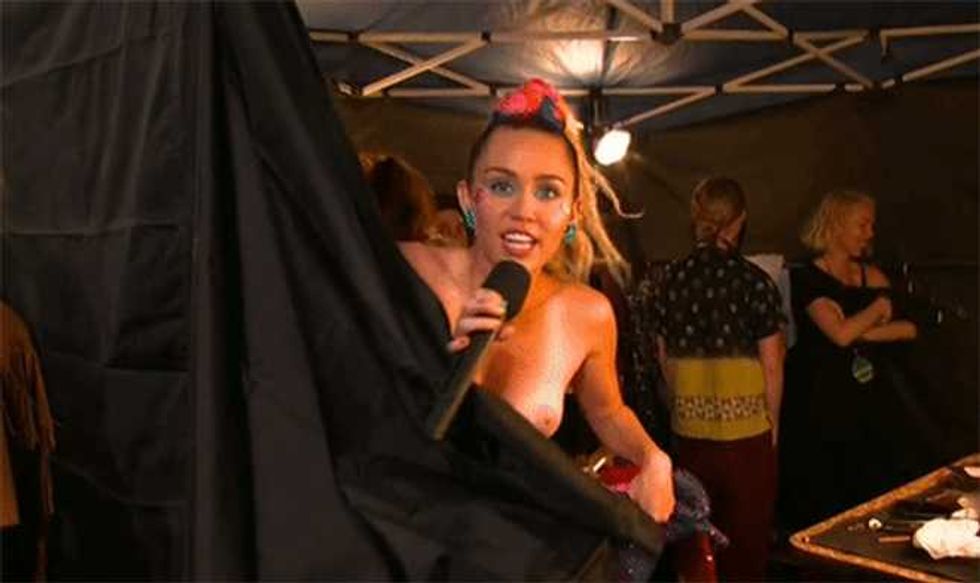 Miley slips her nip into the VMAs festivities....
GASP! The OUTRAGE!
Nah, not really…. being 2015, and the MTV VMAs, nobody really gives THAT much of a fuck—because it's just a Goddamn nipple folks, get over it—and, thankfully, there has (so far) been no repeat of the utterly ludicrous, puritanical, OUTRAGE that occurred in the U.S. following the blink-and-you-would-have-missed-it Janet Jackson Superbowl half time performance nipple flash fury that happened back in 2004.
Miley Cyrus Says Hannah Montana Triggered Body Dysmorphia
And, if there is any sad bastard out there feigning outrage and shock, then seriously, what the fuck were they doing watching Miley Cyrus presenting the MTV VMAs, in the first place?!! You pretty much know the drill, and can be confident in what you're gonna be getting…
Case in point, throughout the night, in addition to all the outrageous costume changes that ensured she got to flash the very maximum amount of flesh possible, Cyrus was sure to bring plenty of 420 to the show.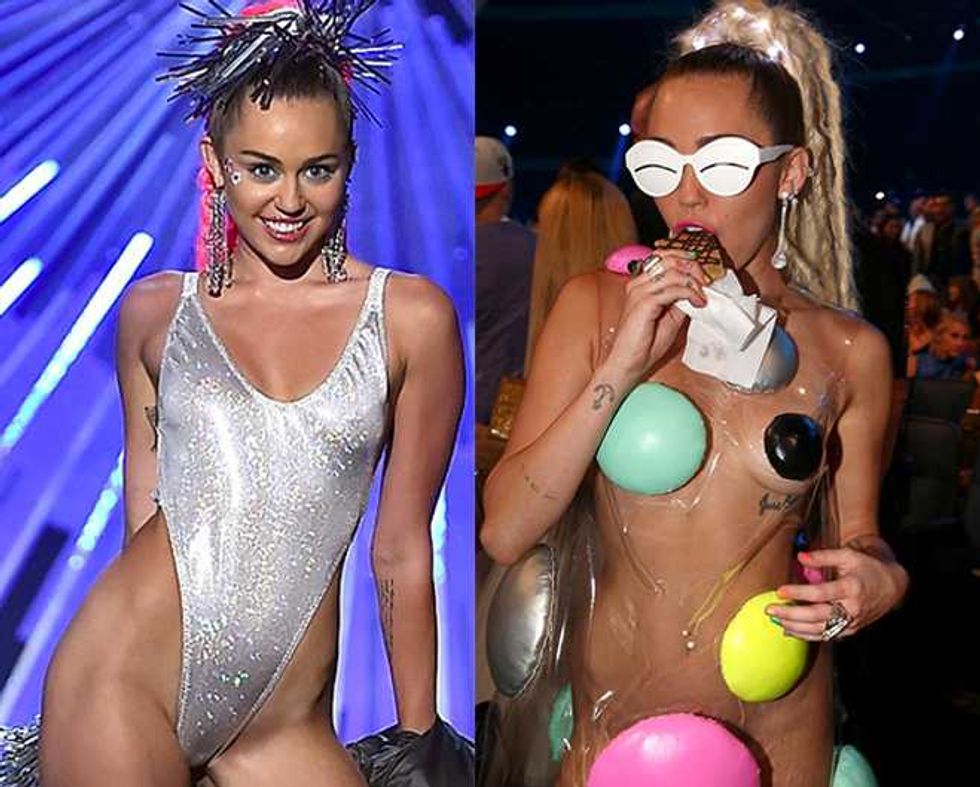 More Miley VMAs outfit mayhem...
Miley managed to slip a drug reference into the first few minutes of her opening speech, then worked in references to either smoking, or eating ganja at pretty much every single turn.
There was a skit where she and Tyga ate kif cookies during a sleepover at her dad Billy Ray Cyrus' house—another, where she and Snoop Dogg ate bhang brownies together, which he claimed were baked by Miley's "mamie"—Cyrus demanding Rita Ora and some dancers say "marijuana!" as they posed for an onstage selfie together—and, just in case you didn't get the, "Hey kids, look! MTV is cool and edgy again!" memo, Miley posed for a ton of pics backstage, all while smoking some big fat blunts.
Miley Cyrus is Pansexual, Alright?
Ooooohhh….. sooooooo cool MTV!
But, what would a modern day award show be without some good old fashioned bitch fest-fueled beef for people to sink their teeth into?
And, sure enough, VMAs viewers were served up a big, steaming portion of diva drama, courtesy Best Hip-Hop Video award winner, Nicki Minaj.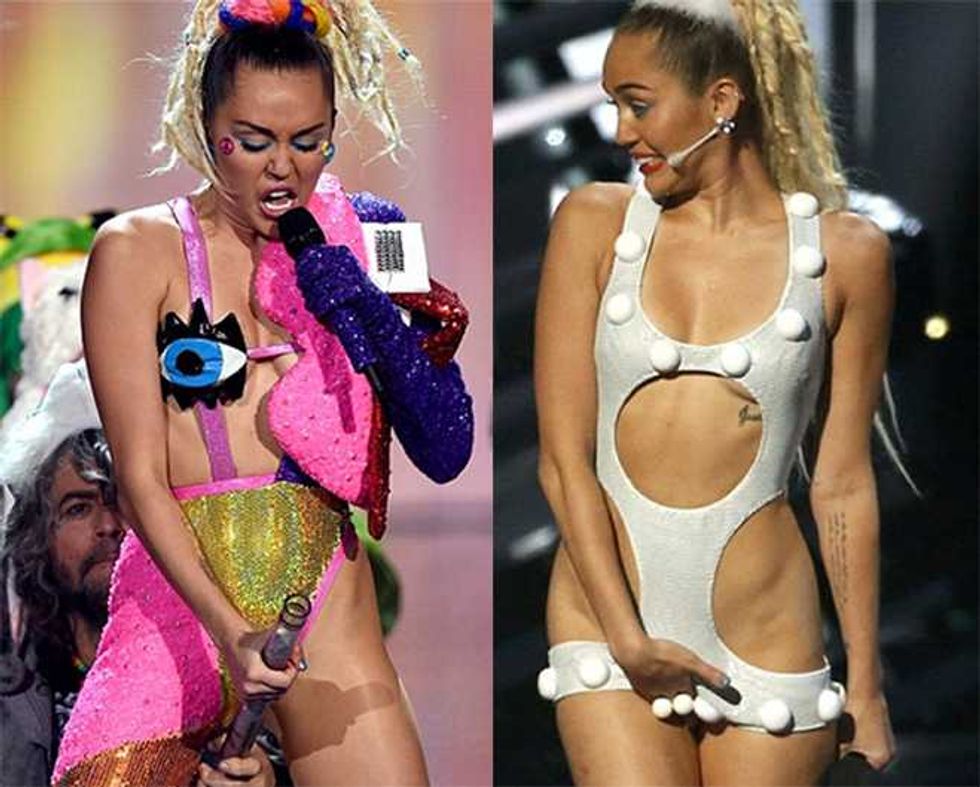 And, yet more VMAs keepin' it classy Cyrus costume changes...
After thanking everyone under the sun, including her pastor, Minaj took aim, and BOOM! fired directly at Cyrus, referencing a NY Times story in which Miley appeared to be firmly #TeamSwift—Minaj sniped, "And now, back to this bitch that had a lot to say about me the other day in the press….Miley, what's good?"
Hollywood 420—Morgan Freeman's Not The Only Surprising Celeb Weed Lover
Miley, being Miley, took it all in her stride however—or perhaps, was too damn stoned at that point to think of a decent comeback—responding with a diplomatic, "Hey, we're all in this industry, we all do interviews, and we all know how they manipulate shit. Nicki, congratulations."
Meow….
So little time, so many ridiculous, fabricated "feuds" ....and so many snore-inducing "edgy" "cool" award shows....