Miley Cyrus has completed her transformation from wholesome Disney child actress to model... very sexually.
It's been a (not that) long time coming, but Miley has now finally, fully shrugged off Hannah Montana and embraced her inner Jenna Jameson—and then some—Popdust has the NSFW photos.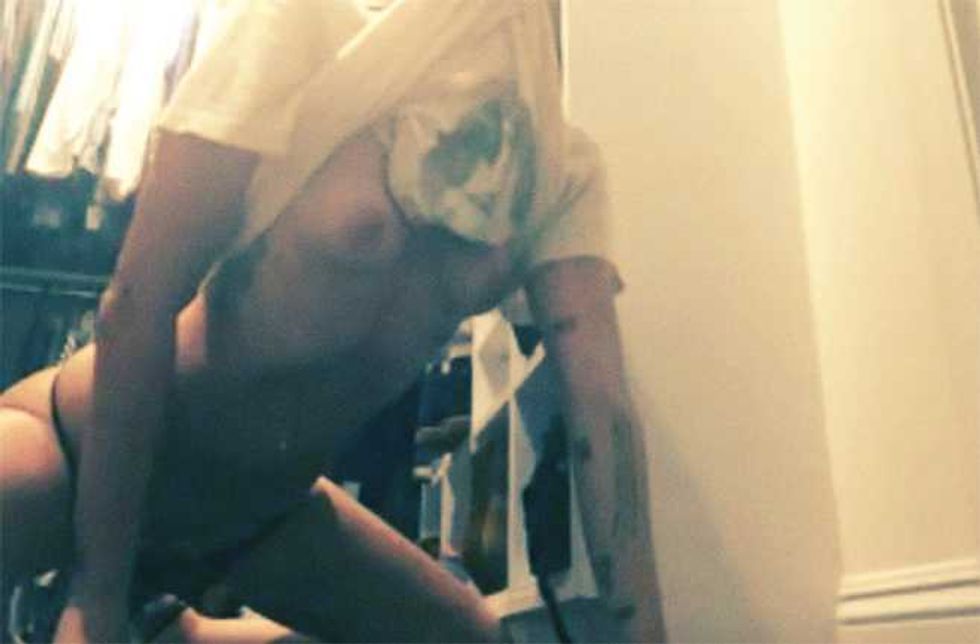 Cyrus has been letting it all hang out for a while now—nip slipping, breast flashing, bare bod baring her way all over the world's stages, TV screens and media—but, her new pictorial extravaganza is the raunchiest yet, and, basically flat-out adult entertainment.
The 22-year-old unleashes her inner nasty girl for the new issue of Interview magazine, while face time "sexting" with photographer Mert Alas.
Interview has released a selection of the pics, with the accompanying caption, "Sometimes you have to reach out and touch someone-slash-yourself. Mert Alas shares a few of his sexts with the fearless and self-possessed princess of pop."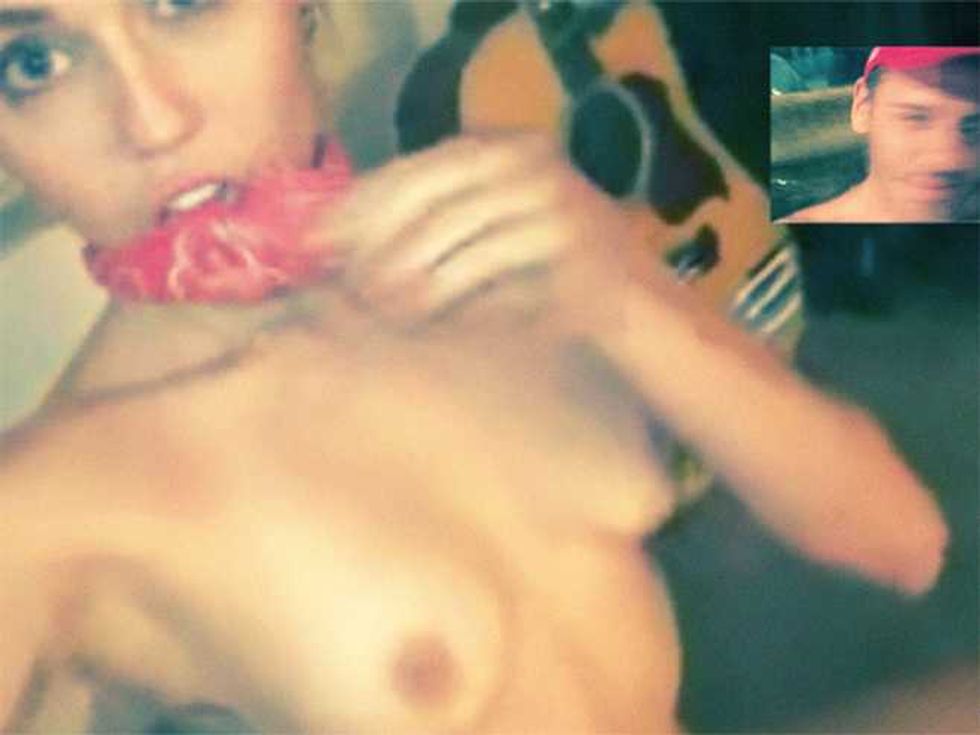 Fearless and self-possessed indeed—the photos include a topless Miley showing off her bits and parts in various poses; Miley clad in just a teeny black thong splayed out forward-facing on the ground and licking the floor; Miley bending forward, legs spread, T-shirt up over her head to display her naked chest as she pulls her thong right down; and Miley lying on her back, T-shirt bunched up around her neck, showing off her naked chest, thong pulled up and hand thrust between her widely spread legs as she plays with herself.
Miley Cyrus Says Billy Ray Would Rather She Has Her Lady Parts Out Than Be A B*tch
And, yeah, that's about the sum of it.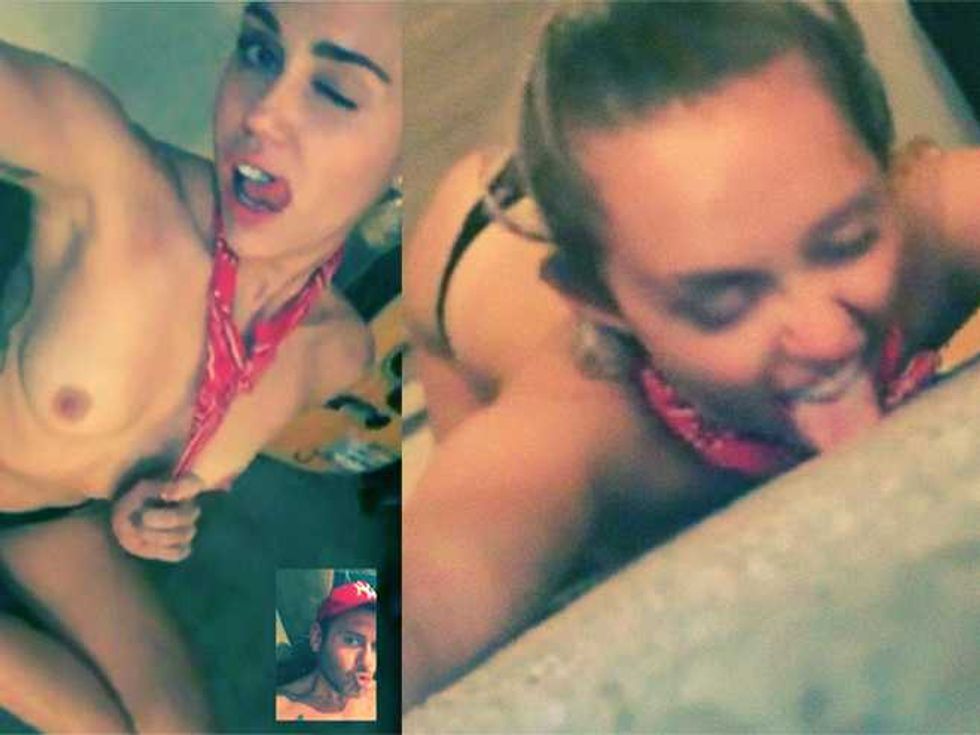 Interview's cover line is: The #ME issue #Instagang 100 of the most powerful personalities on the internet
Miley Cyrus Says Hannah Montana Triggered Body Dysmorphia
Kim Kardashian, Zayn Malik and Victoria Beckham are among the other stars taking their kit off for art—presumably the latter two, at least, aren't naked and touching themselves at the same time though.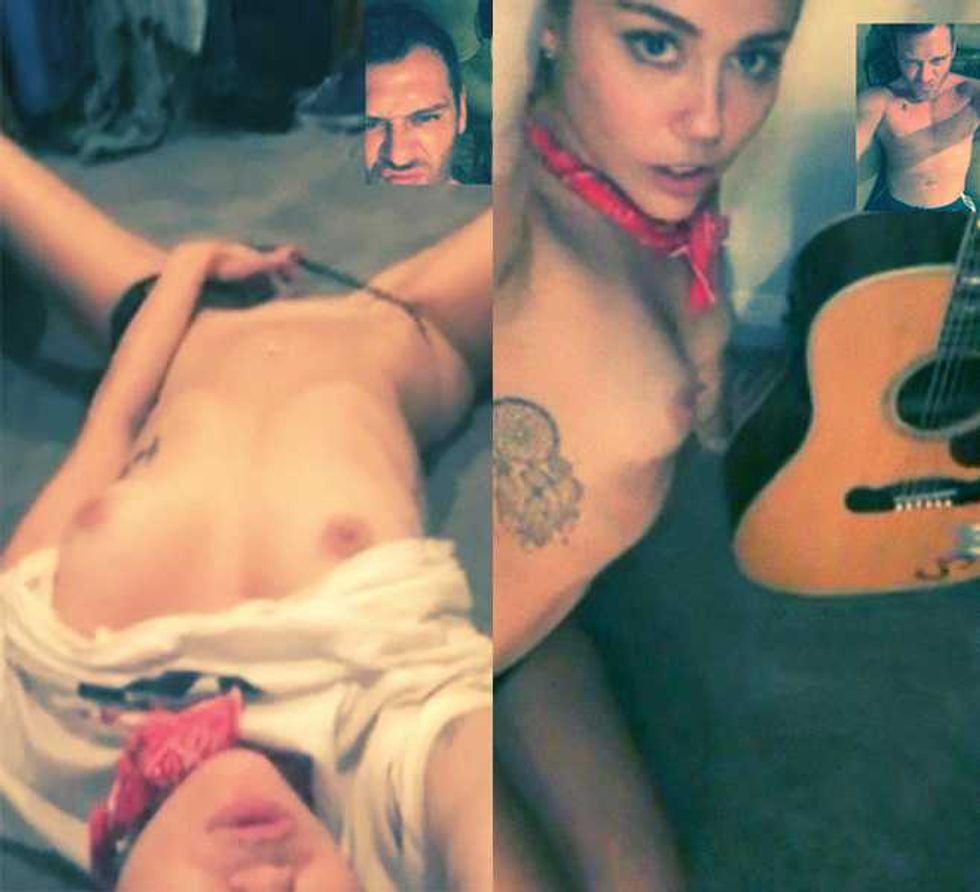 Interview has created eight different covers, featuring KK, Malik, Cyrus and Beckham, in addition to Jennifer Lopez, Madonna, Selena Gomez, and one with Alas himself.
Miley Cyrus Bares Her Boobs (Again) For Super Hot V Magazine Shoot
Adriana Lima, Snoop Dogg, Laverne Cox and Kendall Jenner, are some of the stars whose "selfies" are included inside the edition.
POP⚡ DUST | Read More…
MUSIC MONDAY | SondorBlue takes over this week's playlist
WTWD? | Questions on Season Eight of The Walking Dead: Episode 7
RELEASE RADAR | Legends Collective Soul and Pitbull & The Stereotypes both drop music