Billy Ray Cyrus has no issue when it comes to his daughter's penchant for flashing the flesh.
Unlike lesser broad-minded fathers, the 54-year-old takes a decidedly zen-like approach when it comes to Miley's nekkid loving ways—choosing instead to concentrate on being thankful that she's a good (semi naked) person.
Miley Cyrus Is OBSESSED With Being Naked—Here's All Her NSFW Nude Photos
Miley dished on her dad's flesh flashing philosophy on Jimmy Kimmel Live last night—you can watch video right here on Popdust.
Appropriately, Miley was once again semi-naked at the time, with just some bejeweled pasties and a teeny, tiny, open fronted sparkly bolero jacket, to save her modesty (a forced concession to comply with TV decency regulations).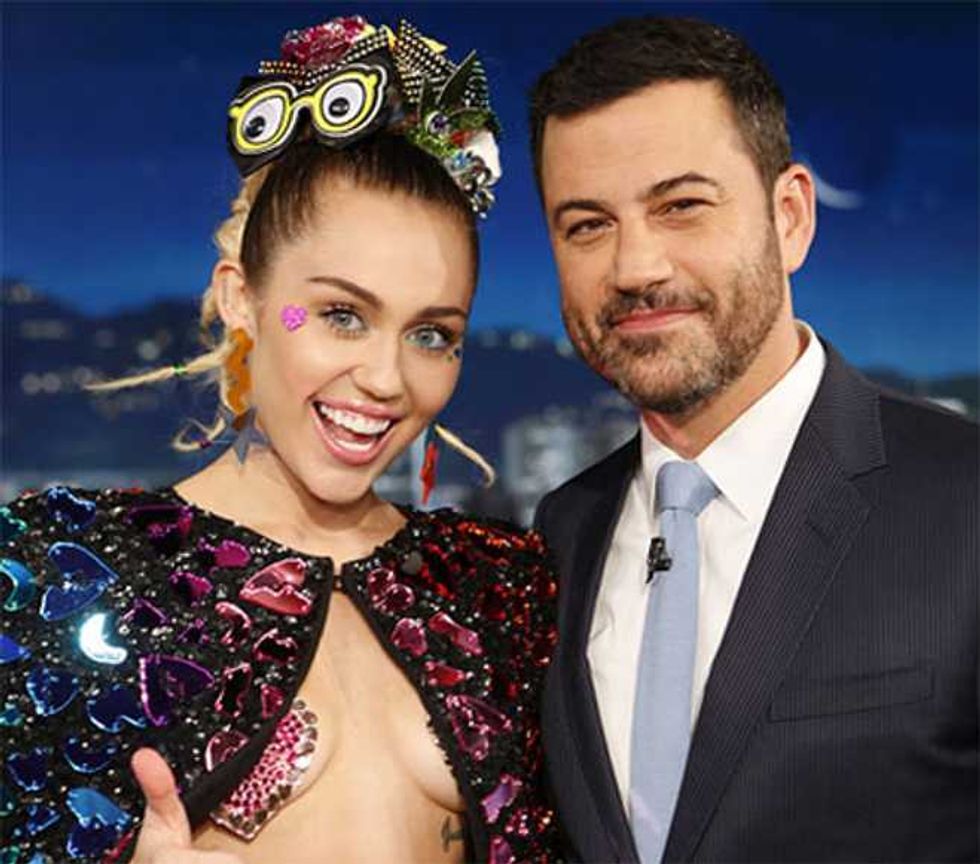 Miley Cyrus, her tits, and Jimmy Kimmel...
Poor Jimmy Kimmel admitted that he really didn't know where to look, trying his very hardest to keep his eyes fixed above Cyrus' chin level—and, being dad to a 23-year-old daughter himself, he asked Miley how her dad felt about her love of public nudity.
"My dad's cool," the 22-year-old replied. "He'd probably maybe rather I didn't have my t*ts out the whole time, but he'd rather me have my t*ts out and be a good person, than have my shirt on, and be a bitch.
Attn. Ladies! Miley Cyrus Wants You To Get In Touch With Yourself!
"I see a lot of people with their clothes on, and they're kind of assholes," she continued. "And I don't know if it's the clothes that turn them into assholes.
"When you've got your t*ts out people are already kind of judging you. I feel better this way."
Miley went on to admit that she really enjoys the affect her near-nakedness has on others, allowing her to feel more confident in any potentially nerve racking situations, like meeting iconic rock stars for the first time.
Miley Gets Nekkid! Cyrus Shares NSFW Nude Photos From Bangerz Tour
"I did the Rock and Roll Hall of Fame and I saw Paul McCartney," Cyrus told Kimmel. "I saw him not knowing how to talk to me. I don't know really how to talk to Paul McCartney, so it made me very comfortable because it made him more uncomfortable. So sometimes it's like a kind of nice convo ice breaker!"
Meanwhile, Australia will be seeing a whole lot more of Cyrus this weekend, as she gears up to host the MTV VMA Awards on Sunday.