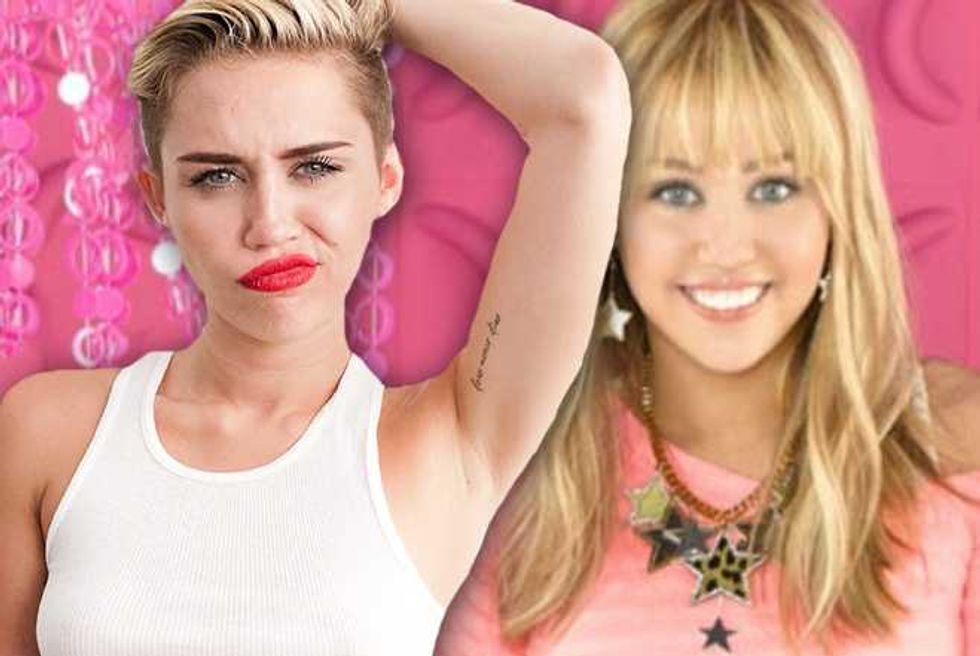 Miley Cyrus is keeping it way real, like she does, on the September issue of Marie Claire—admitting that she suffered from body dysmorphia during her Hannah Montana years.
"From the time I was 11, it was, 'You're a pop star! That means you have to be blonde, and you have to have long hair, and you have to put on some glittery tight thing,'" the 22-year-old candidly explains. "Meanwhile, I'm this fragile little girl playing a 16-year-old in a wig and a ton of makeup. It was like Toddlers & Tiaras."
Miley Cyrus Is OBSESSED With Being Naked—Here's All Her NSFW Nude Photos
Cyrus admits that eventually, all the pressure got to her, and she couldn't shake the feeling that the real Miley was nothing but a disappointment to fans.
That fear triggered a form of body dysmorphia—a mental disorder in which a person is preoccupied by an imagined personal defect. According to WebMD, BDD sufferers often avoid social exposure to others or turn to plastic surgery to try to improve their appearance.
"I was told for so long what a girl is supposed to be from being on that show," Cyrus says. "I was made to look like someone that I wasn't, which probably caused some body dysmorphia because I had been made pretty every day for so long, and then when I wasn't on that show, it was like, 'Who the f*ck am I?'"
Miley Cyrus Bares Her Boobs (Again) For Super Hot V Magazine Shoot
With that in mind, Cyrus thinks she'll never be the "face" of mainstream beauty brands—and says that all of the bullshit and artifice that go into Photoshopped ads disgust her.
"When you look at retouched, perfect photos, you feel like shit," she says. "They lighten black girls' skin. They smooth out wrinkles. Even when I get stuck on Instagram wondering, Why don't I look like that? It's a total bummer. It's crazy what people have decided we're all supposed to be."
Meanwhile, Miley shares that she "became a woman" on the Hannah Montana set, while wearing white pants—and she asked her mom to put her tampon in for her!
Miley Cyrus' Song To Her Dead Blowfish Pablow Is Really Kinda Awesome
"It was so embarrassing, but I couldn't leave. And I was crying, begging my mom, 'You're going to have to put the tampon in. I have to be on set,'" Miley admits.
Realer than R. Kelly.
Read the whole interview here