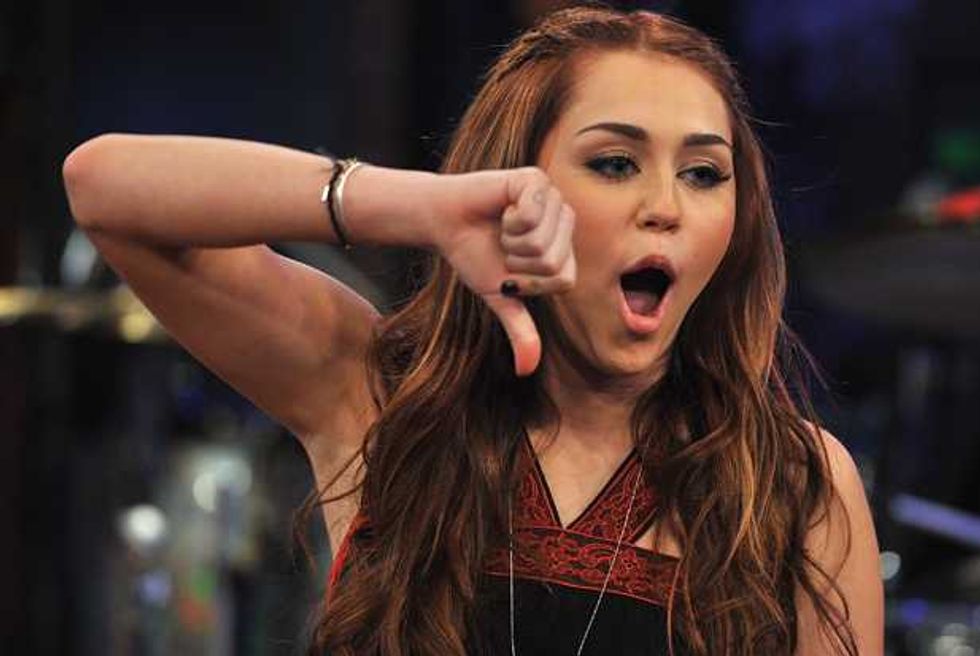 Possibly the least promising first tweets possible, if you like tweets with interesting content, is the following from somebody definitely not Miley Cyrus:
"Welcome to the official Miley Cyrus "Gypsy Heart Tour" twitter page!!! Follow us for special updates from the tour's Creative Director, Miley's Band & Dancers, and some special guest tweets from MILEY!" - March 29, @MileyCyrus
"Special guests tweets from Miley" should mean "sometimes we'll let Miley say "hi" to a randomly selected fan out of @replies," right? Yes. It should. As should anyone tweeting the word "we." Somewhere along the line, though, it seems Miley got the password to the account, or else there is one wacky social-media coordinator doing a hell of a job. Because just about the last celebrity we ever suspected would get all serious and political over Twitter is Miley Cyrus.Oh, sure, there's plenty of cursory "thanks for going to the show!" and silly mentions of swag and such. And she does make much of listening to The Strokes and Cage the Elephant and similar bands, so maybe she's just hanging out at a lot of liberal-arts colleges lately. Either way, it's no longer surprising to read a "Miley Cyrus Gets Political!" headline!
Just in case you're not familiar with this phenomenon, and because it's Thursday afternoon, allow us to present Miley Cyrus, on the issues:
ON THE TRAVAILS OF THE MUSIC INDUSTRY: "this industry has built it's self up on hype and sooner or later it'll all come tumbling down. #revolution" (July 11)
ON SAME-SEX MARRIAGE, SPECIFICALLY ON CASEY ANTHONY: "You know the world is skewed when people get away with murdering children but we cant get gay marriage legalized in the state of California." (July 6)
ON SAME-SEX MARRIAGE, SPECIFICALLY ON URBAN OUTFITTERS' RIPOFFS OF INDEPENDENT DESIGNERS AND CAMPAIGN CONTRIBUTIONS: "Love that everybody is hating on Urban Outfitters. Not only do they steal from artists but every time you give them money you help finance a campaign against gay equality. #SHADYASHELL "IF WE ALLOW GAY MARRIAGE NEXT THING U KNOW PEOPLE WILL BE MARRYING GOLD FISH" - Rick Santorum UO contributed $13,000 to this mans campaign" (May 26; she speaks the truth on the contributions, although we have yet to hunt down the source of the alleged goldfish quote)
ON GENDER/PAPARAZZI RELATIONS: "1. loving Rio 2.HATING the paps. 3. So not fair grown ass men can hide in the bushes and take pics of us girls in our bikinis!" (May 13)
ON GOVERNMENT CONSPIRACIES: "ha! if twitter is blocking me getting 1,000,000 they'll deff block #twitteriswack They are worst than the gov. denying aliens!" (May 17)
Needless to say, we at Popdust are all for tweeted candor from musicians. It makes the world a more interesting place when artists can express themselves without being manager-muzzled into cheery nothings. And it's a much happier sight than certain artists retweeting everyone who hits on them, or trying to be hip by posting constant bad jokes, or disappearing for months like Kanye West. Really, what's sadder?