Ah...the modern phenomena that is the selfie...A way for self obsessed stars to take their self obsession to an even higher level..
And who is more self obsessed (and selfie obsessed) than Kim Kardashian and Miley Cyrus?
Both post selfies at a prolific rate, documenting every second of their fabulous lives—but in a Kim Vs Miley selfie faceoff, who is the Van Gogh? Who is the Annie Leibovitz? Who is the true artistic selfie master?
Popdust channeled a leading art critic to conduct a Miley Cyrus Vs Kim Kardashian selfie critique... here is the result.
Miley Cyrus:
"Stroke of Genius"
The artist known as Miley multitasks in this first in a trio of works known as "The Classic Cyrus"
In this artistic nod to stroke victims the artist known as Miley says, "I may have had a stroke and lost lower motor neuron and tongue control, but Godammit, my abs are sick." The image is at once confrontational and referential as the artist known as Miley takes a jab at the 1998 cinematic opus "There's Something About Semen In Your Hair."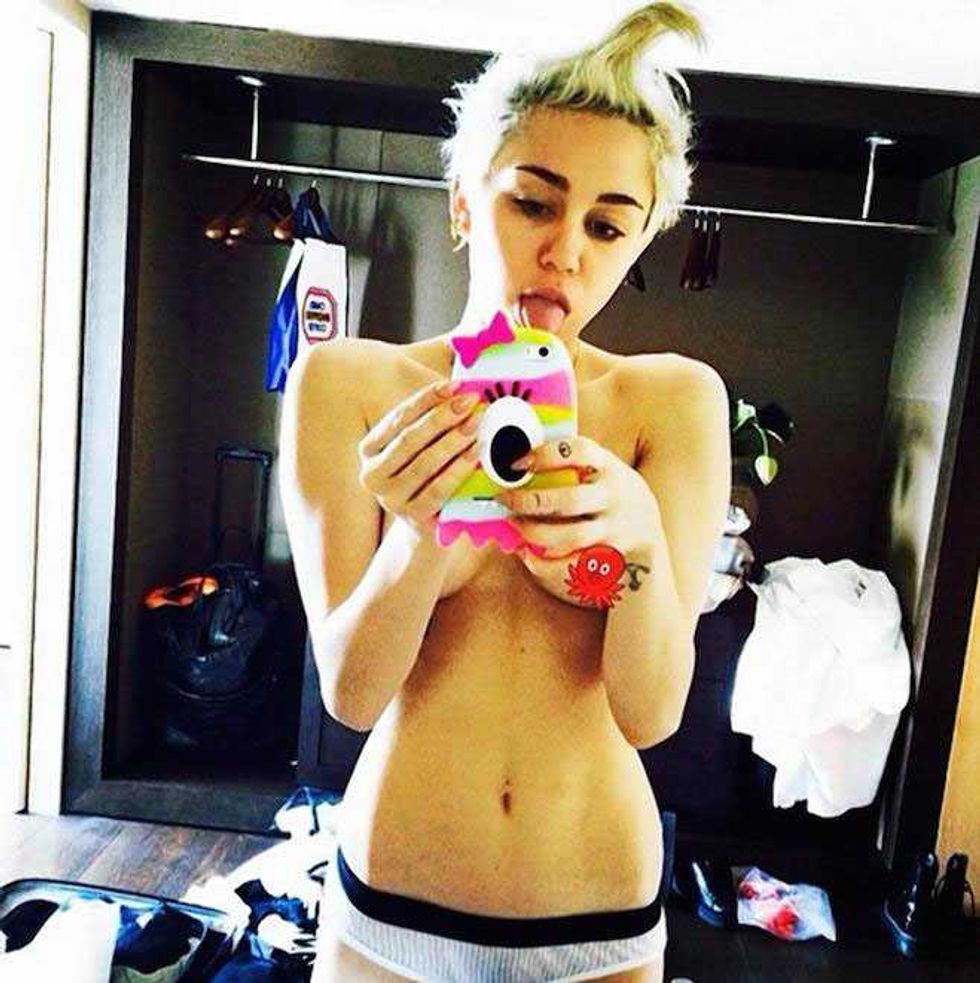 "Stroke of Genius"
"Person and Beast"
Here, the artist known as Miley explores the plight between person and beast.
The human character lives in a vapid and capitalistic wasteland inhabited by demons with names like "Bieber" and "Lilo." Our heroine forms an unlikely friendship with the "beast." Subtle beastial allusions ensue. Does the image culminate in an inter-special dalliance? Or does this image reveal the nature of the relationship in it's entirety? It's all part of the deceptive and dangerous game the artist known as Miley dares us to play.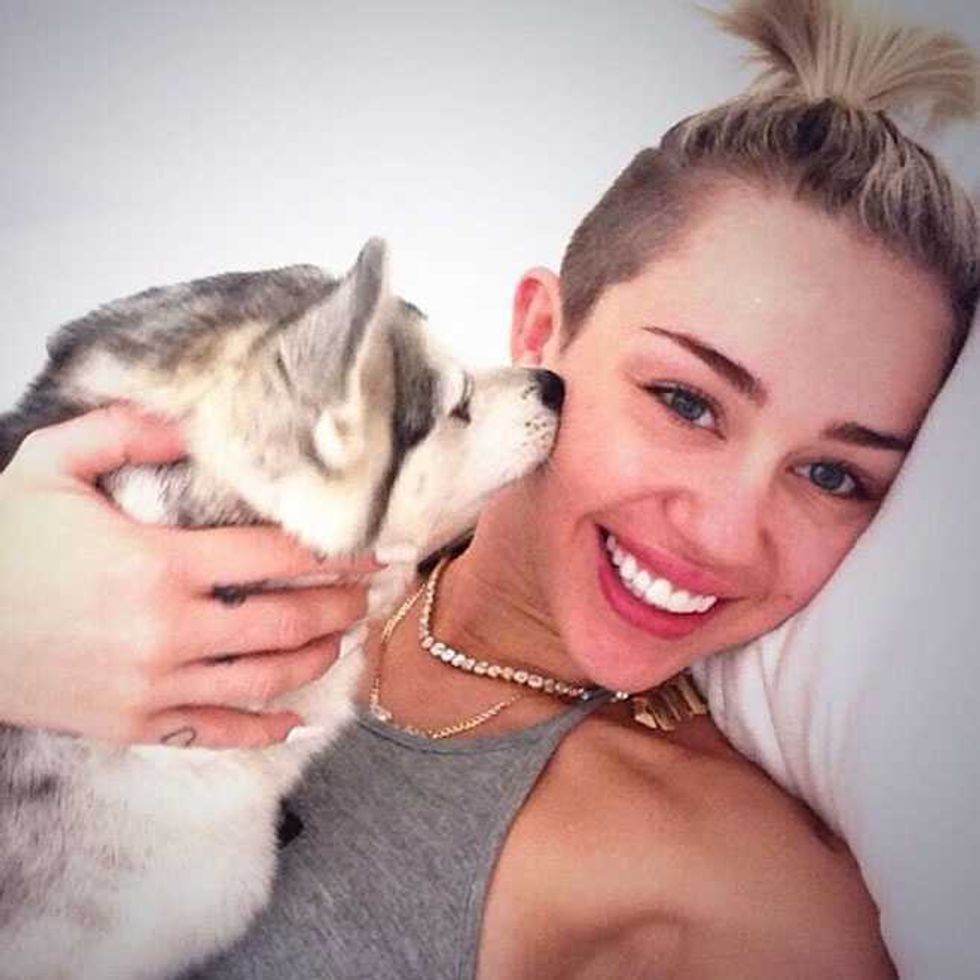 "Person and Beast"
"Can't be Tamed"
Again, the artist known as Miley proves that her artistic pursuits will not be derailed by her stroke. In this final in a trio of works known as "The Classic Cyrus" we see that the stoke has advanced to the point that the artist known as Miley's eyes are fixed at half-mast due to decreased ocular muscle control.
The artist known as Miley boldly faces down her enemy, be it man, beast, society, macular degeneration. And, as the viewer travels down the picture, they are confronted with yet again another disturbing image. It's as though the artist known as Miley has thrown it in to mock us. A lone figure, shown in profile, is perched just camera left; clearly a symbol of urban alienation in the post cold war era. He wants to cry out, but suffers in silence, like everyone who bought the Can't Be Tamed album.
The lone figure is of coursed juxtaposed, as juxtaposition is one of the artist known as Miley's favorite techniques, against haphazardly strewn plastic hangers. The artist known as Miley wants us to know she is not a slave to fashion. Sure plastic may snag her garments, but she just doesn't give a fuck.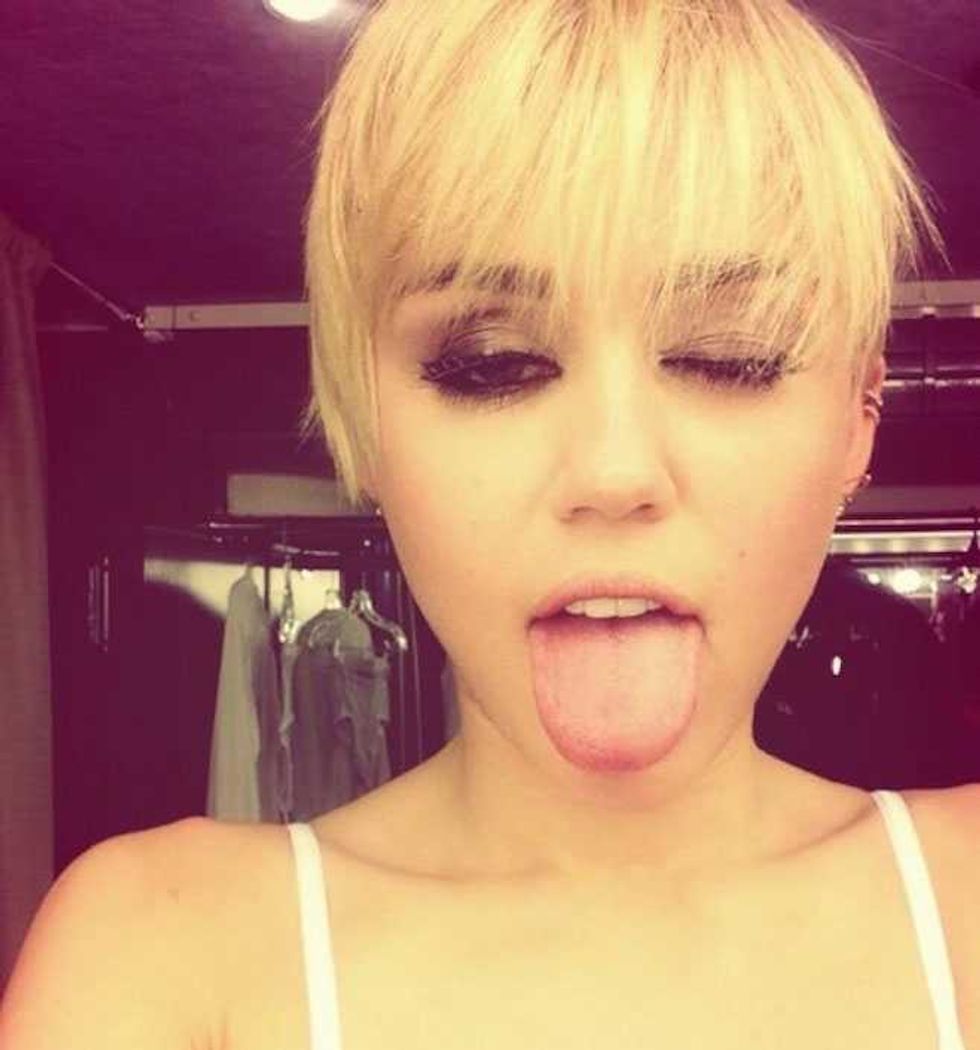 "Can't be Tamed"
Kim Kardashian:
"Les Douches"
Here is a meta image of the artist known as Kardashian taking a selfie within a photograph, thereby confronting the viewer with their own voyeuristic compulsions. It is at once a celebration of this newly-emerged form of exhibitionism and an admonishment to those who observe. The artist known as Kardashian makes the mandatory selfie douche face, which is violently juxtaposed by the stuffed shirt to her left, whose constipated smile begs to be released from the artist known as Kardashian's vulgar cybe-r netic reinvention of Narcissus.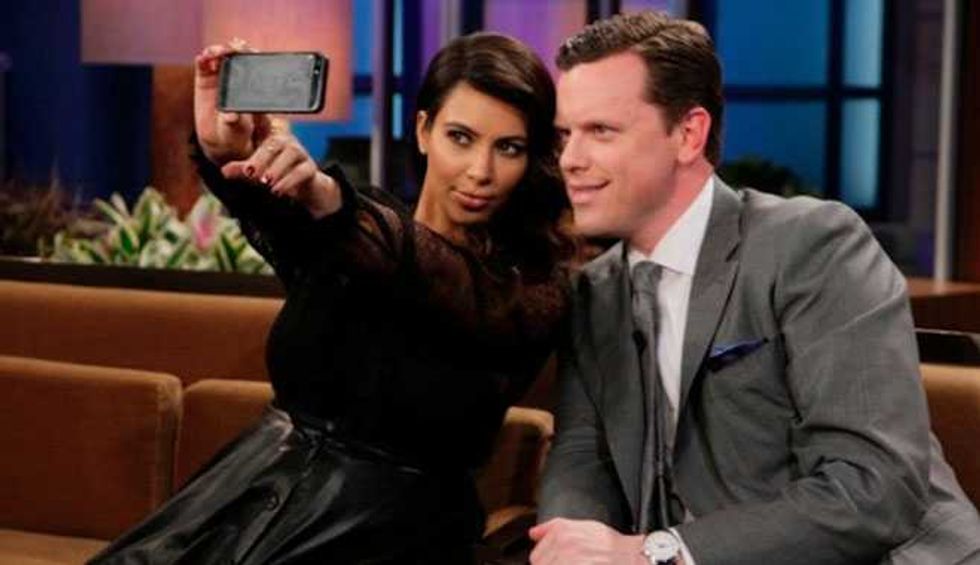 "Les Douches"
"Ass Swallowing G-String"
(For he who dareth gaze upon thine rumpus, dareth at his own peril)
Man versus onesie. The untrained eye might gaze upon this image and see only a beautiful woman posing seductively, but that viewer would be sorely remiss, as what they are actually witnessing is far more sinister. Here we see an epic battle between woman and onesie. The onesie is white, a generous clue that the artist known as Kardashian associates said onesie with the forces of good. The villainess is painted a seductive terra cotta Mystic tan. Do not be seduced. For to succumb is to reckon with forces far more malignant than a Chris Brown beat down.
As we travel down the image, the onesie pins the villainess' bosom into a submission hold. Sadly the enemy gains strength as we travel further downward and around to the backside, where the onesie puts up a valiant fight, deploying its troops across the lower back, but just over the hills, danger lurks, yet the onesie is blinded by the massive swells and in so much does not brace for battle. As we reach the bottom of the image, it is clear that in this battle of good versus evil, victory belongs to the artist known as Kardashian. White onesie is sucked helplessly into a rectal portal where dark and noxious forces play their cruel, cruel games. "This picture is an accurate representation of the human psyche. Just notice how one butt cheek is larger than the other," noted one ass-toot viewer. That's right. I said "ass-toot."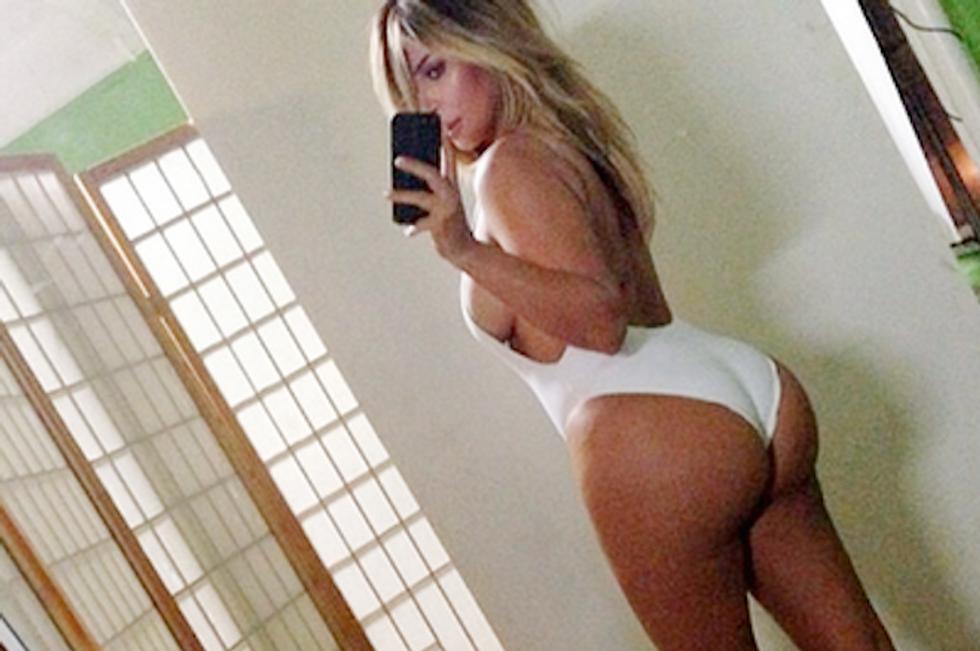 "Ass Swallowing G-String"
"Cubist cat—Sad clown"
(She'll mold her whim in any fashion. She'll crush your spirit, kill your passion)
In this assemblage of textural and representational elements, the artist known as Kardashian plays with contours and conjures up an image surely meant to frighten viewers. Obviously a nod to Picasso's blue period, or perhaps his lesser known Harlequin phase, the artist known as kardashian represents unbridled avarice and infinite douche baggery, and begs the viewer to drive a stake through her very heart. Or at least through that weird foundation tree on her forehead.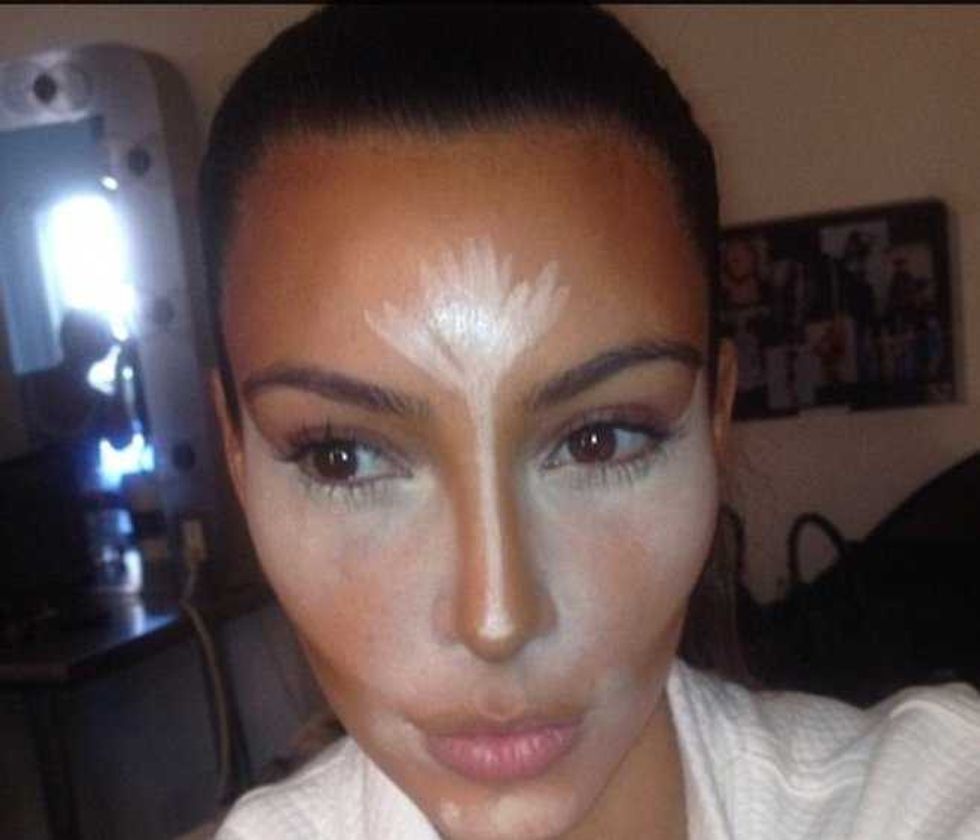 "Cubist cat—Sad clown"
For the best deals on Miley Cyrus tickets visit TiqIQ.com