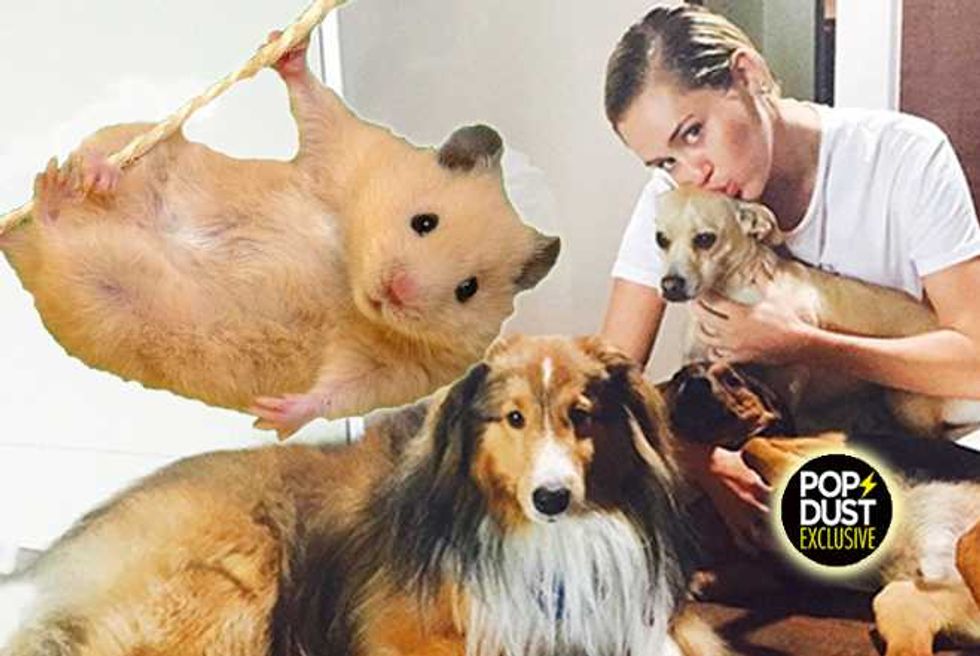 Miley Cyrus just added an adorable little pet hamster to her ever growing menagerie.
The big-hearted animal lover sent her assistant to Petco recently after falling in love with a fuzzy wuzzy she saw online.
"Miley loves animals and hopes to one day have a property on acres of land just for rescued animals," an inside source tells Popdust exclusively. "And they don't even have to be cute and furry—Miley loves all animals—lizards, birds, even rats!"
Miley has always been very open about her love for her four legged friends—grieving publicly when one sadly departs. She lost her 2-year-old yorkie mix, Lila in early December of 2012 after her bull dog, Ziggy attacked her.
"I wish this feeling would stop," Miley tweeted on December 12. "I wish there was something I could do to bring my baby back. I'd give up anything in this world...."
As Popdust previously reported, Miley's pet blowfish Pablow died in February of 2014, and she marked his passing with a beautiful vocal tribute—her beloved Alaskan Klee Kai Floyd passed away just 2 months later due to a coyote attack.
But she still has Bean, a chihuahua mix, Penny Lane, a tiny whatever mix, Mary Jane, a black-and-white mix, and Happy, a Rottweiler-beagle mix that she and then boyfriend Liam Hemsworth found in a box outside a Walmart in early May 2012.
Miley added the adorable Bubba Sue, a baby piglet, in August of 2014. Then, during the first week of May 2015 she adopted a gorgeous white bundle of fluff kitten named Shanti Om Bb.
"If Miley wasn't a pop star, she'd be a veterinarian, she loves animals that much," Popdust's source says.
Awwwww….. and we love you all the more for it, Miley!