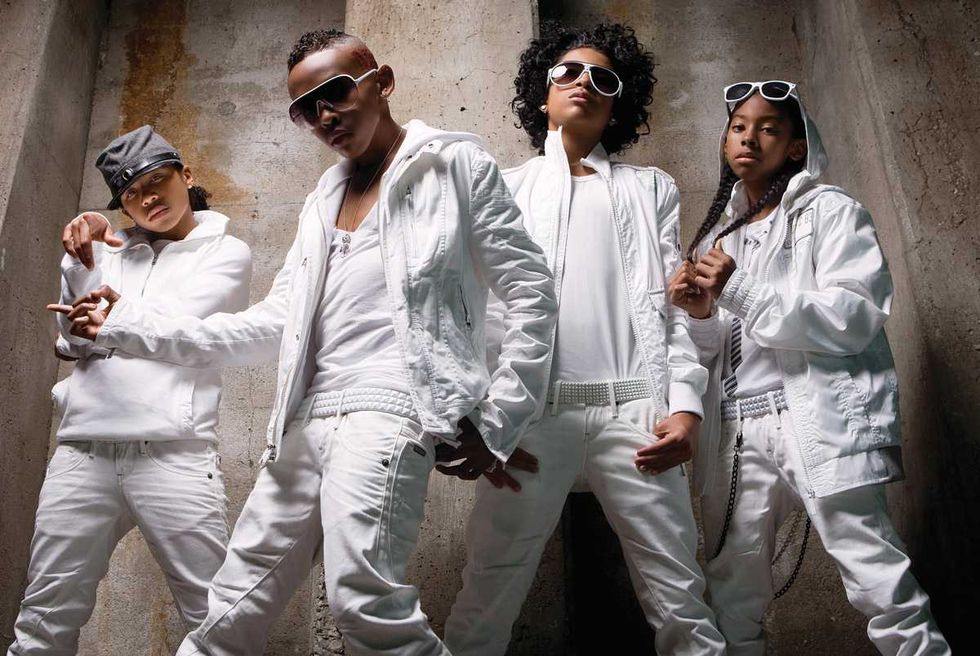 In a surprising move, Janet Jackson announced yesterday that teen R&B quartet Mindless Behavior would open twelve dates on her forthcoming tour. Jackson isn't a stranger to touring with up-and-coming younger artists—her Velvet Rope tour in 1998 had Usher and *NSYNC as openers. But the majority of the songs on Number Ones, which she will use to create the tour's setlists, are as old, or older than, 13-year-olds Prodigy (not to be confused with the Mobb Deep member), Princeton, Roc, and Ray Ray.
Mindless Behavior is the brainchild of Vincent Herbert, who after "discovering" Lady Gaga is fashioning himself as a boy-band Svengali. He and Conjunction Productions, whose members previously worked with early-oughts R&B boyband B2K, held auditions for the group in 2008 and after two years of artist development, Mindless Behavior cut their teeth on tour with the Backstreet Boys and Justin Bieber himself.
Their first single, "My Girl," has stellar production from Walter Milsap, but it suffers from a fatal flaw: lyrics about a popular electronic device and its functionality. Immediate obsolescence doesn't necessarily damn a pop song—oftentimes a seemingly disposable track provides an ephemeral joy that peaks higher than one with "staying power." But this never seems to be the case when it comes to references to technology.
"Dang," Prodigy says about his girl and himself just before the beat drops, "We text each other a lot." Then the group sings in detail about these text conversations: "And you can hit me back with the less than symbol, number three" (<3), "one four three," "a smiley with a wink," not to mention a "sad face" followed by a "j slash k." The last time pop got this specific about text messaging was Project Pat's "Don't Call Me No Mo," in which DJ Paul bemoans, "I ain't got time to hit a number three times for one letter to tell you I'm good, I'm gone, girl I've been better." (Sounds like someone needs a QWERTY keyboard!)
But for Mindless Behavior, "140 characters is more than enough." They have a monster team behind them, but can they break through? No less a star than Britney Spears got away with "E-mail My Heart"—but not as a first single! Mindless Behavior savvily registered a phone number for calls or texts and included the number in the song's lyrics. But that could backfire too—neither Mike Jones nor his people are available at (281) 330-8004 any longer.