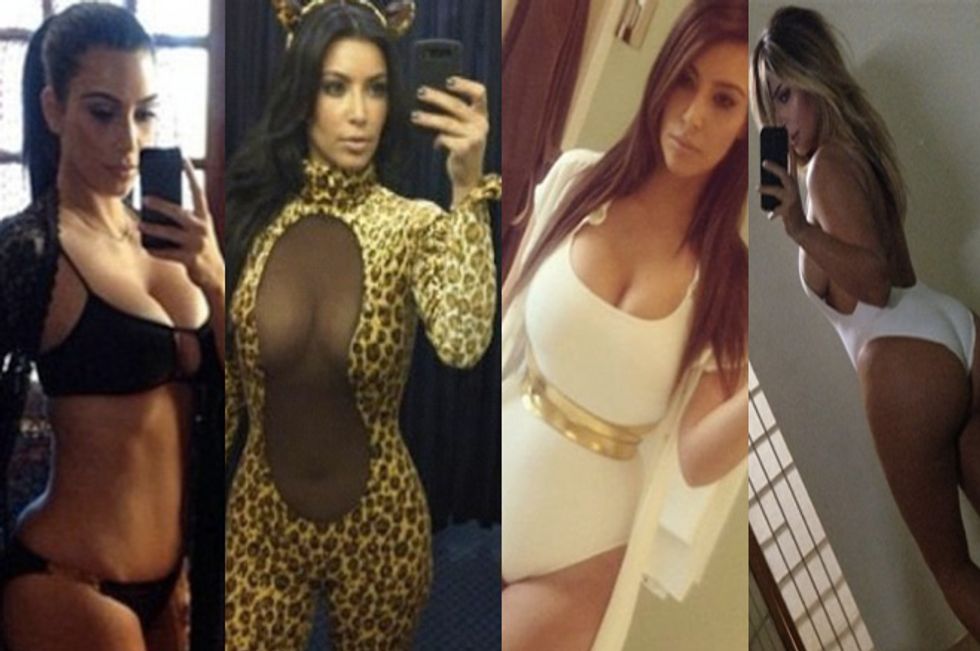 Mirror, mirror on the wall, who is the vainest celebrity of them all?
Duh.
Kim "I-am-so-in-love-with-myself" Kardashian, whose life was perfectly encapsulated in that recent Vogue photo taken by Annie Leibovitz of Kanye West taking a picture of Kim taking a selfie of herself and baby North in a mirror—has never been shy about sharing her love for all things Kim Kardashian on social media, uploading a slew of obnoxious selfies documenting her oh-so-fabulous life on a daily basis.
Whether showing off a bloody face from an expensive vampire facial or really hideous sunglasses tan lines after a day of frying in the sun to incessant images of her famously huge behind stuffed into tiny swimsuits and workout pants, Kim busts through inappropriate boundaries that other celebrities would never dream of, and that is very likely why she is the most famous reality TV star in the world.
Popdust has sifted through the social media accounts of the ultimate very most opposite-of-modest celebrity, and picked out the twenty all-time most annoying Kim Kardashian selfies  for your displeasure..... Don't shoot the messenger.
PHOTOS: Feast Your Eyes On The Hands Down Most Sickening Kim Kardashian Selfie Collection Ever