Models are perfect, right?
They don't burp, they don't bloat, and they certainly don't fart or do anything even remotely related to that region.
Some of the kinkier ones even have orifices "down there" for ass play and such, but flatulence? Defecation? Never!
Amber Rose Is A Bad Bitch Feminist—Wants Y'All To Stop Slut Shaming
Well not so, any more. One brave model has blown the lid off the centuries-long cover up and she is paying for it in human lives.
Stina Sanders, a London-based model and fashion blogger, refuses to perpetuate the lie any more!
Sports Illustrated Covergirl Lectures Women Who Want To Look Like Her
So, instead of the usual air-brushed, filtered bikini shots or Pefect365 close-ups, the former Loreal cover girl bravely posted pics of herself getting a colonic, Nair-ing off her mustache, and even leaving a therapy appointment!
Gasp! Facial hair on a woman?!!! NEVER!!
When Life Gave One Woman Thrush, She Made Sourdough With The Yeast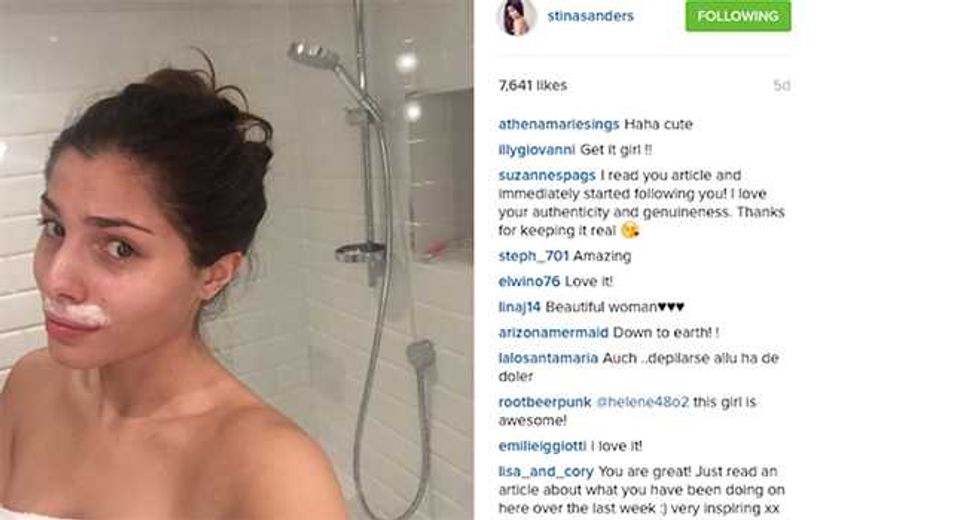 In captioning the colonic shot, she even confessed to the unthinkable—having Irritable Bowel Syndrome—a chronic condition, which symptoms include gas, bloating and diarrhea!
Victoria's Secret—Its Angels Make Bank
Double gasp! A model with diarrhea?!!! Never!!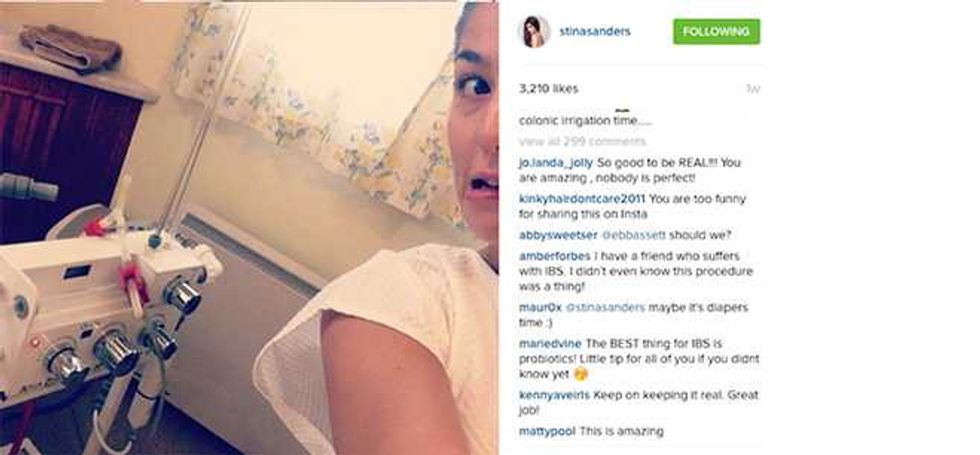 The Daily Mail approached the 24 –year-old beauty to take part in an experiment of posting "un-glamorous" pictures to see how fans would respond, following former Instagram model Essena O'Neill's decision to quit social media after revealing many of her photos were painstakingly photoshopped.
Semen Facials Are A Real Thing Apparently, Not Just Some Sketchy Dude Lie
Sanders tells The Independent:
I was up for the challenge because I know how fake social media is and how a simple photo can portray someone in a completely different light. Unfortunately having the model stigma attached to me hasn't been easy, so I wanted to reveal what life is really is behind the mask. My life isn't as pretty as it seems—I suffer from anxiety and have a disabled sibling. No one's life is perfect. During the experiment I lost 3,000 followers and come the end, I had lost 5,000. I was shocked because I actually thought it would be the likes that would dramatically reduce and not the followers.
What was interesting was I had more likes from women, whereas it is usually split, and all my comments were mostly from girls. It was evident that they wanted to reach out to me because they could relate in one way or another.
Take the psychotherapy image, for example; so many people praised me for talking openly about it. I had lots of people thank me because they had felt alone and just needed the reassurance to know that lots of people are suffering too.

The Vag Selfie—Definitive Guide To Securing The Sexiest Snatch Shots
Sanders says that the experiment confirms many people's belief that social media reinforces the drive for perfection:
It's only human nature to compare yourself to others, but this is why social media can be poisonous, especially to young girls. I'm in the modeling industry and have seen even the most beautiful women with cellulite and acne. It doesn't stress me out but it does concern me that girls have unrealistic goals because even their idols that they look up to aren't exactly as they seem.

A Bunch Of Things UK Politicians Consider Less 'Luxurious' Than Tampons
Take a stand against the lie, and follow Stina Sanders on Instagram.
Oh, and follow me while you're at it. I only have 900 followers and it's kinda lame—although, admittedly, I don't have a mustache—at least not any more.
Super Size Me's Morgan Spurlock's Latest Film Stars Handicapped Actors