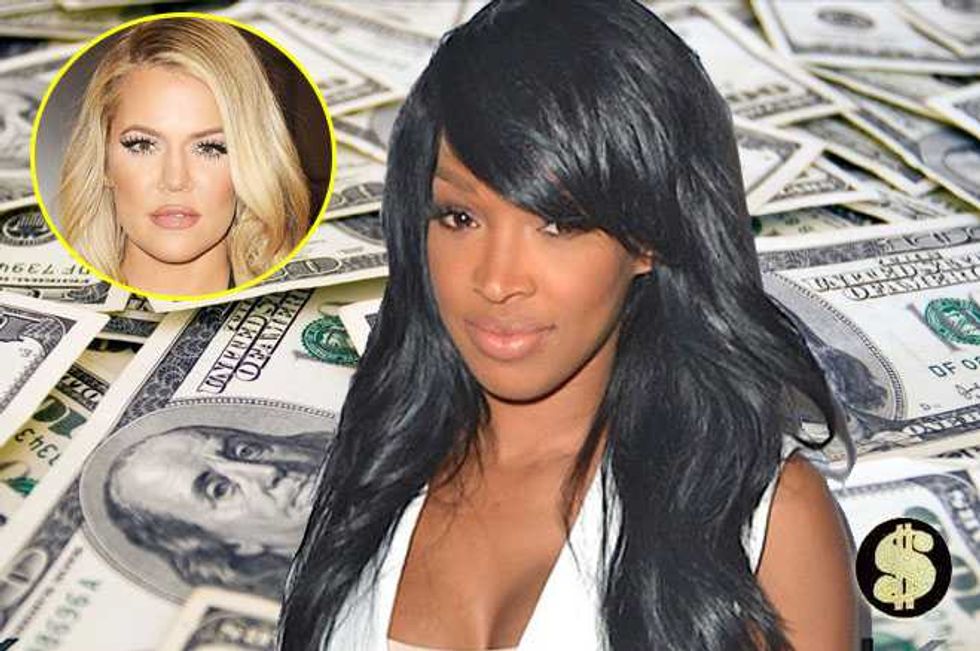 You may know Malika Haqq from her appearances on KUWTK or episodes of the now bittersweet Khloe & Lamar or even episodes of another Kardashian spin off, Dash Dolls.
But did you know the twin is an actress (or was an actress, not sure we've seen her in much these days)? She was also Rob Kardashian's storyline hook up for a time, back when he appeared on Keeping Up and was still keeping up with fitting in his pants. Nonetheless, Malika is always by Khloe's side, while no longer as her personal assistant, but as her BFF.
Money Monday—How Much is Kim Kardashian Really Worth?
Now Malika is far from broke, but being on the fringes of Kardashian fame doesn't quite bring in the Benjamins as swiftly as being birthed from Kris does. But how does Malika make her moolah anyhow? Here's a bit of insight into the 32-year-old's bank account.
Malika was, as stated above, an actress, appearing on shows including The Bernie Mac Show and Las Vegas, according to Celebrity Net Worth. She also hit the big screen with roles in ATL and Sky High. The Richest adds that the stunner was also in Omarion's music video, Speedin'. While she's obviously no A-lister, these gigs certainly pay the bills.
Money Monday—How Much Is Jessica Alba Really Worth?
Who knows how much money Malika made while "assisting" Khloe, but we all know the Kardashians have plenty to share, so she must have been paid well. Plus, she got to chill with her bestie all day, so that's a bonus in itself. Let's not forget, every time Malika appears on KKUWTK or Khloe & Lamar, she pockets thousands.
Perhaps Malika will get back into some more substantial acting roles and show the Kardashians who the real star is. Till then, she'll have to get by as Khloe's sidekick and let the Kardashian's pick up the dinner tab.
Money Monday—How Much Is Kris Jenner Really Worth?
Malika Haqq is worth $600,000 as per Celebrity Net Worth. Kardashian rich, she is not, but she still gets to roll with the Khloe!