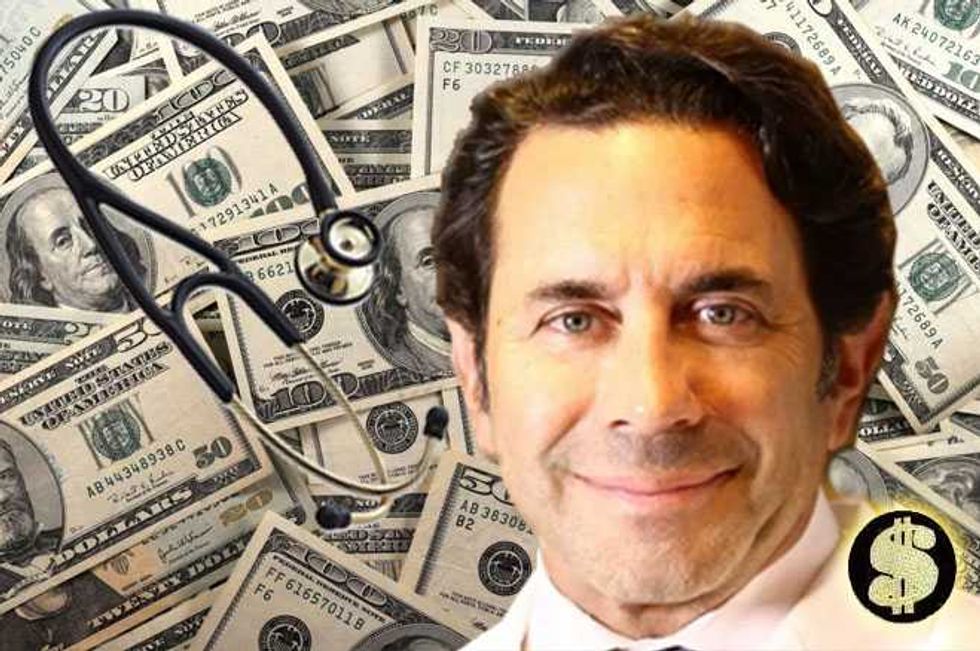 While his days on The Real Housewives of Beverly Hills are long gone, Paul Nassif is still a reality TV figure with his current success on E!'s Botched.
Jacked-up tummy tucks and lipo from third-world countries help make a Beverly Hills millionaire even richer, and we get to watch the transformations right from our living rooms!
Money Monday—How Much Is Kanye West Really Worth?
Sure, Paul's marriage to ex-wife Adrienne Maloof went down the tubes, but when you're the ruler of rhinoplasty, what's a failed marriage in the scheme of things? Money can buy this fella happiness, especially when you get to spend your days with the ever-charming Dr. Terry Dubrow looking at uniboobs.
Money Monday—How Much is Brody Jenner Really Worth?
So yes, Paul is raking it in, and here's how.
First and foremost, Paul is a facial plastic and reconstructive surgeon, and in a town like Beverly Hills, where the last time a brow furrowed, pigs flew to get their fat sucked out, a doc like Paul can earn hundreds of thousands daily.
Before his success on Botched, The Richest reminds us of Paul's TV fame on the popular Dr. 90210. Along with that program, Celebrity Net Worth tells us of his other TV money-making appearances on NBC Nightly News, Inside Edition, Entertainment Tonight, the Today Show, and many more. A little advice from a well-respected nose job gent goes a long way… right to Paul's bank account!
Money Monday—How Much Is Kris Jenner Really Worth?
While it's chump change compared to the cost for one cosmetic procedure, Paul also made some loot from his time on RHOBH alongside his then-wife, Adrienne. But his Botched series is sure to last longer, considering the rise in plastic surgery and the thirst for 15 minutes of fame for those who sell their souls to appear on the train wreck of a show.
Celebrity Net Worth claims Paul Nassif is worth a respectable $14 mil! Nose jobs, nips, and snips sure fill a wallet with plenty of plastic… in the form of credit cards, that is.