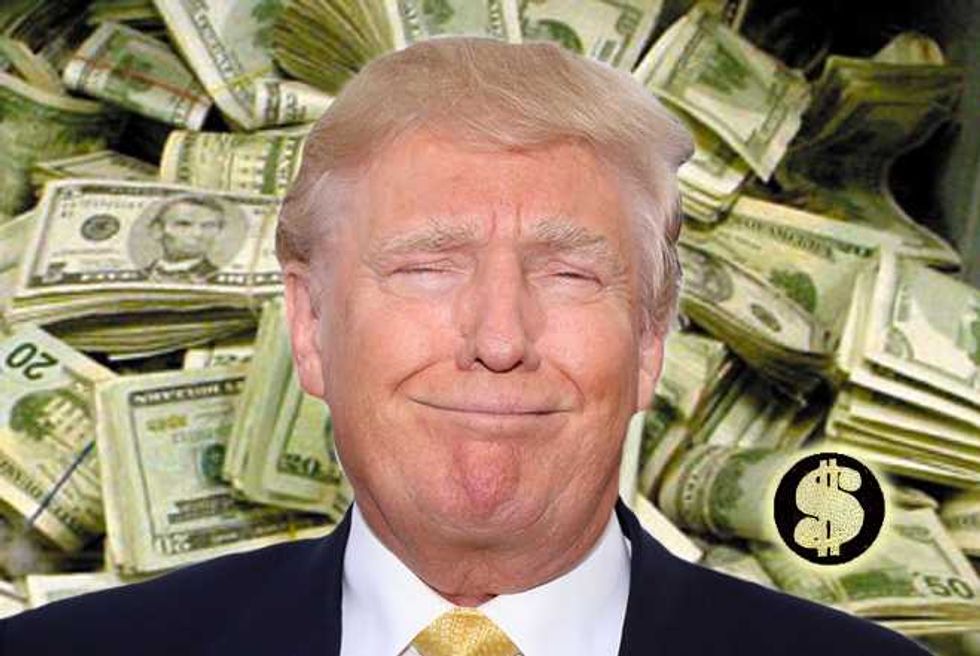 donald trump money worth
We've grown to know a heck of a lot about potential Presidential candidate, Donald Trump, in recent months—from his views on immigration, to who is and who is not "a loser", how much greatness he can bestow upon our nation, and that his fluff of hair is, in fact, real.
He's also made it quite clear that he is one rich son of a gun, but how much is Trump really worth? Here's insight into some of the 69-year-old's heftiest assets and how he makes those mega Trump bucks.
Money Monday—How Much Is Kris Jenner Really Worth?
Trump makes his dough as an entrepreneur, business man, TV host and producer, economist, real estate mogul, and investor. No one can say the man doesn't have ambition.
He was raised in the great New York City and worked for his pop's company, The Trump Organization, after graduating from the prestigious Wharton Business School in Pennsylvania.
Donald Trump Hair Mystery—Combover, Toupee, Transplant, Follicle Faux Pas?
Since then, Trump has become a billionaire with a net worth of $4.1 billion as of May 2015 according to Forbes. Trump, however, estimates his worth at over $8.5 billion, though Celebrity Net Worth explains that he values his personal brand differently than the general public does—he sees it at a worth of $3.3 billion while analysts put it at closer to $50-$100 million.
But how do each of Trump's endeavors rake in the moolah?
Donald Trump Miraculously Appears In Missouri Woman's Organic Butter
One major money-maker is NBC's The Apprentice. In 2003, Trump became the Executive Producer and host of the hit TV show. In its first year on the small screen, The Richest states that Trump was paid $50,000 per episode and by the end of his run as host, he raked in $3 million per episode, making him one of the highest paid television personalities ever.
Take that Friends cast! Trump also continues to cash in from the trademark he holds for the show's downer of a catchphrase, "You're fired."
LAX Plans VIP Terminal So Celebs Can Avoid Regular People
Some other sources of Trump's wealth come from his numerous properties. For instance, according to The Richest, his stake at Trump Entertainment Resorts Riverside South/Trump Place is $170,000,000; his stake of Trump Hotel Las Vegas is $162,000,000; his golf courses swing in $127,000,000; and his real estate licensing brings in $562,000,000.
Trump lives with his beautiful wife and youngest child at the glamorous Trump Tower (he's got the top 3 floors according to The Richest) in a palatial spread worth $50,000,000. The White House would surely be slumming it for this fancy fella.
The Real Reason Angelina Jolie Hates Donald Trump
Donald Trump certainly took the family name to new heights. The only thing bigger than Trump's bank account is his ego. Needless to say, this guy's got the nation interested – this time, not for a 4-night stay at a Trump property, but a 4-year stint in the White House.
But does 'President' make enough of a salary to suit The Donald?
Money Monday—How Much Is Kevin Federline Really Worth?