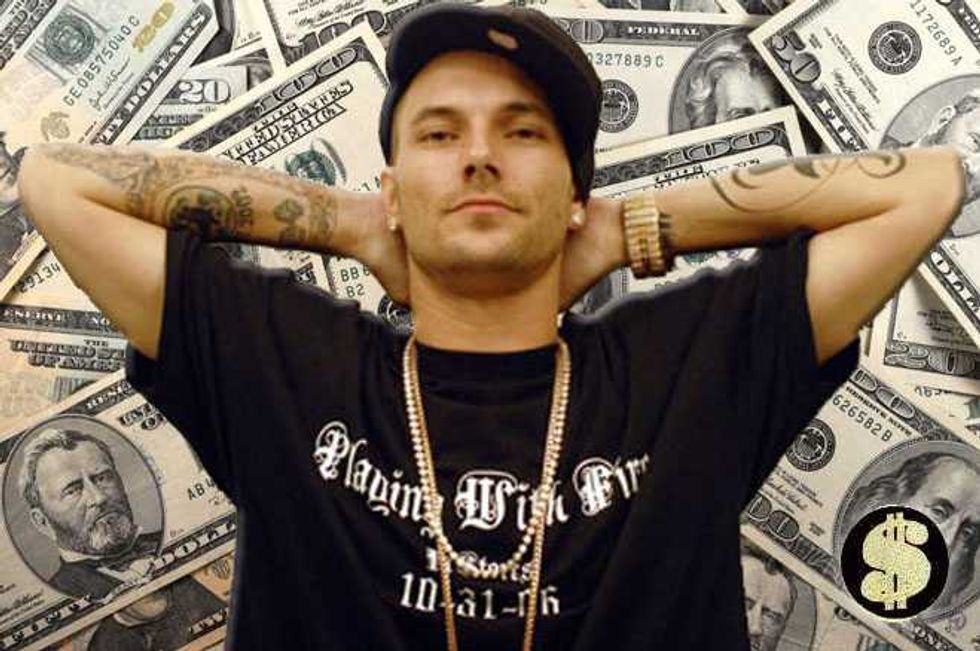 kevin federline worth money
K-Fed's become famous for being the world's douche baggiest baby daddy, a potbellied backup dancer (and apparently a model and rapper too), and a go-to punchline for late night TV hosts.
Yet despite it all, his trailer park charm seems to always win out. The ladies surprisingly find him sexy and he's supposedly Dad of the Year (5 times over, maybe 6, but who's counting?). And, since his time with Britney, Federline has collected some hefty paychecks. Having kids really does pay off! How many Ks is K-Fed really worth though? Let's just say "Hit Me (Up) Baby One More Time" ought to be his anthem… the man's worth $6 million.
Money Monday—How Much Is Kris Jenner Really Worth?
Kevin surely made a decent living back in the days when he moved and grooved as a backup dancer for the likes of Michael Jackson, P!nk, Justin Timberlake, and of course, Ms. Spears. But nowhere near millions! According to The Richest, Federline has gained his wealth from "his multiple skills in different areas of entertainment." Sounds sketchy, but don't forget (or do forget if you've heard it), K-Fed had a short-lived rap career back in '06.
The Hottest Britney Spears Photos - Steamy, Sexy, Near Naked, and Nude
Celebrity Net Worth reminds us of Federline's stints on TV on the reality programs Celebrity Fit Club (much needed) and Excess Baggage (also warranted) from which he made a few grand. He's also made some decent bucks appearing in interviews, showing up at "appearances" and related gigs.
According to E! Online, in 2010, his wealthiest baby mama, Britney, was ordered to pay $303,673.72 to Federline in child support. And in other baby-related news, he's surely made some cash releasing pics of his new kids with current squeeze, Victoria Prince, to celeb tabloids.
Uh Oh. Is Britney Spears Becoming a Momager?
Seems like K-Fed struck the fame match just at the right time. Check back in 20 years to see if all the lowercase k-Feds follow in daddy's footsteps.
Kevin Federline is worth $6 million! The rest of us better Work B**Ch.
kevin federline worth money
kevin federline worth money