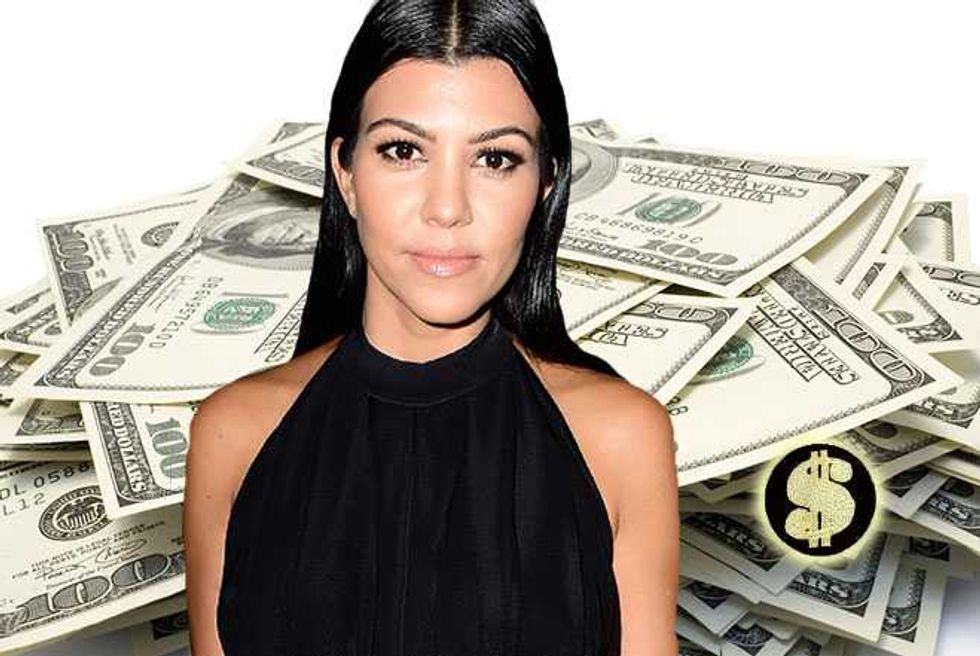 kourtney kardashian money worth
The eldest Kardashian sister is pretty, petite, and perennially preggers—she's also pocketing a pile of paychecks—but, how much is Kourtney Kardashian really worth?
While she's not taking in Kim-level kash, Kourt is certainly not lacking for anything (well, maybe a less embarrassing baby daddy).
Money Monday—How Much Is Kris Jenner Really Worth?
According to Celebrity Net Worth, the 36-year old has a pretty banging bank account—and she didn't even have to do a sex tape. Here's how the brunette beauty makes her living…
How Kourtney makes money:
The Richest considers Kourtney a socialite, model, actress, TV personality, and businesswoman. Sounds about right. Let's not forget she's also a mom-of-three, although that doesn't generate the dough, unless you count whatever the mags are willing to pay up for paparazzi photos of her brood.
Money Monday—How Much Is Kevin Federline Really Worth?
Naturally, Kourtney makes a boatload from her family's reality show, Keeping Up With The Kardashians. The Richest claims that in 2013, she made $50,000 per episode! And that darn show is still on the air.
Considering she's got nearly 9 million Twitter followers, her tweets about the show or whatever else she's promoting are worth $15,000. Per tweet! Talk about a bang for your 140 characters or less.
Money Monday—How Much Is Donald Trump Actually Worth?
There's also that sisterly clothing line, Kardashian Kollection, which in 2012 earned the gals $250,000,000. It's doubtful that they actually wear any of it, but it surely affords them the best designer duds. For a quick $125,000, Kourtney can show off her back-after-baby shape and itsy-bitsy outfits on various red carpets too.
Along with all of those gigs, let's not forget that the sisters own clothing boutiques, model, write books, and star in Kardashian spin-off shows, all making Kourtney's bank account grow every day.
We can't wait to see if the Disick kids follow in their mom's lucrative footsteps.
How much is Kourtney's net worth:
Kourtney Kardashian is worth $25 million. Scottie, you may want to rethink things.
The Lord is born... "I don't mind being portrayed as the villain on TV, but nobody knows the real me. I'm a great guy … I'm young, handsome, successful, wealthy. You could say I'm a role model. I'm the American dream!" Says Disick
Scott carrying off the pink look... "My hair is flowing in the wind like flocks of Capistrano [swallows]," says Disick
Scott's style... "I can't wait to unleash my fall trend to the world: the walking stick," says Disick
Scott speaks the truth. "I don't mind being portrayed as the villain on TV, but nobody knows the real me. I'm a great guy … I'm young, handsome, successful, wealthy. You could say I'm a role model. I'm the American dream!" Says Disick
Scott likes to party... "When you think of the debonair, ridiculously good-looking guy, you think of me," says Disick
MAJOR douchery... "Like I don't need to be walking around like I'm some peasant. I need to be walking around like I'm royalty," says Disick