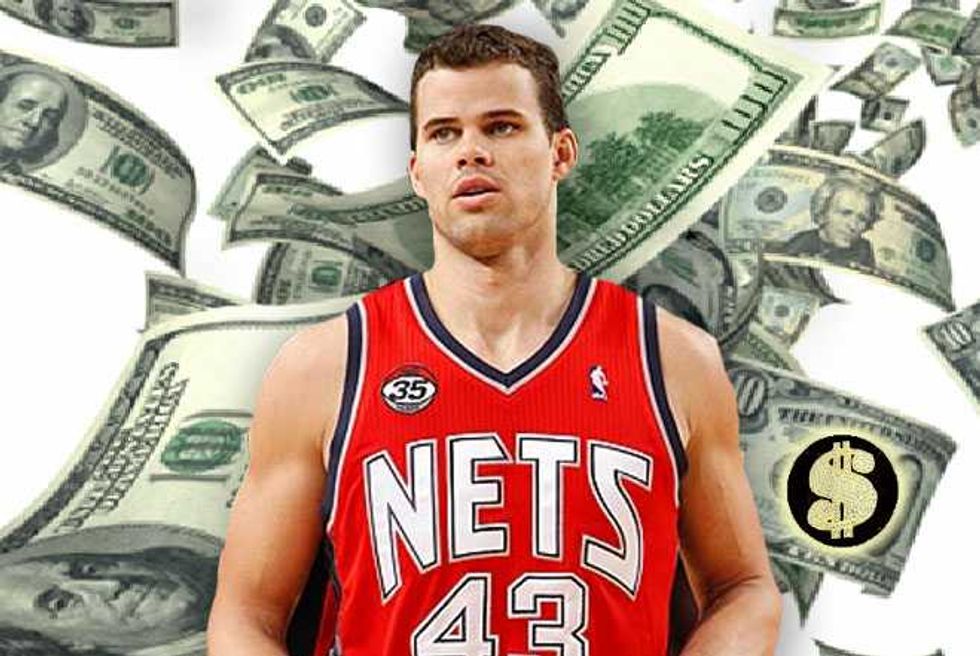 kris humphries money worth Money Monday How Much is Kris Humphries Really Worth
While he's most famous for his 72-day marriage to Kim Kardashian, Kris Humphries is more than a doofy ex-hubby and boring reality TV star.
The man's worth a hell of a lot of cash thanks to his hoop-shooting talents and luck with keeping himself regularly in the game with a team.
Money Monday—How Much Is Kanye West Really Worth?
Currently the power forward for the Washington Wizards (ironic, no?), Humphries is making mega-millions.
So how does Humphs earn all this moolah?
This'll give you an idea
kris humphries money worth
Money Monday—How Much is Kim Kardashian Really Worth?
The 30-year-old, 6-foot 9-inch athlete makes the bulk of his money by doing none other than playing basketball.
Celebrity Net Worth notes that Kris has played for Utah Jazz, Toronto Raptors, Dallas Mavericks, New Jersey Nets, Boston Celtics, and as aforementioned, the Wizards.
Money Monday—How Much Is Kris Jenner Really Worth?
To give you an idea how much playing sports can earn ya, The Richest states that Humphries netted (pun intended) $12,000,000 in '14 as his salary with the Celtics.
Same goes for the year before. Where did playing video games all afternoon as a kid get you?
Money Monday—How Much Is Kourtney Kardashian Really Worth?
The Richest also notes that Humphries made $1,500,000 in '13 as a sponsor for Sector timepieces. Can he actually tell time? This we aren't sure, but who the hell cares?
Time is money for Humphries
kris humphries money worth
Money Monday—How Much Is Khloe Kardashian Really Worth?
He also turned lemons into lemonade when he sold the engagement ring he gave to Kim for a whopping $750,000.
Hey, 72 days as 'Mr. Kardashian' is sure worth the money.
Humphries made a few grand while he was on Keeping Up too, though they should have paid the viewers for having to watch that trainwreck.
So, what's the financial happs
kris humphries money worth
Kris Humphries is worth $18 million...Makes you want to get off your lazy ass and toss a ball around.
Ashton Kutcher and Demi Moore: Before they split in 2011 Ashton made it very clear that they had an open relationship and shared threesomes. Demi had to a) be involved and b) pick the girls. Trouble is they clearly weren't on the same page about how 'open' it actually was. He went off and did it on his own with Brittney Jones causing Demi to throw his ass outta there!
Brad Pitt and Angelina Jolie: According to Angie, just because you're open to being open doesn't mean you have to. She has gone on record as saying; "I doubt that fidelity is absolutely essential for a relationship. Neither Brad nor I have ever claimed that living together means to be chained together. We make sure that we never restrict each other." Hmmm, we think she's pretty safe in the assumption that with that many kids to look after they probably don't have too much time to act on it though!
Dolly Parton and Carl Dean: Dolly and her hubby have been married since 1966 and recently renewed their wedding vows, so clearly whatever policy they have seems to be working. They seem to exercise the 'don't rub my face in it—don't ask don't tell' rule. Dolly has said; "If we cheat we don't know it, so if we do cheat, it's very good for both us. I don't want to know it, if he's cheating on me. If I'm cheating on him, he wouldn't want to know it. And if we do, if that's what's making it work, then that's fine too."
Justin Timberlake and Jessica Biel: Apparently, before they got married and had a baby, old trouser-snake didn't want to be tied down. He told Jessica that he wasn't interested in being in a serious relationship with her and needed it to be open for it to continue. She was devastated but then came around to the idea of being demoted from girlfriend to friend with benefits. She played the long game however and managed to put a stop to it and get him to settle down.
Mo'Nique and Sidney Hicks: This is more of a one sided open relationship. He gets to have sex outside of the marriage and it's ok. She chooses not to. Hey if they're both comfortable with the arrangement then who's judging? As Mo'Nique says; "We've been best friends for over 25 years and we truly know who we are."
Megan Fox and Brian Austin Green: This is one sided too….but the other way!  Allegedly they have a deal whereby she can see other men but Brian can't date anyone else. Sounds good to us!
Pink and Carey Hart: This couple had to revise their open door policy after a change of heart ( ?) by Pink, leading to them separating for two years. They originally had a 'don't ask, don't tell' policy, but then Hart took it too far and started making public appearances with his blond bit on the side. The cute couple seem to have sorted it out now and are happily reconciled.
Tilda Swinton and John Byrne: A truly unconventional open relationship which is about love and not just being free to sleep with other people. Tilda and John have twins and are a family together, but each have other lovers outside of the marriage. Tilda with artist Sandro Kopp and John with a woman named Jeanine. Swinton says; "It may seem odd but it is certainly the best thing for the children. It's not something I try to promote as a radical lifestyle choice. But it's a situation I find very healthy.
T-Pain and Amber Najm: The rapper states that he and his wife do not have an open relationship. They just 'sleep with other girls together'. Sounds pretty open to us, but invoking the 'keep an eye on it' rule that you have to cheat at the same time for it to be ok.
Will Smith and Jada Pinkett Smith: Married for 18 years, whatever rules they have—it works for them!  Pinkett-Smith has been quite open about the open nature of their marriage, saying; "Here's the deal... you've got to trust who you're with. And at the end of the day, I'm not here to be anybody's watcher. I'm not his watcher. He's a grown man. Here's what I trust—I trust that the man that Will is, is the man of integrity. So, he's got all the freedom in the world. As long as Will can look himself in the mirror and be okay, I'm good."