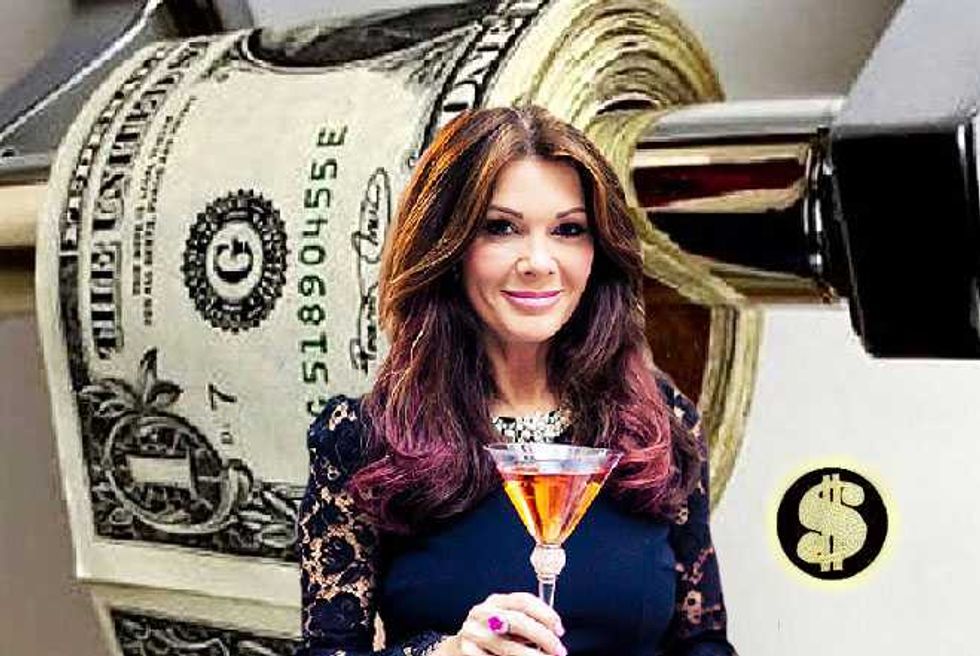 How much is Lisa Vanderpump worth money -wise?
The fabulous Lisa Vanderpump (actually Vanderpump-Todd, but no one apparently needs to know that when Lisa's the family star) is one super-rich Beverly Hills Housewife.
Unlike many of the other women in the Bravo franchise, Lisa's a far cry from a hang around in your housecoat housewife.
As per Celebrity Net Worth, she's a fabulously successful restauranteur, TV personality, author, designer, and more.
All of Lisa's endeavors have made the British beauty filthy rich, though she herself would never be caught dead with a spot on her shirt or a hair out of place.
I mean, when your home has a name as though it's a hotel (Villa Rosa), you know you have more moolah than you will ever be able to spend.
Unless you want to leave your fortune to your swans and baby ponies, that is.
Here's an idea how much Vanderpump pockets from her slew of careers…
First and foremost, she and hubby Ken Todd own over 26 restaurants.
You've surely seen Sur on VanderPump Rules, where all the hottest (and hot messiest) servers and bartenders work to supplement their half-assed modeling and acting careers.
And Villa Blanca was named the "sexiest restaurant in Beverly Hills."
I hope breath mints and a condom come with the check.
Let's not make light of the perks of being a reality star.
In fact, The Richest claims Lisa raked in a cool million in 2013 as a "star" on RHOBH!
The show's still airing and Lisa's still taking it to the bank.
With never-ending appearance fees, signings, reunions, interviews, and the like, Lisa's stream of income is always flowing.
She spends and lives lavishly and nothing's too good for the mom of two and a zoo's worth of pets.
Sheesh, her dog Giggy's got a wardrobe better than most humans.
Lisa is Vanderpumping her fists (and they're full of cash).
So, how much is Lisa Vanderpump worth money -wise?
Lisa VanderPump is worth a bloody $65 million according to The Richest!
Beverly Hills must be the only place where money does grow on trees.
Money Monday—How Much is Brody Jenner Really Worth?
Money Monday—How Much Is Kris Jenner Really Worth?
Money Monday—How Much Is Kanye West Really Worth?