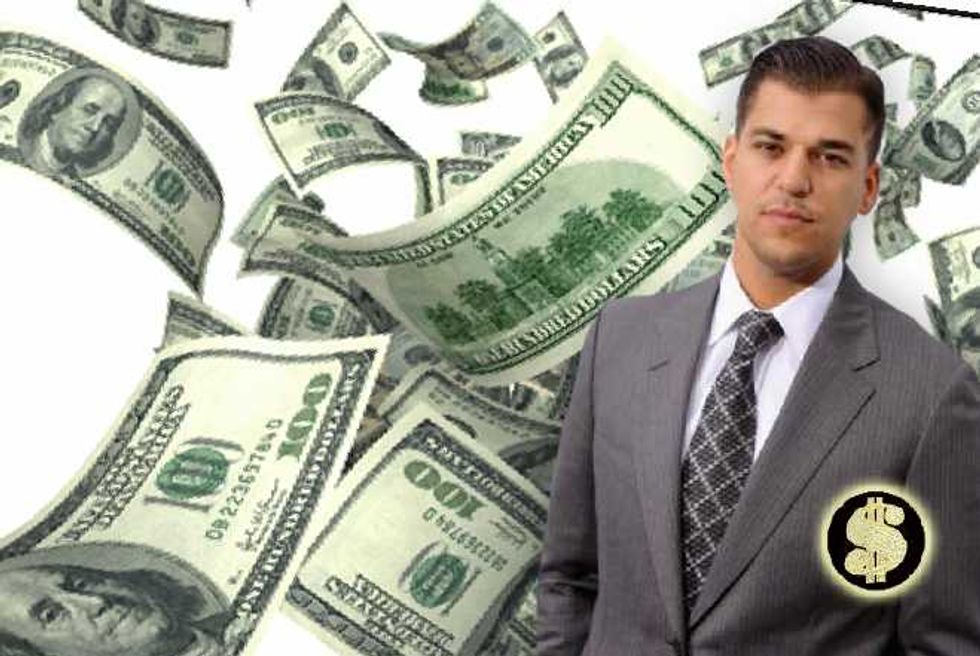 rob kardashian money worth
Poor (well not entirely) Rob Kardashian.
He's kinda the black sheep of the family. Always overshadowed by his glamorous sisters, it's no wonder he's been shying away from the red carpet these days.
His recent weight gain probably hasn't made living under the spotlight any easier, and we're not so sure his sock line got off its feet, so to speak. Even so, the Kardashian bro is still worth millions –how many, and where does his money come from? Here's the scoop…
Money Monday—How Much Is Donald Trump Actually Worth?
Celebrity Net Worth names Rob's professions as a model, socialite, and TV personality. Unfortunately, none of these sound much like Rob at the moment. He's also got that sock business, Arthur George, and has done some talent management. Thankfully, he does have a college degree to fall back on in case this potpourri of professions doesn't work out.
Money Monday—How Much Is Jessica Alba Really Worth?
The bulk of Rob's earnings come from the TV program, Keeping Up With The Kardashians, though he is rarely, if ever featured on the reality show anymore. The Richest claims that back in 2012, he was paid $120,000 per episode. Pretty lucrative for sitting around playing video games and whining about his sisters.
Let's not forget that Rob shook what his mama gave him on Dancing With The Stars in 2012 and was paid $150,000 to do so, as per The Richest. He didn't win, but that's a mighty fine pay check for boogying on the small screen with a sexy dancer.
Money Monday—How Much Is Kris Jenner Really Worth?
Like the rest of the Kardashians and Jenners, Rob gets money for appearances and can rake in up to $20,000 to show up to some hotel party or Bar Mitzvah.
Let's hope that Rob gets back to his former self and gets out and about. Maybe he'll be the next in the family to pose pants-less.
Rob Kardashian Jr. is worth $2.75 million just for being a Kardashian. More power to ya Robbie.