"You can really apply this song to whatever you're going through," says frontman Matt Berman.
At the bottom of a barrel, you'll do anything to be loved, to feel something and blow people away. "Am I ghost?" singer Matt Berman, frontman of New York City-based pop/rock group Monroe, pleads on the band's new anthem, "One More Night." Drenched in the gentle quiver of classic rock temperament, the slick-backed ode to underdogs taps into that down-on-your-luck sentiment quite effectively and organically. "Are you searching for something to find?" Berman proposes on the opening line. And in the official visual, premiering today, the leading character takes to the grungy but hopeful streets of the big city, seeking out some kind of sign his time isn't up yet. Popdust is beyond ecstatic to get our hands on the official clip, and it'll make you feel all sorts of things: from joy to sadness to glee and everything in between. "I wrote this song for myself and anyone that was going through some kind of struggle," Berman tells us about the song, which could have landed on any number of Fall Out Boy or Coldplay records.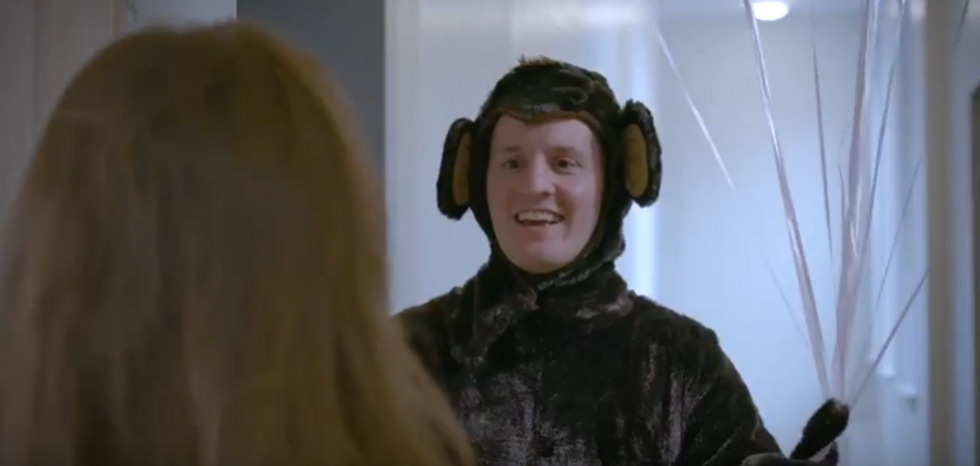 Screenshot
"You can really apply this song to whatever you're going through; and I wanted to give the listener a chance to put themselves in the shoes of the main character because, we've all been there before. This song is really special to me because I've been through heartbreak, loss, and hopelessness; but no matter how dark a situation may seem, you can make it out alive," he continues. The video is directed and produced by Christopher Vitiello--who "really focuses on telling the story of our main character"--and follows the lead (dolled up in an adorable monkey onesie) and his journey of handing out Happy Birthday balloons. At first, it proves to be a behemoth of a task, and you feel the sense of rejection written all over his face and in his behavior. All seems lost--until he meets a rosy-cheeked young woman who catches his eye. She then helps him navigate the city, and the two really hit it off. They laugh together, grab a cup of coffee and cause general shenanigans in a convenient store. Of course, it's (always) too good to be true. Watch the video below to witness the depressing, oh-my-god-that's-happened-to-me conclusion.

Berman adds about the track: "I want this song to be an anthem for all that need it. I wanted to write an album that was an extension of myself and "left everything out on the table" with nothing to hide, and this is definitely one of the most pivotal songs."

"One More Night" samples the band's forthcoming debut EP, expected sometime this summer.
Take a look:
In the past few years, Berman has racked up a rather impressive resume. He played keys on Brandon Flowers' 2015 world tour, leading them to collaborate in the studio. He's also shared stages and/or opened for such acts as Ingrid Michaelson, Bobby Watson, Al Walser, Chyi the Prynce and Roy Hargrove, among countless others. And that's not all folks: he's recorded inside Snoop Dogg's Doggystyle Records and has appeared on such high-profile TV shows as Gossip Girl, The Carrie Diaries and Boardwalk Empire.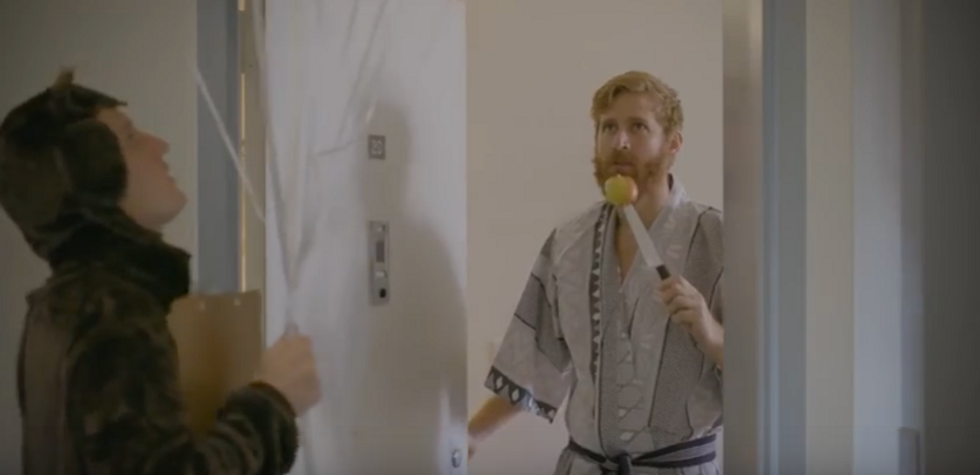 Screenshot
---
READ MORE ABOUT MUSIC...
PREMIERE | Dylan Dunlap 'Feels Right at Home' with new EP
REVIEW | Jena Irene Asciutto claws her way to the top with debut album, 'Cold Fame'
WATCH | Ali Taylor & Mitchell Lee rework Tim McGraw & Faith Hill's "Speak to a Girl"
---