Top Stories
Hypertrichosis causes Moony's fur to grow super fast, her claws to thicken, and her cuteness to be really cute...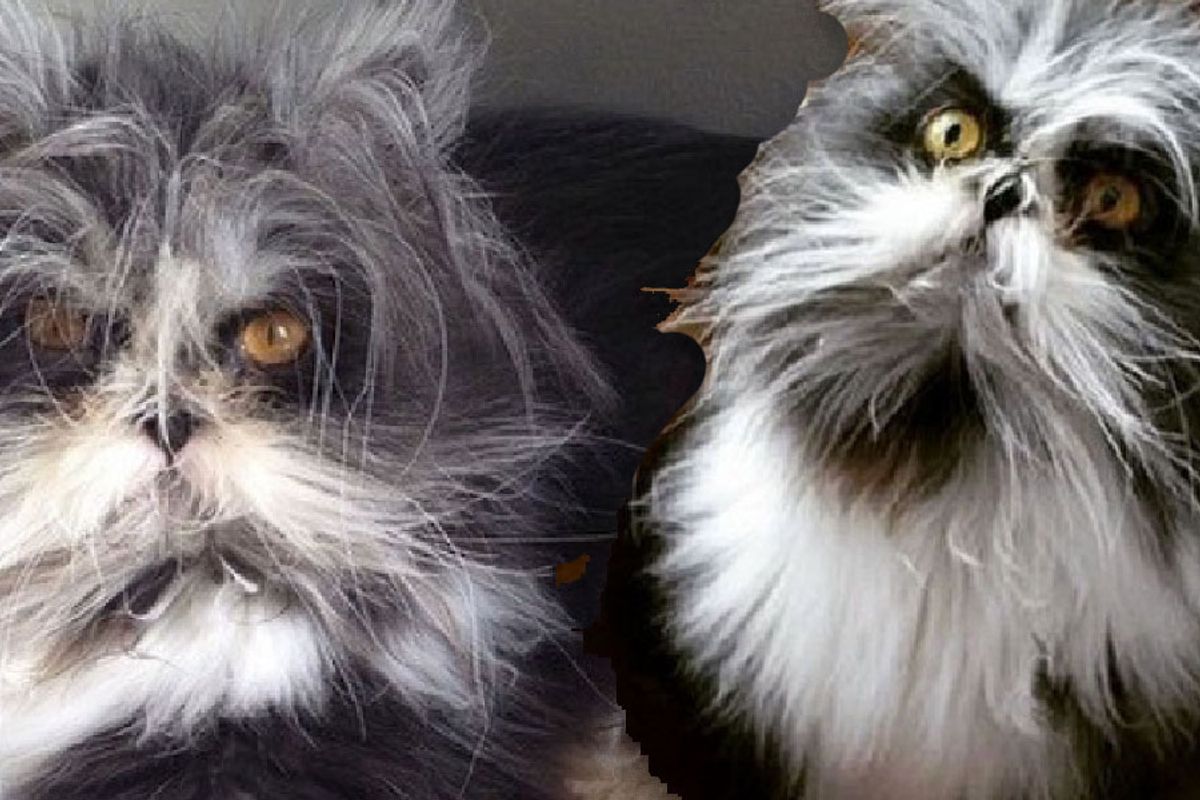 moony rescued werewolf cat is cute—so damn cute—it's inconceivable somebody just tossed her away like trash

Meet Moony the "werewolf" cat.
She's cute AF due to a rare hormonal condition—never-before seen in cats—called hypertrichosis, also known as "werewolf syndrome."
And someone threw her away—just tossed her into a box in an alley!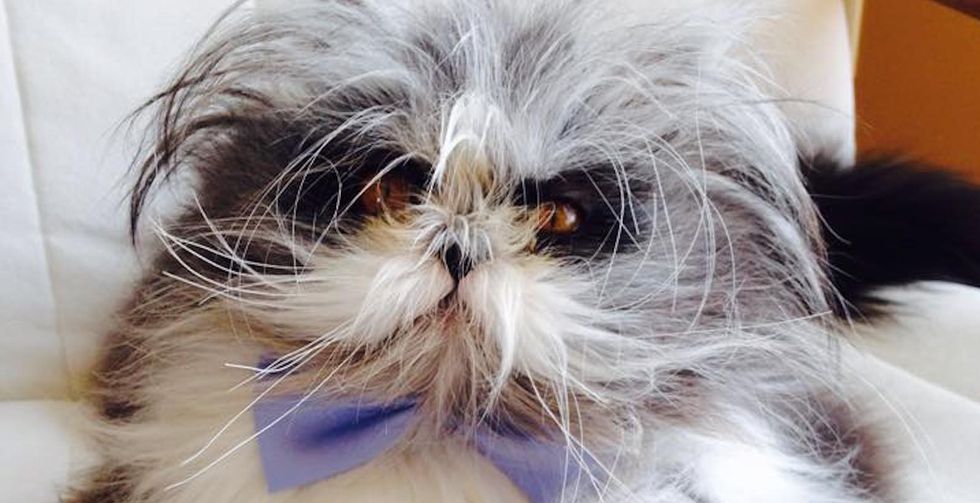 Formal yet disgruntled
That's when her new dad/hero, Luc Michaud of Quebec Canada, happened upon the kitten, shivering to death outside his apartment building.
Turns out- she's actually a fancy cat—a pedigree Persian no less.
They usually sell for around $500!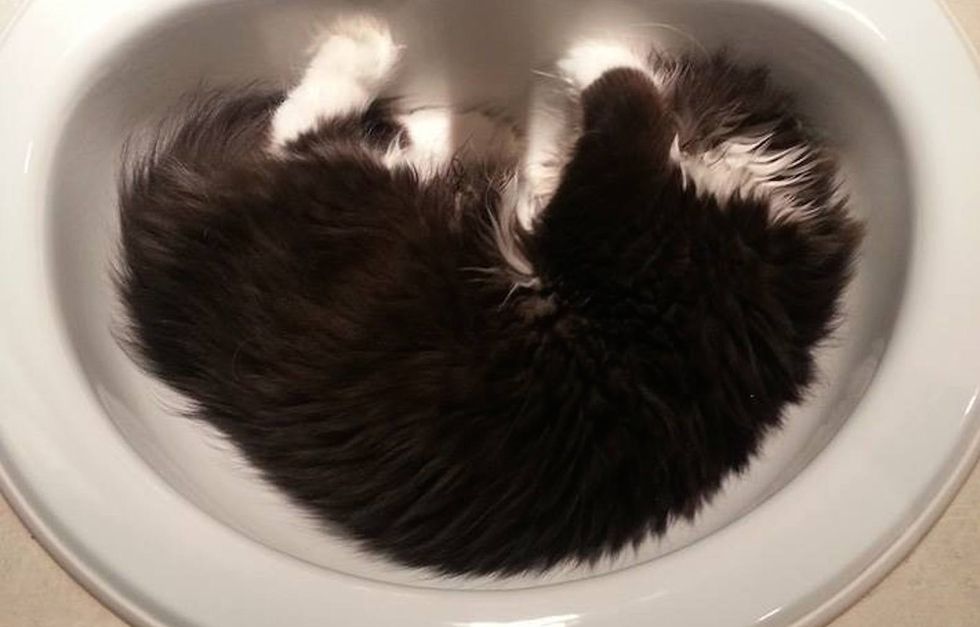 See? Cats hate water
Mr. Michaud spotted the pet carrier and asked every one in the area if they knew who it belonged to but soon it became apparent nobody was coming back for Moony.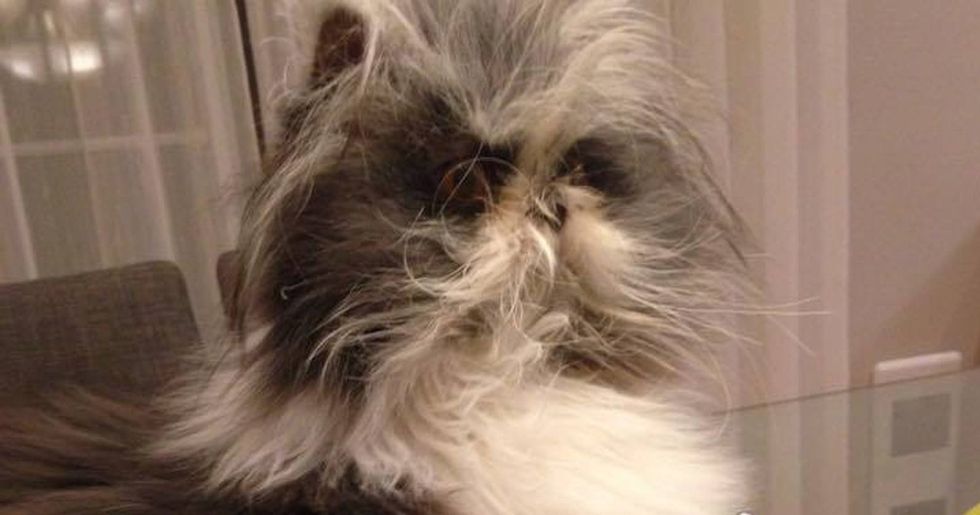 Moony, before hair product
Michaud had not planned to adopt a cat but fell in love as soon as he laid eyes on this freaky sweet little beast.

Moony's Hypertrichosis causes her fur to grow super fast, her claws to thicken, and her cuteness to be really cute.
She also speaks 3 languages: French and English in addition to purrs.
People have all kinds of reactions to her.
Some love her and others really don't.
One day my niece came over and started to scream "It's a monster"
She'd watched Labyrinth the day before."
But Mr. Michaud woves her unconditonawy.
I feel like I am the luckiest guy in the world to have found her.
She is the most sensitive cat I have ever seen.
Moony needs a lot of care to stop her long hairs getting in her eyes and her nose and I have to give her eye drops every day.
Maybe that's why they left her.
I found her in the morning so I think she was there all night.
She was freezing and so afraid.
As soon as I saw those big yellow eyes I was like "wow".
She was the most beautiful cat I had ever seen.
However, Luc's brother had a similar reaction to his niece:
Then I showed her to my brother who said she was the ugliest thing he'd ever seen.
But for me it was love at first sight.
Her long wiry whiskers, yellow eyes and Freddy Krueger claws instantly reminded Luc of a werewolf and she even growls like a dog when people come to the door.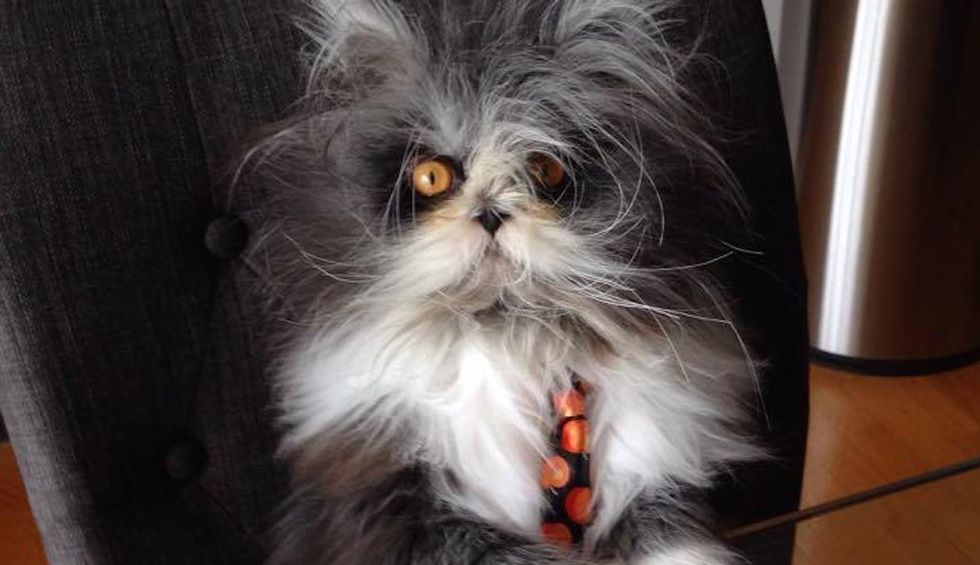 Moony channels Christian Grey
He says:
I had never seen a cat like Moony.
I just thought she was a strange breed of Persian but even the vet couldn't tell me.
He'd never seen anything like it.
Until he finally got his answer, from the TV, when he saw a cat with the same syndrome:
You can imagine my surprise when I saw Atchoum on a TV show and they were saying he was the only cat in the world with that condition.
But he's just like Moony.
When I found out just how unique she was I decided I wanted to share her with the world on social media.
Like I said, some people love her, some hate her but nobody stays indifferent to Moony.
Look at the little stinker!
Who in their right mind wouldn't love this cute little critter?!!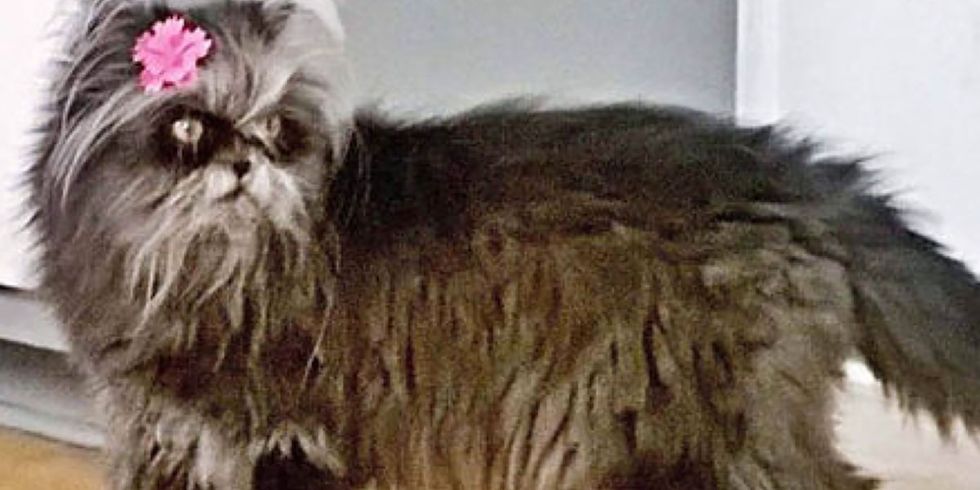 Scroll down to check out Popdust's gallery of Moony rescued werewolf cat photos
---
MORE CUTE AS FUCK ANIMAL-NESS..
Meet The Russian Couple Who Live With A 300Lb Brown Bear Called Stepan
Panda Breeding Base Cleaning Time Is Adorable Playful Panda-monium
Penguin Swims 5,000 Miles Every Year To Visit The Man Who Saved His Life
Watch! This Video Of Orphaned Baby Rhinos Crying Will Break Your Heart
Just Some Video Of An Orangutan Saving A Baby Chick From Drowning
---
Check out Popdust's gallery of Moony rescued werewolf cat photos