Two artists with prolific and bizarre careers team up to record an 18-song journey through the music playing in their heads that's parts Beatles, Talking Heads, Radiohead, and pure indie weirdness.
Put two excellent musicians and songwriters together in a recording studio for two weeks and the result might not be Make It Be. But put two characters as experienced and strange as R. Stevie Moore and Jason Falkner, who both happen to be excellent musicians and songwriters, together in a studio and the result is this eighteen song exploration of the fearless and often hilariously weird musical stylings of these artists.
Track one, "I H8 Ppl," offers a pretty straightforward introduction to the pair, with strong distorted guitars and a pounding rhythm reminiscent of the best of classic rock. The chorus is cheerful behind the repeated line, "I hate people," and the verses show off Moore's unique vocals. He talks to himself in the third person and exaggerates the deepness of his voice like a radio DJ. But the first three songs remain as close to standard rock as early MGMT or St. Vincent.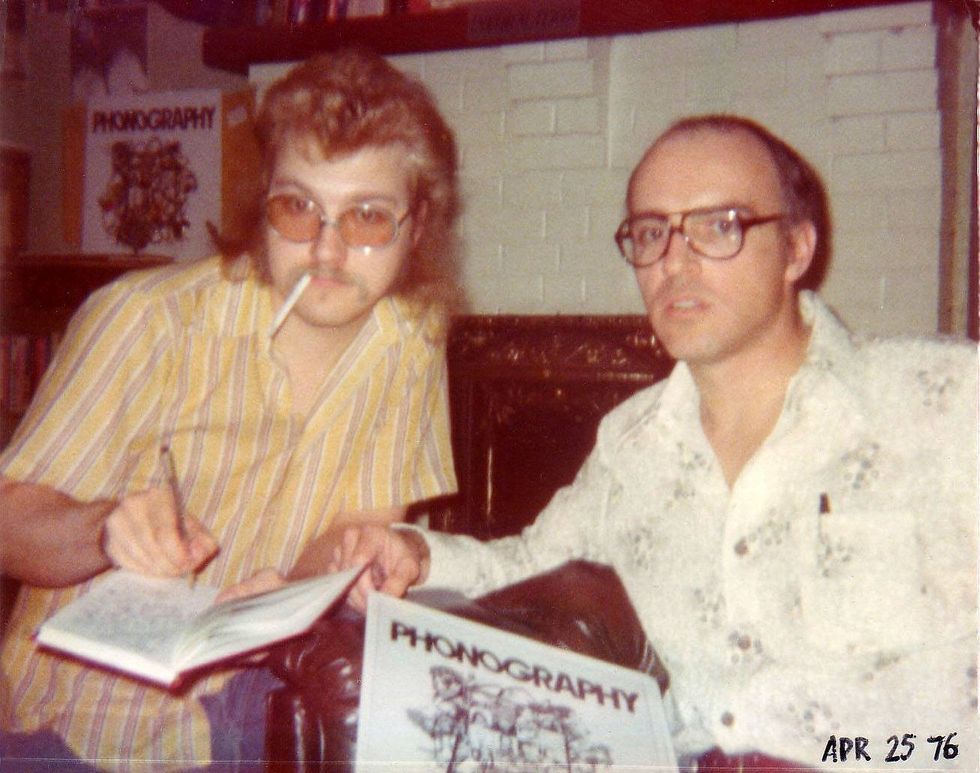 Facebook
The duo makes it clear, though, that they're not satisfied with standard chord progressions. They undermine every classic pop riff and rock melody with a darker twist, a different note or a surprising instrument. Still, the main instruments are the classic rock setup: guitar, drums, keyboards and bass—and fantastic harmonies, sometimes beautiful and sometimes trippy.
The instrumental "Gower" shows off a bit of Radiohead impersonation between the airy "I Love Us, We Love Me" and the funny and cryptic spoken-word "Prohibited Permissions." "Ill-ill-illegal, judge bald eagle, strictly prohibited?" says Moore without any instrumental backing. "Keep it to yo-self."
The music returns with a panicked song about running out of stamps and one of the album's best songs, "Horror Show." The frightening, wonderful vocal harmonies and urgent guitar/drums combination in the chorus are some of the best so far this year. In a departure from the increasing experimentation, "Horror Show" is an incredibly catchy and haunting song. The pair is at its best in the verses, too, where the hard-strummed guitar perfectly compliments the vocal rhythm. A contrasting guitar solo leads into the final, siren-like chorus, rapidly building tension until a final climax.
And how to follow this thrilling song? With a quiet instrumental called "Guitar Interplé," the first of two. Contrasts, harmonies, beauty and action, experimentation bound to a solid rock spine—Moore and Falkner craft expert compositions, drawing on decades of experience in diverse careers.
Moore was born in Nashville and since the late 60s has been self-recording and self-releasing music through his R. Stevie Moore Cassette Club. He has sporadically released albums containing some of the cassette material, sometimes with collaborators and often alone. Phonography, his debut album, received huge praise in the indie and punk scenes of the 70s. Now 65, Moore is still releasing genre-diverse and incredibly well-written music.
Falkner started his career with L.A. underground band Three O'Clock and a year after their breakup, joined 90s alt-rock champions Jellyfish. He left after their acclaimed debut to release a solo album, Presents Author Unknown, in 1996. Subsequent albums followed but he stayed busy with constant collaborations with everyone from Beck to Paul McCartney.
Moore and Falkner make their love of the Beatles obvious in their music but they've both also released Beatles cover albums. Moore recorded R. Stevie Moore Plays Songs By the Beatles and Falkner recorded Bedtime With the Beatles, parts one and two.
The chemistry between the two must be nearly a perfect match to create an album as rich and fun as Make It Be. Every track rewards multiple listens—they're not all easy to hum along with, at first, but their catchiness grows quickly. Here, a couple standout tracks don't float on top of a half hour of album filler. They're swimming deep in artistic exploration and seriously sharp rock from two masters of the craft.
Follow R. Stevie Moore on Facebook and Twitter. Check out a performance by the duo from SXSW below: