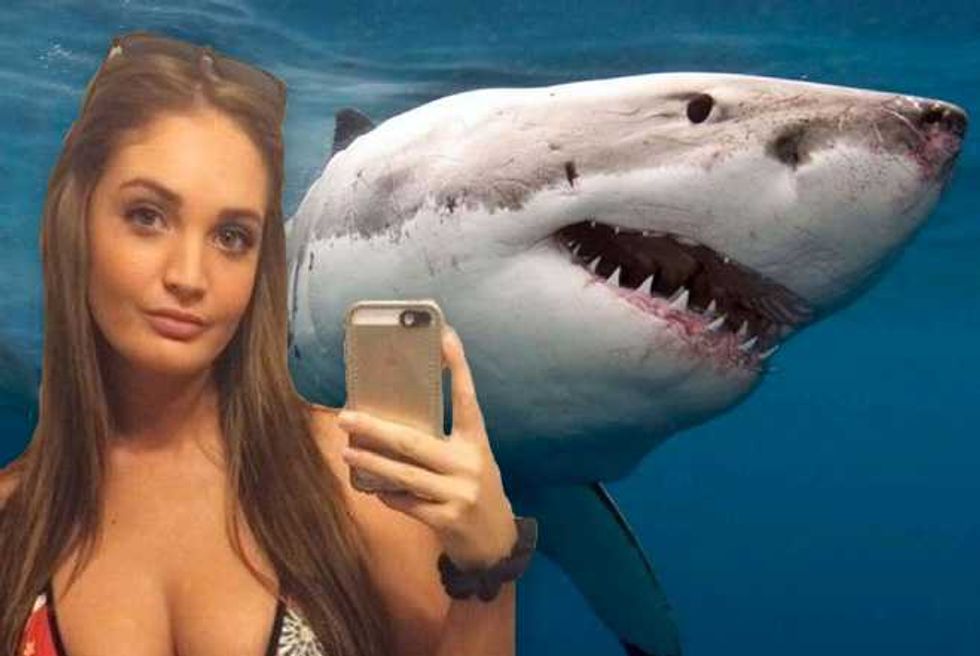 How much is capturing that perfect selfie worth to you?
Is it worth your life? Seems is was for the 12 unlucky people who have perished in selfie-related deaths so far this year.
Putting that in to perspective, according to data compiled by Mashable, in the same time period, more people have died while taking a selfie than have been killed in shark attacks (a total of 8.)
Score one for Jaws!
Naked But For A Plastic Bag—WTF Is That Crazy New Selfie Trend About?
Apparently, the ever-increasing desire for people to document their each and every move—and posting the results on social media, is leading them to put themselves in ever more perilous situations in their bid to snap the perfect selfie.
People are falling off cliffs, blowing themselves up, being gored to death by wild animals, getting hit by cars, and electrocuting themselves, as they gaze into their iPhones, oblivious to the dangers around them.
Dude Accidentally Sexts Naked Selfies To HR Manager Who Just Offered Him A Job
The growing trend has prompted some wildlife parks to close off whole areas in fear of self-obsessed lunatics getting killed whilst trying to snap a pic with a wild bear, and many public landmarks have begun introducing selfie bans for safety reasons.
Even athletes have begun fretting about the potential dangers, with Tour de France cyclists calling for a ban on spectators taking selfies, to prevent hazardous distractions occurring.
Oops! Marc Jacobs Accidentally Instagrams Naked Selfie
And, it's a worldwide phenomenon it seems, with the 12 deaths spread out all around the globe.
In India, some poor Japanese dude didn't get to fully appreciate the haunting beauty of the Taj Mahal, as he fell down the stairs while taking a selfie at the landmark's Grand Entrance, and suffered a fatal heart attack.
Meanwhile, an Australian tourist made the fatal mistake of placing her desire for the perfect snap, above her own safety, while rock climbing in Norway, resulting in her plummeting 200 meters to her death—a Singaporean tourist suffered a similar fate, after plunging to their death off a cliff in Bali.
Tyra Banks' Make-Up Free Selfie Goes Viral
And then there's the tourist who was gored to death while trying to take a selfie during the Running of the Bulls in Spain.
But, it's Russia that holds the dubious title of the most selfie deaths, with a grand total of three so far this year.
Back in January, two teens blew themselves to pieces in the Ural Mountains while taking a selfie with a live hand grenade, pin pulled out.
Then, in May, another teen died after climbing onto a railway bridge to snap a selfie in the Ryazan region, electrocuting themselves after accidentally coming into contact with live wires.
Serena Williams Grand Slams Body Shamers With Sexy Selfies
Following the deaths, and a spate of related injuries, the Russian Interior Ministry created a warning leaflet, with such sage advice as to not take selfies with loaded guns or live explosives, and to not pose for self portraits when up close and personal with a lion.
They also issued a warning video, advising, that taking "a cool selfie could cost you your life."
Are you listening Kim Kardashian? Actually, scrap that! Don't listen Kim Kardashian—pose, pose away—preferably while holding a live hand grenade very close to a wild and starving tiger.