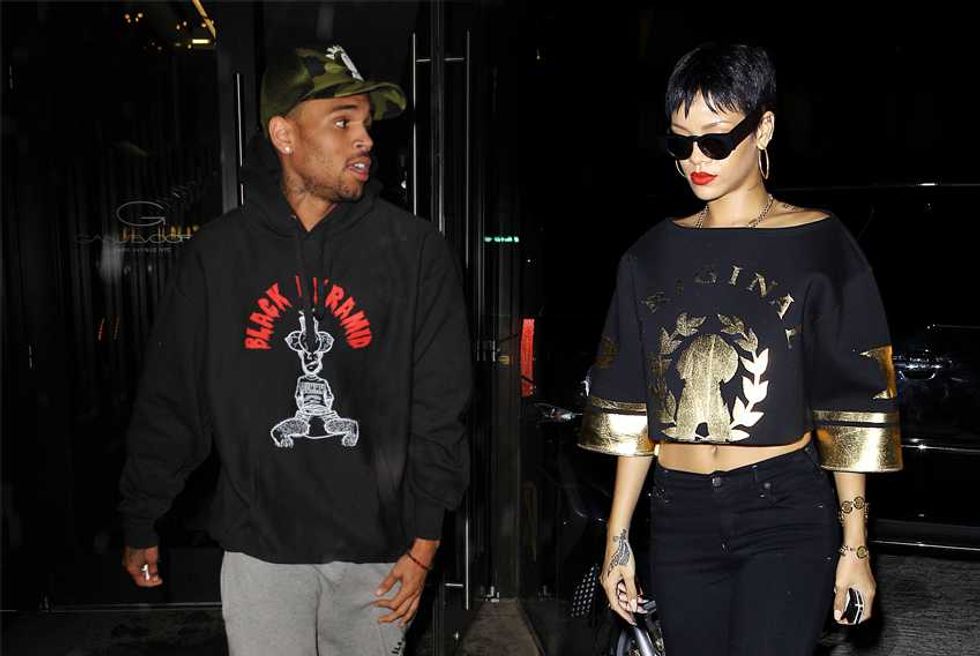 Bad news, The Internet: Looks like Chris Brown and Rihanna are just kinda trolling us now. The tracklist for Rihanna LP7Unapologetic is out, with listed featured artists such as Eminem, Future (on a song called "Loveeeee Song," which we hope is pronounced like the title) and, surprise surprise, Señor Breezy. Worse than the fact that they continue to insist on collaborating with each other—and it's not like their previous duets have exactly been classics of Forbidden Pop—is the title of this one: "Nobodies Business."
We're not even trying to get moralistic on this one—clearly, Rihanna has made her decision, and she'll accept the consequences for it. But to keep rubbing it in her fans' faces and letting them know just how little of a fuck she gives about their opinion...what's the point, really? More headlines like this one? Well, congrats, guys. Hope the song's good at least.
The full Unapologetic tracklist, courtesy of Rap-Up:
Unapologetic Tracklisting
1. "Fresh Out the Runway"
2. "Diamonds"
3. "Numb" feat. Eminem
4. "Pour It Up"
5. "Loveeeeeee Song" feat. Future
6. "Jump"
7. "Right Now"
8. "What Now"
9. "Stay" feat. Mikky Ekko
10. "Nobodies Business" feat. Chris Brown
11. "Love Without Tragedy"/"Mother Mary"
12. "Get It Over With"
13. "No Love Allowed"
14. "Lost in Paradise"
15. "Half of Me" (Bonus)
This album is out in two weeks, incredibly.