CULTURE
Celebrities on Instagram—as in life, unfortunately—seem to get away with a hell of a lot of social-norm breaking and generally unusual behavior.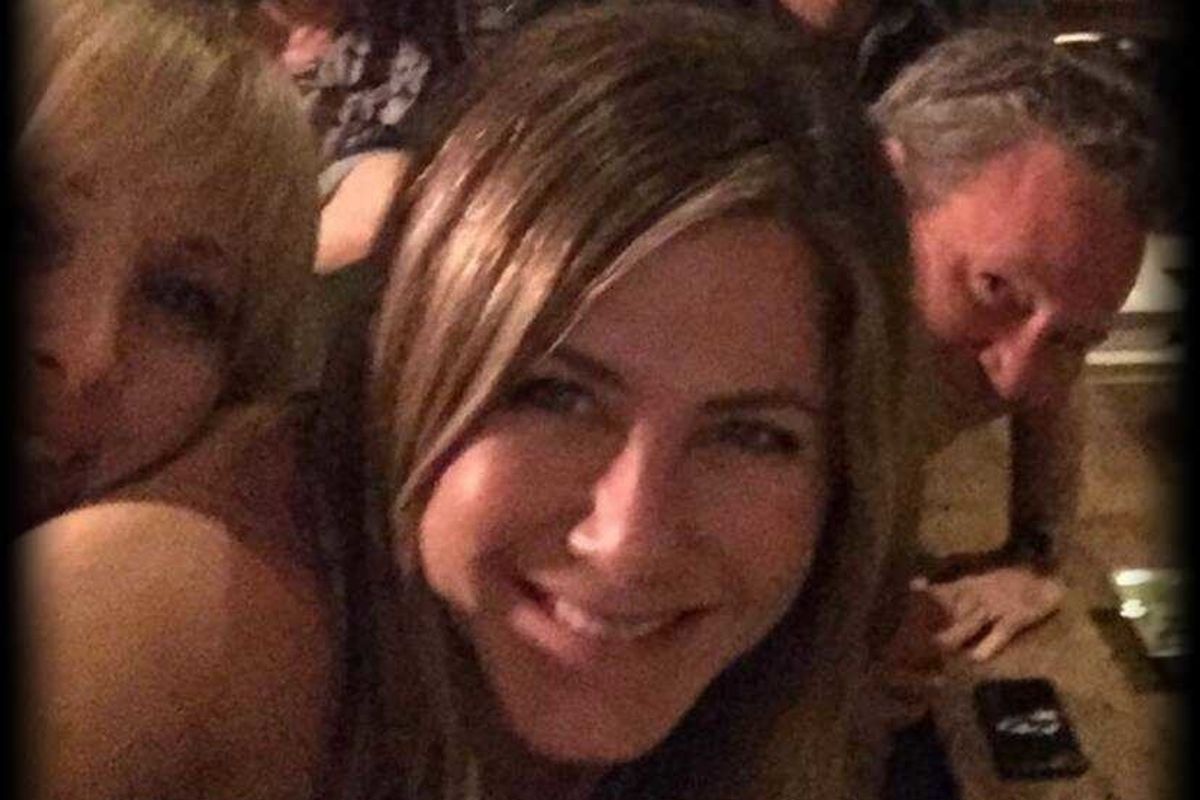 Jennifer Aniston is responsible for '90s-defining bad hair, redefining a "break" from a relationship, and the world record for accumulating the most Instagram followers in the fastest amount of time.
After creating her account, the 50-year-old actress gained 1 million followers within 5 hours and 16 minutes. (The previous record was held by Meghan Markle and Prince Harry, who lost the completely meaningless honor by just 29 minutes). The Friends actress has always been an enigma on social media, despite being America's sweetheart for much of her career. Her first post was a typical 50-year-old's photo, blurry and awkwardly angled for a group photo of all her Friends costars. The caption read, "And now we're Instagram FRIENDS too. HI INSTAGRAM." Mashable applauded the actress' new social media strategy: "Jennifer Aniston (or at least Aniston and the people working with her on social media) has pretty much nailed the Instagram game."
Certainly, with three posts and nearly 14 million followers, Aniston is on her way to becoming one of the most followed celebrities on Instagram. Aside from being named "the worst social media for mental health," Instagram does work like a game, in that one has to follow unspoken rules to succeed, you're in competition with and compared to every other user, and you hope to show some grace and intelligence in your decisions.

But celebrities on Instagram—as in life, unfortunately—seem to get away with a hell of a lot of social-norm breaking and generally unusual behavior. From posting bad selfies and oversharing to following 0 people but accumulating millions of followers, these are the strangest celebrity habits on Instagram.
Cultural Appropriation
Actually, this is a lie: Not even celebrities get away with this. Perhaps the one social good that Instagram provides is holding people accountable for their decisions by creating a visual record accessible to the public. For instance, recently Kacey Musgraves' 1 million followers called her out on her misappropriation of a traditional Vietnamese garment, a áo dài, which she shared on her Instagram story.
Fans and influencers alike called out the cultural insensitivity of her sexualizing a traditionally modest Asian garment. Beauty blogger Michelle Phan wrote in her own Instagram story that Musgraves' sexualization of the clothing reflected a history of exoticizing and fetishizing Asian women. "People are just tired of narratives that perpetuate the fetishism of Asian women. Imagine seeing your national traditional dress being disrespected on stage," Phan wrote. "Since she's a public figure, she might influence more people to think it's trendy."