Frontpage Popular News
MUSIC|28 songs that capture every relationship you have with your mother for Mother's Day, Tiany Tunes 5 : Hey Mama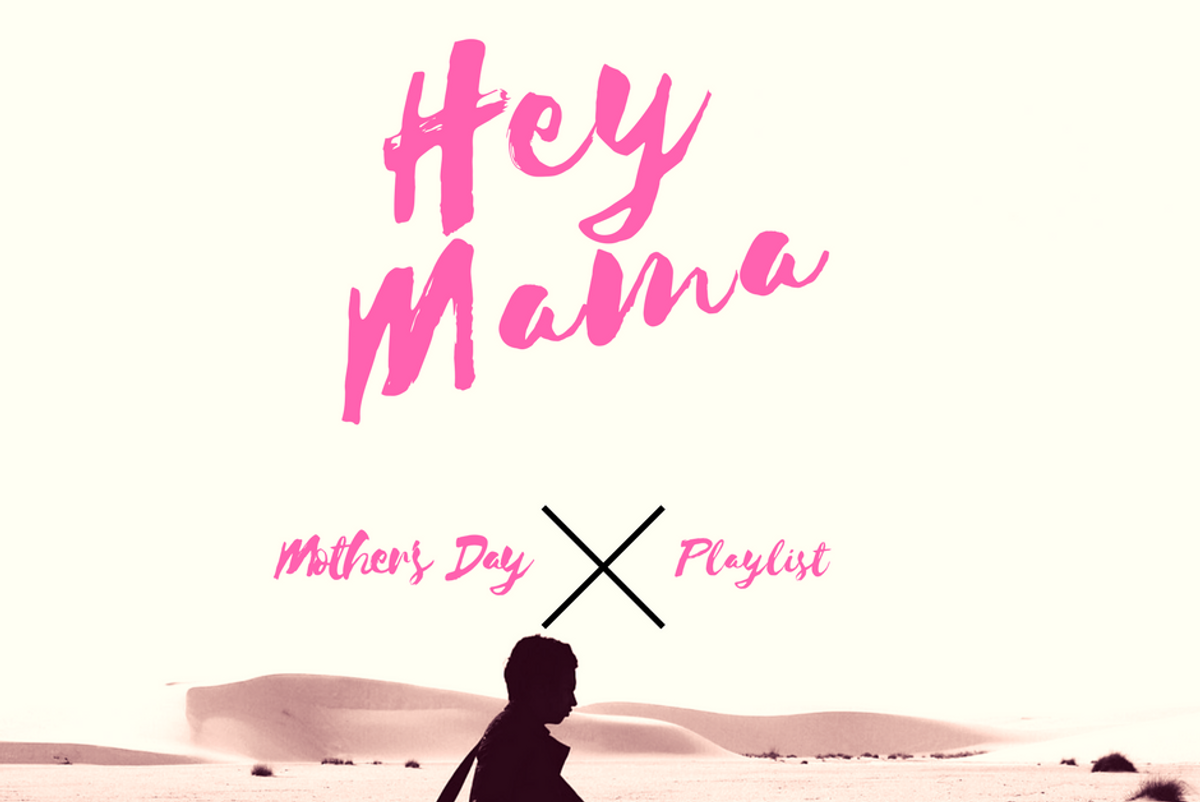 Brittiany Taylor
Hey mama, I want to scream so loud for you
'Cause I'm so proud of you, let me tell you what I'm about to do (hey mama)
Every year we scramble for the perfect gift for the women that we credit for helping us to become a better version of who we were the year before. What do you give the woman responsible for transforming pounds of soft flesh into strong, powerful, change causing human being (that self-congratulating thing I got from my Daddy but just let it rock) ? As you get older, your gifts become more expensive than the previous years. Something about your thirty year old hand print turned into a finger painted bouquet of flowers no longer seems like an appropriate way to say thank you for loving me on Mother's Day. Searching for the perfect symbol of your gratitude to the women in your life, you start to reflect on the memories. You not only appreciate the smiles and times of pure bliss, you recount the times where you felt so defeated the only thing that sufficed was their comfort. Sometimes you laugh at how dramatic you were and wondered how that special lady in your life managed to take you seriously and not crack a smile as you waded in your adolescent grief and sometimes, your dramatic present day misery. The older I get, what I realize most is that my mother made this womanhood thing look easy. At my present age of 30, my mother was juggling kids, a marriage, a job, a business and the responsibility of being an older sister. She literally would cook two meals sometimes because my dad would want one thing and we would want another. Me? Oh, I'm ordering seamless and hoping that when I call to check in on my younger siblings they don't need me to buy anything (they always do, asses). I'm also realizing how grateful I am to have a mother who is extremely supportive even if my way of life isn't the least bit traditional. A mother who has standards higher than the ceiling but is the first one to get in the trenches with me when necessary. The one who taught me to love myself by being good to myself, and has reminded me of this more times than she wanted to since I've moved to New York. The one who I understand I'm so grateful to still have, as she lost my best friend (and ok, probably her's too), her own mother, a few years ago.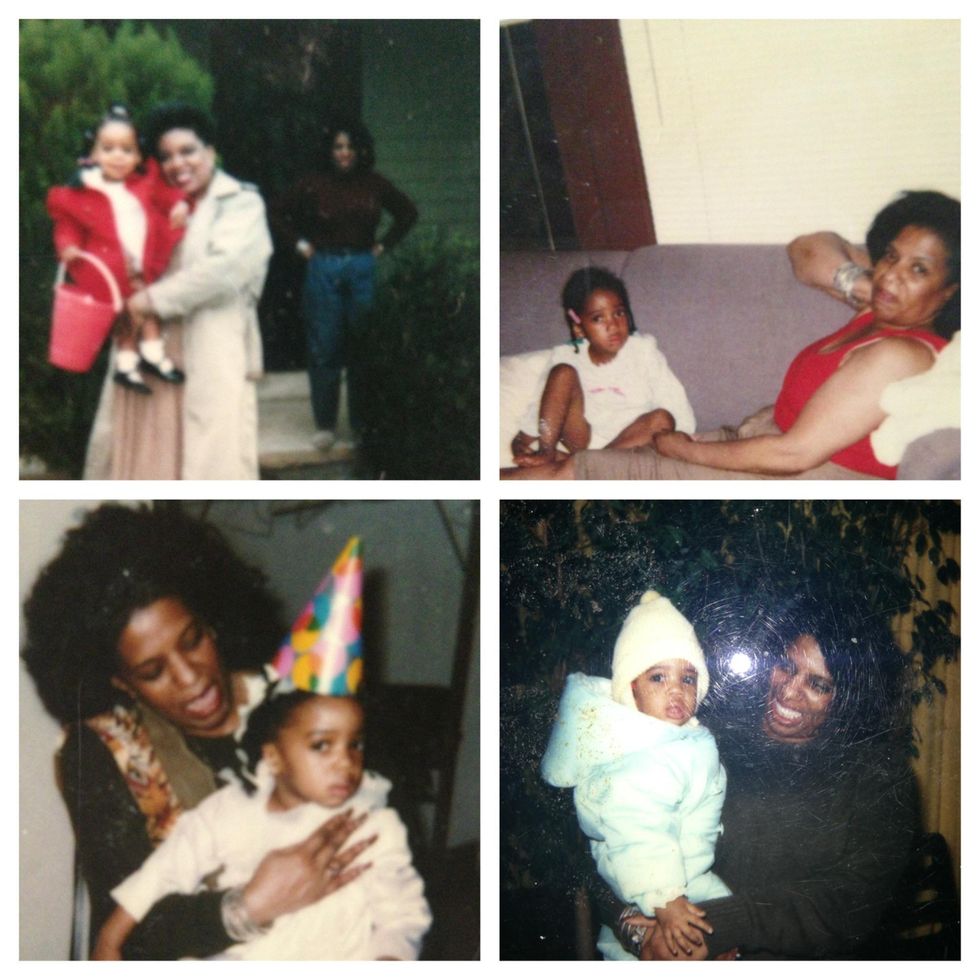 My mom is in the picture of me holding the red coat, and the rest are me with my Granny ( her mom)Photo Credit: Papa (her dad)
I want to tell the whole world about a friend of mine
This little light of mine, I'm finna' let it shine
I'm finna' take y'all back to them better times
I'm finna' talk about my momma if y'all don't mind (hey mama)
"You only get one mother, be kind to her." My aunt, my father's sister, used to say this to me so much that I'm sure she caught me rolling my eyes more times than she admonished me for. I was a daddy's girl. If my dad was the Jay Z of the Roc-a-Taylor's (charismatic, proud, the face, quietly calculating) my mother was Dame (the muscle, the fighter, the body guard, the one you didn't mess with). Growing up, she took no prisoners. She was the disciplinarian when it came to me and even though she will be the first to tell you that I didn't cause her problems growing up, she was the only one who told me no. She was the one who gave that look that meant get it together before I even finished the thought to let it go. But as much as she kept her kids in line, I think she reveled in the chance to keep others in line when it came to her kids. She would go to war for us. In fifth grade, my teacher gave me a C in citizenship because she said I was mean to her. Yes, the teacher said I was mean to her but she bullied me the whole year. It was the first time I didn't make the principal's list and my mother couldn't make parent teacher conferences so my aunt came in her place. For twenty minutes I listened to my teacher lie on me about being a bully to her. My aunt listened and then said she would relay the message. I'd like to go on record here that I was a perfect princess child-respectful, nice to others, compassionate- just don't mess with my little brother, my grades, or my happiness. I did have a mouth if you disturbed my peace. That hasn't gone away. My mother knew her child. She scheduled her own meeting with the teacher. When the teacher said that I was bullying her my mother smiled and sweetly asked, "what did the eleven year old to you Ms. [name redacted]. Ya'll ! I knew it was about to be on and I chuckled in my head at the fact that there was no right answer. My mother not only told her that an eleven year old can't bully a 35 year old, but that she knows that I can be snappy when defending myself, and if I felt the need to defend myself against the teacher then there was a problem in the classroom. She probably said a lot of really good stuff too because she told me to leave the room, which basically meant all types of things went down that she didn't want me to hear. I still remember walking out of the classroom smiling thinking that I should have told on that teacher months ago. In the car, my mother told me to always stand up for myself, but if an adult is bothering me then it's my job to tell her and my father and let them find the solution. Thankfully, it was my last year at that school, but a lesson that I would remember the rest of my life. I could always depend on my mother to lead me, correct me, and fight for me.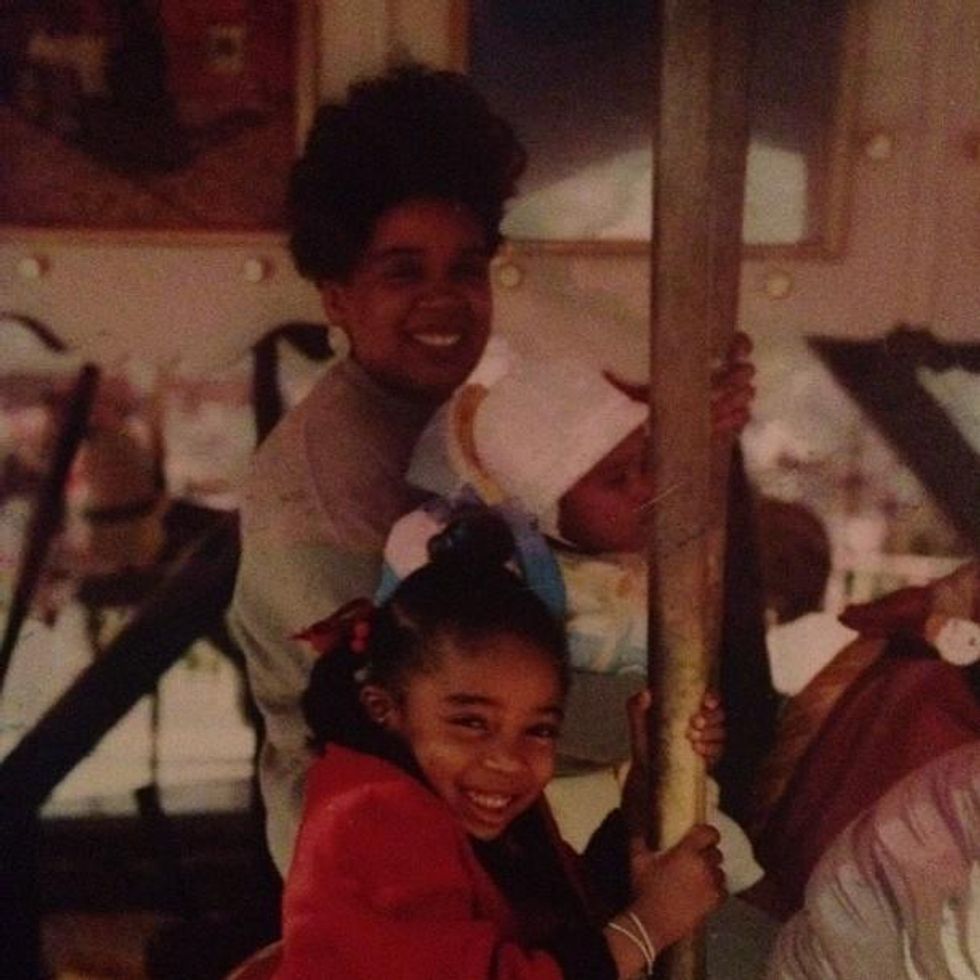 Hey Momma- My mother rode real horses growing up s o the carousel was MY thing. Until I got a brother, t hen it became OUR thing. Photo: My Daddy
Now I feel like there's things I gotta get, things I gotta do
Just to prove to you, you was getting through
Years passed and I began to understand a lot of things my mom endured professionally and personally. There were times I worried about her, but there was never a time where I could not lean on her when i started to falter. When it comes to Jodie's (the nickname my dad gave my mother when they were teenagers that I tried out one day and lived afterwards so I use it on special occasions) family she has a selflessness that I later begged her to shake. It was wearing her down, her fight was showing on her face, in the way she walked, in the care she wasn't giving herself. To be honest, there were times I resented her stubbornness and her selflessness. She wasn't showing strength the way I wanted her to, and I didn't understand why. I honestly didn't care why. I just wanted her to do what I thought was best. The lesson here is to listen to your mother, they always have a plan. She's in the second half of her life and she almost looks as young as she did 20-something years ago. She glows. She lives. And she still checks in on her babies. Every year I try to outdo myself on her Mother's Day present, and so far I have, but this year, I really can't think of what to get her besides a few things she explicitly asked to be gifted. Then it hit me. Sometimes, moms just want us. They want to know that we still feel comfortable coming to them for love, compassion, advice, just to laugh and talk. That we value their opinion, that we know they are here to fight, and that everything they did in trying to prepare us for the world actually took root in some shape or form. My mom was the mom who said "I love you" 14 times a day growing up and when we weren't talking, we were emoting through music. It felt only right that besides time, and a few presents that I'm sure I will have to sign my little brother's name too once I touch down in D.C., I give her a perfect playlist to describe the way she makes me feel.
I added other songs that could apply to her mom, your mom, or anyone's mom. There are songs about birth mothers, mothers who are no longer with us in humanly form, and mother's who are still bringing the heat. My mother loved to dance growing up, my father loved to sing so every day we lived in a musical. She also had this weird obsession with The Partridge Family and LL Cool J. I don't know why that was relevant, but I felt like it had to be said to truly get this playlist. While making this playlist, I realized some of the greatest love songs can apply to your mother. The Mother's Day soundtrack has your staples from Boyz II Men and 2Pac, the highly nostalgic "God Must Have Spent A Little More Time On You" by *NSYNC, "Sadie" by The Spinners, and when you have my mother "Mamma Got Ass" by Juvenile. "Mother" by Florence + The Machine likens God to a woman as she pleads for strength and coming from a tribe of bad ass women, it was more than appropriate. In addition to the title track, Kanye West's "Hey Mama", there is his beautiful dedication to Donda West after she passed, "Only One" because I obviously love crying and I've never not shed a tear when listening to that song, and about twenty more songs.
Enjoy, share it with your families and recount the countless lessons your mothers shared with you. My aunt was right, you only get one. How lucky am I to have gotten one of the best, raised by the best, raising the best. Moms, we listen to you, we value you, and your contributions do not go unnoticed (at least, not forever). I still roll my eyes when someone says appreciate your mother, but now it's in agreement with a slight shake of the head while holding back thoughts that one day I will have to learn to live without her.
You know I love you so, I'll never let you go
I wrote this song just so you know no matter where you go I'm a love you
Did I miss your favorite mother's day song? Let's talk about it on Instagram and twitter.

[rebelmouse-proxy-image https://media.rbl.ms/image?u=%2Fl0Iy9DNtuNL38nftm.gif&ho=https%3A%2F%2Fi.giphy.com&s=281&h=77ee837bf2d6808b4c79ae5e4eb381bb8dbfbf06a402fa3a6ecd92cb15697071&size=980x&c=3932779587 pin_description="" crop_info="%7B%22image%22%3A%20%22https%3A//media.rbl.ms/image%3Fu%3D%252Fl0Iy9DNtuNL38nftm.gif%26ho%3Dhttps%253A%252F%252Fi.giphy.com%26s%3D281%26h%3D77ee837bf2d6808b4c79ae5e4eb381bb8dbfbf06a402fa3a6ecd92cb15697071%26size%3D980x%26c%3D3932779587%22%7D" image-library="0" expand=1]